Summer is creeping up quickly — long days with early sunrises and late sunsets. Days full of sunshine and endless possibility. Summertime is a time for the outdoors — soaking up sun and recovering from the days of winter of being cooped up indoors.
Summer doesn't have to be for the outdoors only, though. There are many ways to bring summertime inside, to make the moments during the long days of summer comfortable, both outdoors and in.
Here are a few of my ideas to make our homes work for the summer.
1.  Cool it.
I love when the seasons change and I can pack up my throw blankets, put away the candles, and store all the things that I add to create warmth during the cooler months. I love making my home feel breezy and cool by lightening things up and cooling them off:
Add flowers.
Think white — change out pillows and slipcovers, maybe even paint something (a wall or furniture) to brighten and freshen your rooms.
Update your mantle — remove logs, candles, and heavy items and replace with fresh flowers. Here are some ideas to summerize your fireplace.
Here are some additional ideas to summerize your home.
2.  Let in the sunshine.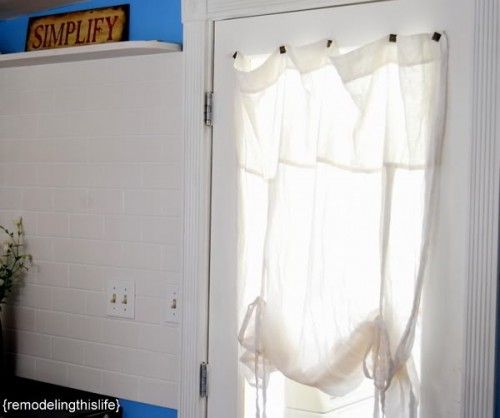 Photo by Remodeling This Life
Pull back the curtains, throw open those windows and let the warm rays of the sun stream through your home. There are few things I enjoy more than open windows bringing both streaks of sunlight and touches of a cool breeze.
Something as simple as changing out curtains to a sheer or lighter fabric (or removing them altogether, if you can get away with it) can make a huge difference in the feel of summer in your home.  Small touches, without spending a dime, can make a huge impact.
3.  Bring summer into your kitchen.
No matter how summery my home may feel, it's hard to make a place that I spend cooking (and thus heating)  feel cool and summery.  Here are some ideas to brighten and add a summertime feel to the kitchen:
Remove valances.
Add fresh flowers.  One of my daughter's favorite things to give me is a fistful of Mexican petunias, but flowers like hydrangeas scream summer more than any other.
Repaint with a fresh, light color.
Add citrus — think lemons and limes in bowls or urns.
Make summer dishes — cook out on the grill and add items like corn on the cob, watermelon, and fruit salad to your meals.
4.  Bring the outside in.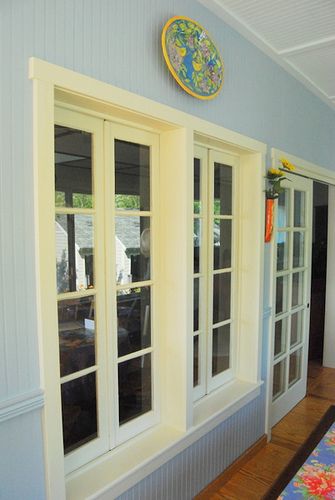 Photo by Remodeling This Life
Summer is the time that I let my kids bring in flowers, seashells, jars of sand, and other natural goodness. There is nothing more authentic to add to the home this time of year than what you find right outside your back door. Pick fresh flowers, fill jars with shells from your vacation, and make your home feel like the great summer outdoors.
What do you do this time of year to make your home feel cooler and to reflect the changing season? How do you bring summer into your home?