When we were young, our families often ate our food off of china.  That's what we called our very best dishes. Today, most of us are eating food on Made in China plates with Made in China forks.
This transformation in our culture makes everything cheap and abundant. It also means we're spending more time trying to figure out how to simplify and declutter on a constant basis, more than anyone in history.
The best way we've started simplifying at our house is to just flip an item over and see where it was made.  We start wondering:
1.What's this item's story?
Each dollar we spend is a vote YES to that company and the way they're doing business.

For example, we have a local wheat farm that makes flour and bread.  They'll let you tour their farm and facilities.  You can buy their products at any supermarket in the state.  I know their story.  I know many of their values.  Their products don't cost any more than all the other options.  My dollar goes to them.
2. How about the stories of the people making it?
We can't know how products are being produced in undeveloped countries.  They lack a lot of the environmental and workers' rights laws that developed countries have.  Incredible bribes and masks are created to block the truth from consumers and even the companies employing these factories.
You and I often just don't know the stories of people building these things.  But with each dollar we vote, saying that we're okay not knowing.
That's why I love places like Etsy.com.  We're constantly getting peeks into peoples' shops and methods.  They tell their stories — their products are a piece of who they are, and we know that the profits are going to those makers.
3. Can we make it ourselves?
Making handmade brings your family together.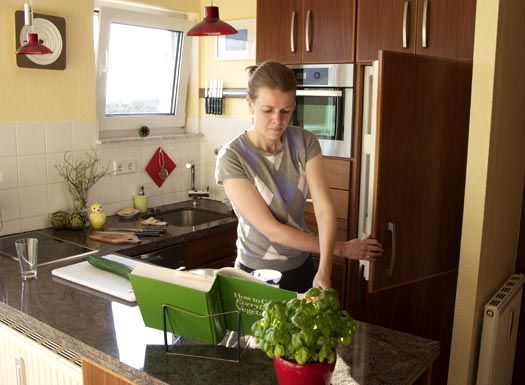 Photo by Katie Clemons
My husband and I built the kitchen shown above. We hauled sheets of wood up to our Berlin, Germany apartment together.  He used the table saw while I balanced out the window, holding cut wood.  We sanded together.  We varnished together.  We talked and dreamed together.
Choosing to make things yourself (from cookies to the kitchen itself) connects family. It also teaches future generations how to create and to cherish the gifts they receive.
4. Do we know someone or can we find someone who makes this item?
"China" at my grandma's house was really the clay plates and bowls she'd thrown on her pottery wheel in the basement.  The real paintings on her walls came from artists exhibiting in outdoor art shows.  Her jewelry was all always handmade.  She had little sculptures, furniture, containers, clothing, blankets, and even switch plates for her lights; they were all handmade by the craftsmen she met.
She used to tell me:
"Katie, artists carry these incredible, enriching stories.  They put those stories into the work they create, and you just can't find that flavor anywhere at the mall."
She proved that handmade is very alive and very available.  With the Internet, it's only gotten easier.
Go to art and craft shows
Stop by local galleries and fabric shops
Ask artists for recomendations for something you want to find
Check the newspaper and Chamber of Commerce
Visit Big Cartel or Etsy
Visit tourist shops and coffee shops
Contact the senior centers in your community (they often have guilds of knitters, embroiderers, and sewers)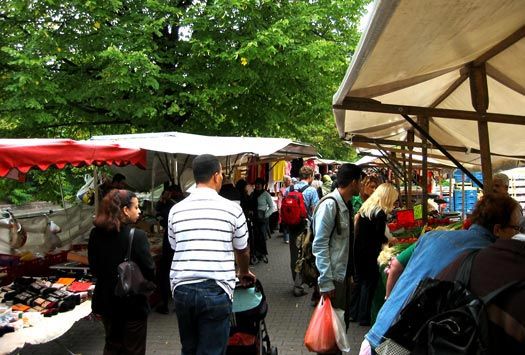 Photo by Katie Clemons
But what about the extra costs?
It's true — handmade is often going to cost a little more.  Yet for us, we're actively trying to make it a priority at our house.  It means:
we're buying a little less at the store so we can save up,
we're really, truly loving the things that we are bringing home,
items are (generally) lasting longer because the quality of workmanship is better, and
we're hanging onto items longer because they carry stories and mean more.
Is there anything handmade in your home?  What's the story it brings to your family?