My 5-year-old daughter is obsessed with words. She spends her days at school learning sounds of words, what words mean, how to spell words and how to read words. So, when I said to my husband the other day, "We've really made this house a home, haven't we?", she quickly replied "House and home are the same word!"
Having lived in a fixer-upper for nearly as long as she can remember, I knew she'd understand when I sat down to explain to her the difference between a house and home. I started by saying, "houses have windows, homes have stories."
While my family has spent the past nearly four years making what was a barely livable house a home, I still believe that it's not the walls or the flooring, or the decor that make the places we live home.
What makes a house a home?
Think about your home — what comes to mind?
For me, I think of my family.  I also think of smells – delicious food cooking in the oven or simmering on the stove.  I think of the games we play here, the laughter, the memories created in the simplest of moments.  I think of reading books on a rainy day in a comfortable chair.  I picture Saturday morning pancakes.
All of these things have nothing to do with what a house looks like, what kind of countertops it has, or how shiny and new it is.  The most important things are who you are with, and what the moments are made of.
Embrace the stories your home has to tell.
Think about all the times you've put your kids to bed giggling. The times a meal has been wrecked and you had to order pizza. The times you laughed so hard at something your child said, your gut hurt. Those are the moments that matter.
Those are the things that make the places we call home. Not the pretty stuff on the walls, or the view. It's the moments you create in your house that make it home.
Making memories at home…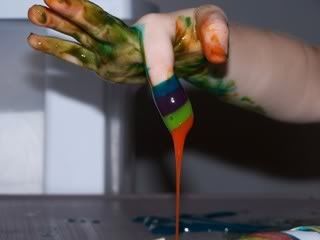 Photo by
Remodeling This Life
Creating memories and making a home is not always as easy as laughing at someone messing up dinner, or having a big tickle fest at bedtime.  Sometimes you have to create moments, make memories that will last – if not a lifetime, at least a little while.
If I had to choose between painting my living room or giving my kids an afternoon with finger paint, I'd take the finger painting any day. Making a space that is safe and comfortable for everyone to create is so important.
For me, home is providing a place for everyone to know it is okay to make a mess.  Home is a place where creating and learning and enjoying life is more important than white walls and perfect furniture.
The place you live is just that – a place to live.  Home – whether rented or owned, big or small, new or old – is what you do, who you are with, and the memories you make.
What makes
your
house a home?