Over a decade ago I made the transition from high school teacher to full-time mom. Gone were the days of toting my European leather satchel, wearing high heels, and attending staff meetings. Instead, my hours were filled with baby spit up, a bigger laundry pile, and endless "free" time.
Six kids later, I find myself with a home business, a homeschool, a much bigger laundry pile, and less "free" time. I've made a ton of mistakes along the road of motherhood.
I would never turn back from this path I chose so long ago. But I've found, even now, that there's common ground between the old days and my current ones.
In fact, I'm discovering ways to feel more like a pro in my primary — and best — of professions.
Dress for success.
While I could stay in my jammies all day long, it doesn't feel productive, nor does it motivate me to tackle that laundry pile, take the kids to the park, or wrestle with a lengthy to-do list. Wearing comfortable, but nice clothes helps me feel "put together" and helps me act that way, too.
Create a routine.
A reliable rhythm to the day helps my kids know what to expect and offers them a sense of security. It also helps me make the most of the minutes we have together. Creating a household notebook and consulting a Daily Docket can help us walk through the day with grace.
Weekly trips to the library, the park, and pottery class get us out and about — something necessary for families that are home-based. Doing regular chores helps keep us from becoming entrenched in said home base. And fun little traditions like Pizza Night or Pancake Saturday remind us to enjoy the good life, and one another.

Having a plan for after-work or after-school hours helps the days distinguish themselves from each other, and can prevent us all from feeling postal.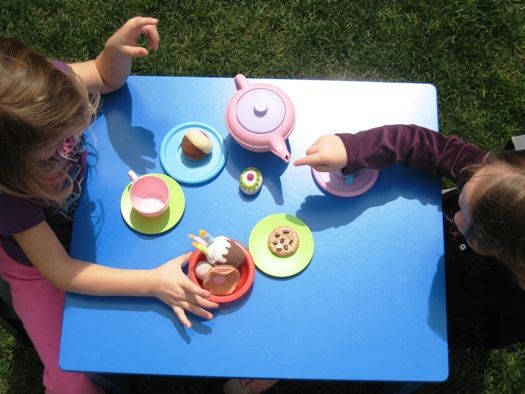 Take a break.
Motherhood is a 24/7 job. But that doesn't mean you abandon a sense of self or occasional "me" time. Plan a night or day off. Schedule a coffee break or regular tea time in your day. Make the mornings quiet — even if you have to wake up an hour early to find the silence.
Enjoy time around the water cooler.
Find other moms to spend time with, with or without kids. A quick email exchange, a sharing of prayer requests, a weekly moms group meeting, or an early morning phone call with a friend can do wonders for your disposition and motivate you to take on the day. You are not alone in the trenches; remember that.
Remember your Number One clients.
Hobbies, business, community involvement, even the television, can distract us from our families. But they are our first and best clients. Without our children, we'd be out of jobs – and heart. Though the laundry piles up, though the dog barks, and the homework mysteriously loses itself, let's remember the things that matter: the hug, the kiss, the cuddle, the story read at bedtime, the favorite meal prepared, the listening ear.
The bonus you receive from that account will beat all others.
Enjoy your job security.
You are irreplaceable. No one can replace you as the mother of your children. Others can fold the laundry or clean the tub, but only you can be, well, you. Remember that you are handpicked by God to mother your children.
No one can take your place.
What's your favorite part of your role as mom?