Are you ready? On Monday, we are starting Project: Simplify, the first week of five where, as a community, we will tackle one hot spot in our homes. We're harnessing camaraderie at its finest, encouraging each other by helping our families.
Each Monday, I'll reveal the hot spot, and on Friday, we all share our results. Before and after pictures are the only requirement, and everyone who participates is automatically entered to win that week's giveaway!
But you've got a task this weekend. It's a fun one, so no worries. You don't have to clean anything yet, and you don't need your "donate" box until Monday.
What is it?

Your family purpose statement
Yep — you need to create it. As a family, you need to write a simple truth about who are as a family. It doesn't need to be elaborate, but it needs to reflect what's most important to you.
Um… I thought this was about cleaning my house.
Yes, this series will help you clean and organize five decluttered spots in your home. But there's more to it than that, because when you just clean your home, you lose your motivation and your focus.
When you make your home better suited to your family's purpose, then it's easier to care about where things go, what stays and goes, and how clean (or disheveled) it is. It's easier to live there, because it feels like home.
That's why a family purpose statement is such a good impetus for organizing your home. It makes organizing the means to an end, not the end itself.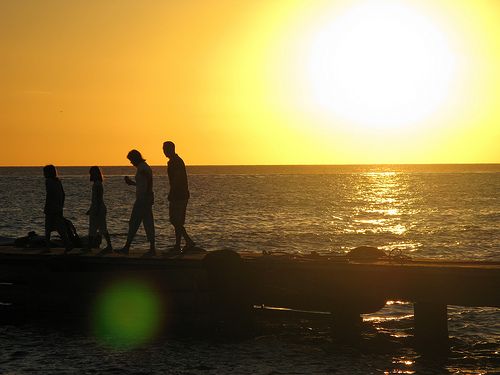 Photo by photon
How to write a family purpose statement
If you already have Organized Simplicity, then you have the list of 20 questions to help you create your statement (pages 43-44; chapter 3). They're not essential, of course, but I think they help. They're the questions we asked ourselves when we wrote our statement a few years ago.
Take a few hours with your spouse, and work through as few or as many questions as you like. Talk over what you're about. Decide what the absolute essentials are.
And as I mention in the book, remember:
your purpose statement should be simple,
it should be timeless, and
it should be general, but not too general.
Make it visible
Originally his week, I hit up a thrift store and bought a simple plate. I wrote our purpose statement with a Sharpie, and I was going to hang it in the hallway. But… I didn't like how it turned out. I love the idea, but I just couldn't get it right.
So instead, I created a simple Photoshop file of our statement, and had it sent to a local photo printer. This weekend, I'm going frame and hang it. I like it much better.
I like having it where I can see it throughout the day. I encourage you to do this, too.
Our family's purpose statement
I've shared our statement in the book and elsewhere on the blog, but here it is again in all its Photoshopped glory, in case it helps grease your wheels: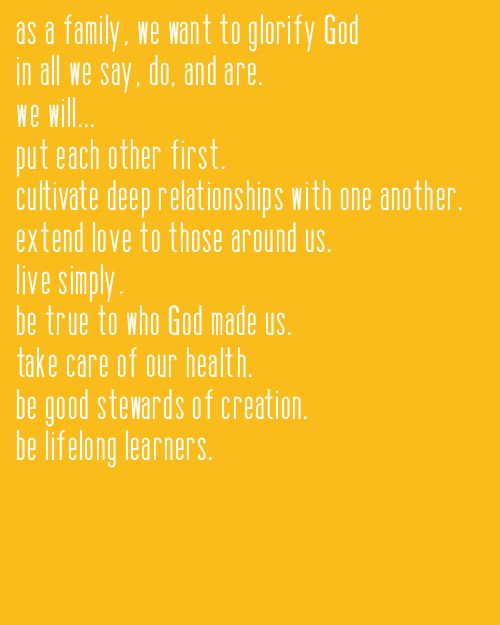 So your pre-assignment this weekend? Create your family purpose statement. And if you've already written it, have fun and make it pretty.
And get ready to roll up your sleeves on Monday!
Care to share your family's purpose statement? Or how about the upcoming hot spots — which ones do you hope we're tackling?