I've heard the Christmas story countless times. We've journeyed through wonderful seasons of Advent. Yet when December 25 passes… it's always feels strange when it all ends.
I try to dwell in the magic for a few for more days, till New Year's at least. But the truth is, after Christmas Day, I've begun to mentally pack up the decor and long for clear spaces in my cluttered home.
But I want to take something from the Christmas story into the New Year.
When I think about dreams I've had and paths I've taken, I feel like so often fear has trapped me under a glass ceiling. Fear has taken me to a never-rising plateau and left me there.
I want to live true to my calling, but I feel timid.
I want to feel bold and brave, but the fear ceiling presses down on me with the threat of failure.
Fear complicates things. Being brave isn't easy. But it's pretty simple.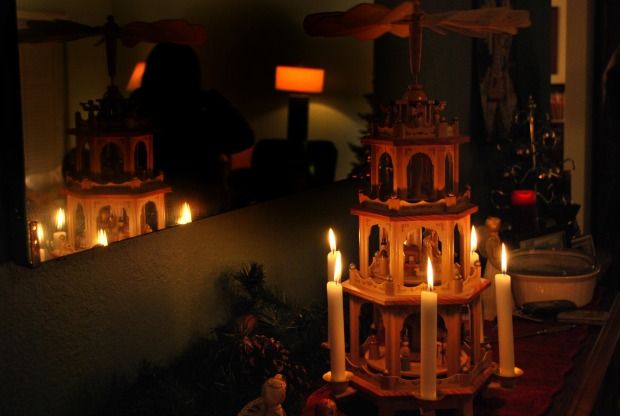 In the book of Luke, I re-read a story that even my three-year old can recite with confidence—the story of Jesus' birth. But this time, I read it peering into the heart of a young girl—the bold and brave woman she was.
Here's how she was brave.
1. She asked questions
Mary wasn't disrespectful, but she was curious about a things. Sometimes I feel like I have to know All The Answers or have already arrived at a certain place in my life before I can be brave.
But I don't. I can ask the right questions to the right people. I only need enough information to move from A to B, not from A to Z.
2. She was willing to do the work
No doubt Mary had been around other pregnant women and knew the physical and emotional challenges ahead of her. She knew the cultural adversity she would face as an unwed mother.
Yet she trusted her calling, and accepted it with strength and dignity.
3. She didn't try to go it alone
Mary's calling was an honor, but it was also a huge responsibility. She knew that she couldn't walk this road by herself, and had the wisdom to accept support and guidance from the angel Gabriel, her cousin Elizabeth, her betrothed Joseph, and of course, God.
To say that Mary didn't let fear hold her back from bravery is an understatement. She was faced with an unprecedented situation, but accepted her task and calling with bravery and trust, so that over two thousand years later, here we are, still celebrating the child to whom she birthed.
You may not have all the answers we want, but as you move into the fresh slate of a new year, look for ways you can move forward in boldness and bravery into whatever you've been called.