This week's task for our 12 Weeks to a Peaceful Christmas series?  It's a fun one.  Decorate your home for the holidays.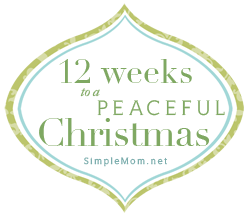 If you're American, you might still be relishing in the Thanksgiving leftovers and college football.  As you enjoy that sweet family time, start pulling out the Christmas decor, a little at a time, and savor the fun of decorating simply.
Perhaps you can make paper snowflakes and tape them to the windows.  Create a simple paper chain, counting down the days until Christmas (there's 28 as of today).  I love this simple-yet-classy craft project to create a snow flurry indoors.
Pop some popcorn, and make garland for your upcoming tree.  Hang the stockings.
Enjoy your Thanksgiving weekend, and savor the new anticipation of Christmas with your family.
What are your weekend plans?
top photo source