It's easy for me to accidentally let Thanksgiving week feel busy, what with all the baking, cooking, family-hanging, gift-list making, and tidying up tasks and projects during a short work week. But it's one of my favorite holidays, and I always regret overdoing prep when it cripples my ability to savor the season.
So, here are a few simple ingredients for this holiday week that help bolster the chance it's enjoyable amidst the hubbub.
1. A Good Book
I love reading all the time, but there's something extra-comforting about being in the middle of a good book during the holidays. It doesn't need to be holiday-themed, it just needs to absorb my attention. I often keep one in my purse and feel no shame pulling it out when I'm people-overloaded.
My current picks: Adorning the Dark, by Andrew Peterson (non-fiction); The Dry, by Jane Harper (fiction)
2. An Easy Drink (or two)
Coffee and water are my daily mainstays, as well as some sort of herbal tea come evening. But there's something festive about adding a special drink or two to your mulling-about-the-house, even when it's just you.
My current picks: Harvest Blend Herbal Tea from Trader Joe's (it's a seasonal tea, so I stock up every fall); Pumpkin Old Fashioned (I love Old Fashioneds, so we're gonna give this a spin this week)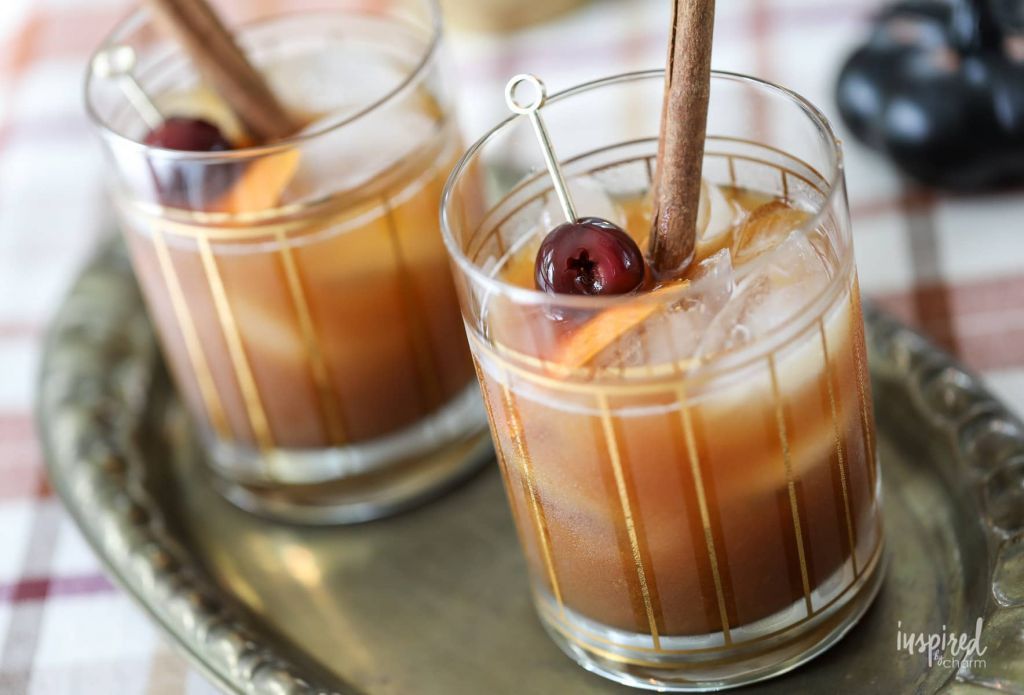 3. A Few Simple Recipes
It's fun and a novelty to go all-out with Thanksgiving recipes. It's also nice to have on hand a few easy-but-still-special recipes, both for bringing to the big feast and for snacking at home afterward. This year, we're intentionally making more than what we'll bring to our family gathering — we never have as many leftovers as we want, so this way, we're pre-making our own leftovers.
My holiday food for this year: Pecan Pie Bars, Gluten-Free Stuffing Mix from Trader Joe's (it's legit good), Apple Cider-Brined Turkey Breast (as opposed to the whole bird), and Cranberry Baked Camembert Cheese & Crackers
4. A Good Playlist (or three)
Listen, I'm all for listening to holiday-specific music whenever the mood strikes — if that's October for you, you do you. But I prefer to hold off just a bit, since I like to listen to Christmas carols through the 12 days of Christmas. If I start too early, I burn out.
I'm a fan of mellow background music for cooking and baking, game nights, meals, and just hanging out, especially during the holidays.
In my speakers and earbuds: My Fall Afternoons & Evenings, Company's Coming, and Shadow & Light Advent playlists
5. Our Own Family Time
Even when we travel for Thanksgiving, we try to snag at least an hour or two of time to hang out just as our own clan. It keeps my sanity intact when we can separate from the maddening crowd for a moment or two to breathe and enjoy each other's company.
On the docket for us: An easy hike, a trip to the dog park, a movie (or three) on Disney+, and game night — lately our kids have been into Phase 10, Trivial Pursuit: Family Edition, and Not Parent Approved (be prepared for occasional gross humor that makes my youngest explode into giggles)
What little things do you do for fun during a busy holiday week?
p.s. – As I've gone through holiday recipes this week, I'm reminded just how essential my Plan To Eat account is to my daily repertoire. A quick glance, and I see I've been using it since 2009, and I truly do menu plan inside there weekly. They usually have a good Black Friday sign-up sale, so be looking for it — head here to check it out, and at no extra cost to you, I'll get a small extra commission for referring you. No pressure, as always.