Have you ever been without family on Christmas, unsure of how to celebrate the day without a big gathering?
Or are you just tired of all the frenzied chaos that Christmas Day can become and need something different this year?
Me, too.
The more I've engaged in Advent and had an intentional time of waiting and expectation leading up to Christmas (thanks to Tsh's Advent Guide and Unearthing Wonder from The Peaceful Press), the more I want Christmas Day to be savored in small bites. The more I want it to be protected from frenzy, chaos, hustle. The more I want us to have the time and space to enjoy God's gifts to us—the ones that money could never buy.
For us, Christmas Day is intended to unravel slowly. It's uncomplicated, rustic, both restful and joyful, and broken into two parts: sacred time with just our family, and sacred time welcoming others in. It's a theme we've seen develop over the years, first out of necessity, and then out of choice. Now, I can't imagine Christmas without it.
This "slow and sacred" Christmas Day began when Steven and I were first married and living in Dallas. There were a few years in a row where we didn't have family with us on Christmas Day (just on Christmas Eve and right after Christmas). At first it felt strange to be just the two of us. Our first married Christmas together in 2005, we woke up and looked at each other wondering, OK, what are we supposed to do now?
We started a new tradition that year of writing each other a Christmas letter with thoughts and reflections of what the year had meant to us, and this was the first thing we opened in our stockings. The rest of the day was spread out before us like a gift.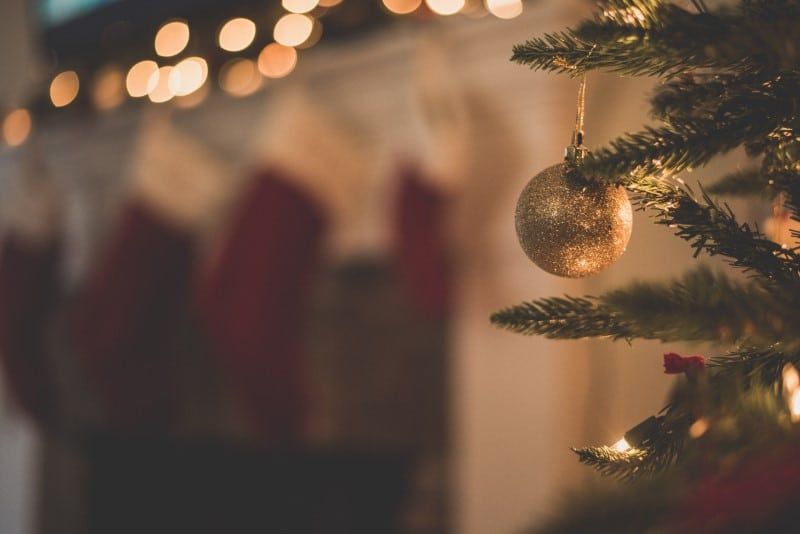 In true Dallas-in-December style, it was 80 degrees and sunny, so we went to our favorite haven in the city, the SMU campus, to stroll under the live oak trees and play in the fountains. The place was basically empty, and we had it all to ourselves.
We returned home and made a fancy Christmas dinner: Gruyére endive Italian salad, garlic spinach mashed potatoes, Parmesan roasted fennel, and roasted pork tenderloin. The reason I know exactly what we had for dinner that night is because we put it in our time capsule. Yes, our time capsule. That Christmas, we also started a box where we would tuck away special cards, pieces of paper with Christmas memories, and the letters we would write to each other each year.
That first Christmas Day together was an unconventional one for sure, but it was a day that seemed stretched forever long in all the right ways.
Now we've been married 14 years and live in Tennessee with two daughters who are still young (5 and 9). Our families—with all the grandparents, aunts, uncles, and cousins—are spread out across the country, and we love getting to visit with them either before or after Christmas. Then we can still reserve Christmas Day for the slow and sacred that's become part of our family culture.
Here's how it unfolds:
Morning
Our normal 5:30 a.m. wake-up is nullified for Christmas Day, and we get to sleep an extra hour! The only reason we wake up is because we hear lots of loud noises upstairs—the girls are stirring excitedly. I scurry to the stairs to warn them not to come down until Steven and I are "ready." (Translation: Until we've made coffee.) I start the kettle for the French press while also starting two batches of my no-knead bread that we'll be having for Christmas dinner. It literally takes 30 seconds to mix the dough and set it aside for the first rise.
I make the French Press coffee, perhaps slipping some cinnamon into the grounds when Steven, the coffee purist, isn't looking. (Sorry, babe, but it is Christmas!) I warm up some coconut milk and froth it for my creamer. We each grab one of our favorite pottery mugs and head to the couches in the living room.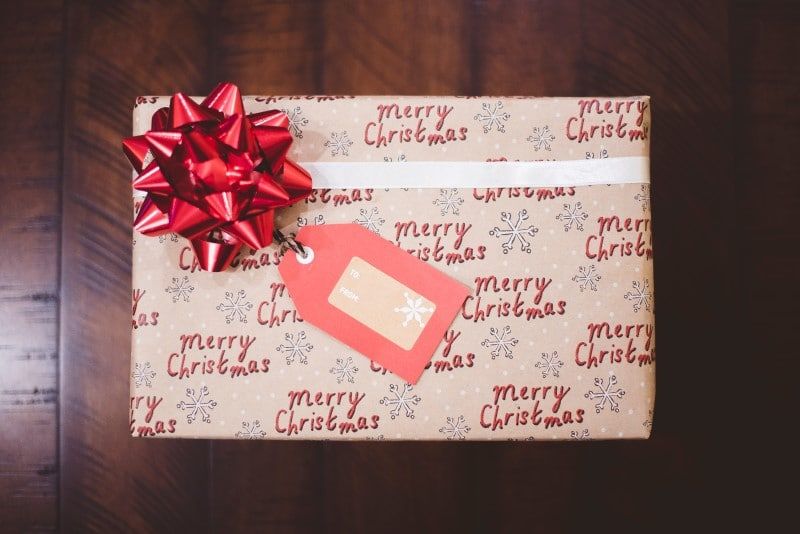 The girls come barreling down the stairs, wide-eyed, in their green and red striped Christmas PJs and head straight for the bookshelf where our stockings are hung with care. (P.S. Ever heard of a 1940s farmhouse without a fireplace? Me neither. But we make do.)
We never know what will be found in the stockings. One year, Steven made me a giant origami butterfly. Last year, my oldest daughter put a handwritten note in each of our stockings that said: "Love is in the air." Fourteen years later, Steven and I still write each other a yearly letter that we put in our stockings, and reading that is my favorite.
After opening stockings, we press pause—because we do live on a farm and the chickens need to eat. We all head outside to take care of the morning chores: opening up the greenhouses and watering seed trays, taking the frost cover off the lettuce rows if it was really cold last night, and feeding and watering the chickens. Somehow, tending the earth feels even more right on Christmas Day.
Back inside, our oldest daughter makes her famous gluten-free chocolate chip pancakes using Pamela's Baking Mix. They always turn out light and fluffy, and it's something she takes pride in being able to do herself. We eat those in the living room by the tree and get ready to open the other gifts.
For gifts, we follow the plan of each child getting three gifts from us: "Something you want, something you need, and a surprise." We take turns opening them so each gift (and person) gets its deserved attention and to avoid the crazy ripping-all-the-gifts-open-at-once frenzy which always stressed me out on Christmas. While there are always gifts from grandparents and other family members to open as well, changing to this philosophy has simplified gift-giving and helped things move more slowly and intentionally.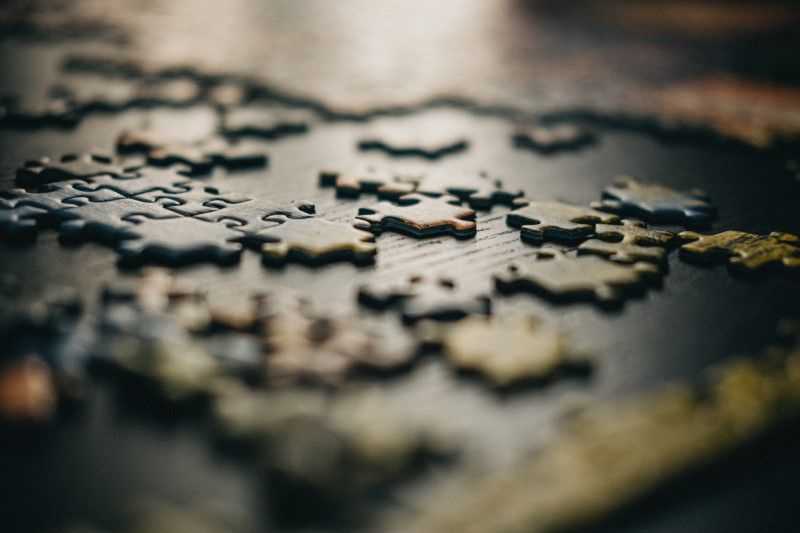 After that, we might take a walk around our land or into our woods, work on a giant Christmas puzzle, play a game, or put on a favorite Christmas movie like Elf, All I Want For Christmas, White Christmas, Holiday Inn, or Miracle on 34th Street. (I'd love to hear your family-friendly favorites!)
Afternoon
It's coming on noon. Lunch is simple: leftovers or something easy that's in the fridge. We start any prep that needs to be done for dinner because we have friends coming over later for Christmas Day, part two!
Then, it's rest/quiet time. Maybe a good nap. Or maybe everyone just goes to their respective spaces and reads a new book or plays with a new toy or game. Either way, this is another pause in the day that's so needed.
By late afternoon…hmmm, it might be time to shower and get dressed in real clothes.
The bread dough gets a second rise, and then I bake them one at a time in my cast-iron dutch oven.
Evening
Having had so much downtime with our own family, we're filled up and ready to welcome others into the fold. The last few years, we've had friends—either families or singles—over for Christmas dinner who don't have family in town either, and it's been so special.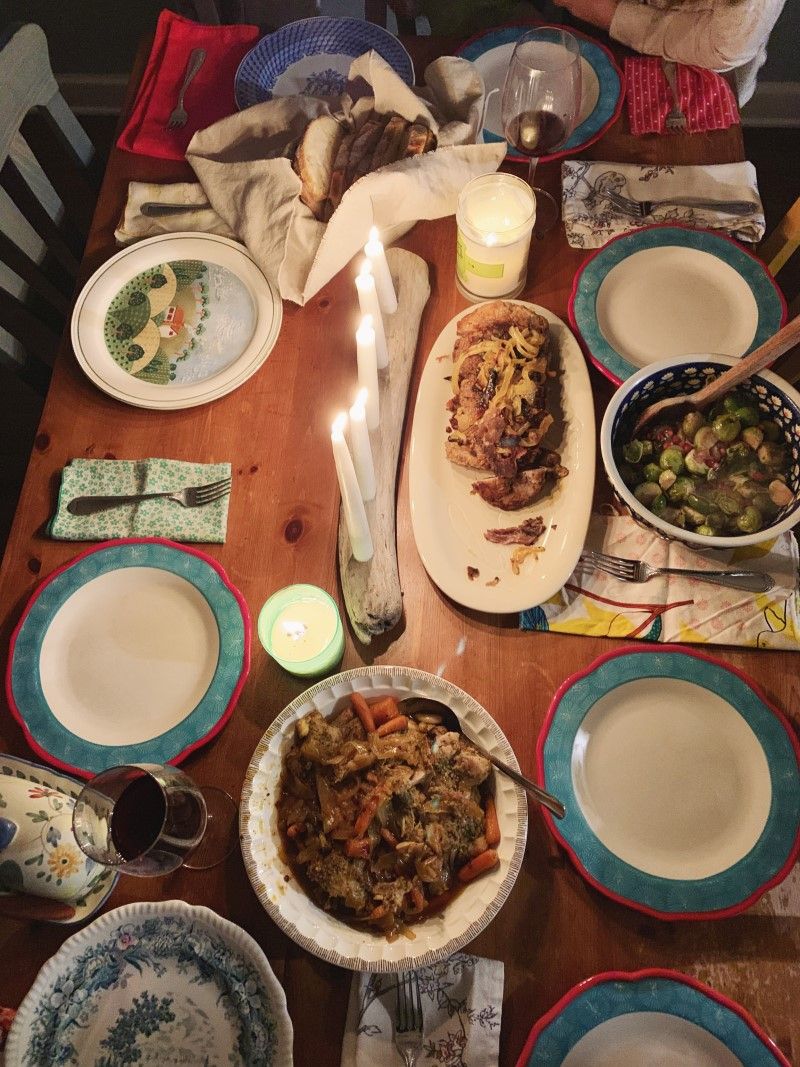 Dinner will be a collaborative effort, a labor of love: we always make Julia Child's Boeuf Bourguignon, crusty bread, Kindred Farm salad, veggie sides that our friends will bring, and peppermint chocolate layer cake. (Last year, I made Pioneer Woman's four-layer chocolate cake recipe with peppermint cream cheese frosting. This is my go-to chocolate cake recipe, and it always turns out so moist and fluffy. For the frosting, I double the recipe and add 2 teaspoons of organic peppermint extract instead of vanilla.) The cake is made but needs to be iced, and the Boeuf Bourguignon is simmering away. Ahhhh, there's nothing like the smell of fresh bread, onions, and mushrooms baking and the excitement of guests arriving soon!
Candles around the house are lit, floors are swept, and we dance around to a Christmas playlist—Tsh has several good ones here—or another favorite like A JOHNNYSWIM Christmas or Behold the Lamb of God by Andrew Peterson and friends.
We exchange small gifts, open the wine or the bourbon. We put out a charcuterie board to snack on while kids run around. This is the loud, rambunctious, but equally as wonderful part of Christmas Day, and we are here for it.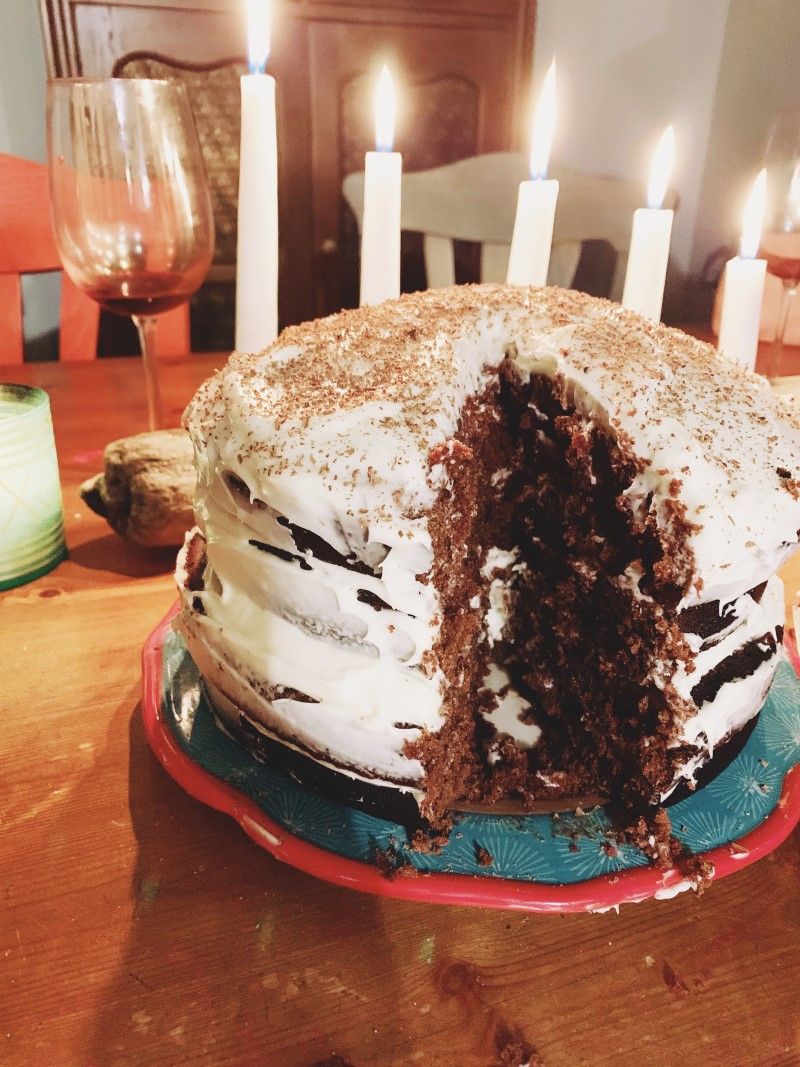 As we light the fifth advent candle in my DIY candleholder, we gather this year's Christmas Day tribe around our small, humble, dining room table, and I'm reminded again why I love the word "kindred." Family means many things. Advent culminates on Christmas night, I can't think of a better way to remember that Jesus Christ became flesh and dwelt among us, than to celebrate around the table with these flesh-and-blood people we've been given to love.
• Listen to the podcast episode about this post.