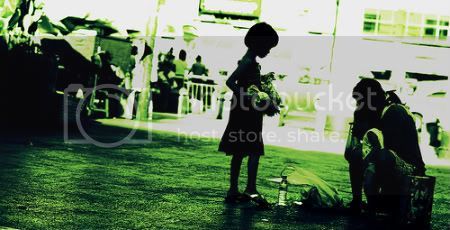 Photo by Edward Lim
The following is a guest post by Nicole of Burning Bushes
In today's economy, say the words, 'rich' and 'quick' to someone, and they're soon looking over your shoulder at that evil sub-prime mortgage lender who started this whole mess.  But hear me out on this one — I promise this is a different 'get rich' scheme than the one that's been sold to you in the past.  And by the way, I don't have anything to sell.
Truthfully, there are two time-tested, mother-approved ways for nearly everyone to get rich.  And those are not QUICK methods.  This blog, Simple Mom, loves both of them — frugality and saving.  Spending less and saving more.  These two methods certainly work and are blog-worthy topics.
But there's another method towards wealth.  Wealth of a different sort.  This wealth is a mental, emotional, experiential sort of wealth. And it comes from giving generously to others.
Read on to find five ways to get wealthy FAST.
1. Be Rich TODAY.
Saving and frugality help us plan for tomorrow — for that big purchase, for retirement, for something later.  But giving is about today. When you give to someone in need, you meet their needs NOW, not later.  Giving makes you more aware of the current moment and more present here.  It makes you think, what does my neighbor not have today?  How cold is my homeless friend on this icy morning?  How is the financial crisis affecting the micro-finance business I helped start in the Congo?
While it's foolish to not save some and plan for tomorrow, I'm not guaranteed any tomorrow.  But I do have TODAY.  And giving to a particular need NOW wakes me up to my current realities.
2. Be Rich in FREEDOM.
When I loosen my grip on money and things in order to give to others, my things and my money loosen their grip on me.  Letting go of something I think I need reveals that my need is not as deep as I thought.  Letting go of some portion of my money or some thing I'm keeping as a safety net or luxury — if I can finally let it go — helps me redefine my needs.  Am I dead?  Am I freezing?  Am I hungry?  Am I bleeding?  Most probably not.  When we hold tightly to things, we start to fear the day of their release.  And yet, ironically, it's often our holding them so tightly that binds us up with fear in the first place.
"No one has ever become poor by giving." –Anne Frank
3. Be Rich in RELATIONSHIPS.
If you're like me, then the more stuff you have, the more you're consumed with managing it all.  Cleaning, sorting, organizing, and analyzing.  Things have mass and the more mass we own, the more we are weighed down with it all.  When we use our things and our assets to bless others, we remind ourselves that people are of primary importance and that relationships will outlast everything else.
4. Be Rich in PERSPECTIVE.
Recently, we had a great wake up call when we shared a meal with a refugee family that just moved to town.  As we opened our home to this couple, they opened our eyes to the reality that we, even in the toughest of times, are extremely wealthy.  On the contrary, when I only surround myself with peers who have all the toys I have and more, I begin to envy and consider myself on the very low end of the middle class.  Did you know that even if you made only $1500 last year, that's more than 80% of the people on earth?
For some help with perspective, check out this great little slideshow comparing the world to a village of 100 people.
5. Be Rich in TRUST.
When I share some of my financial or physical resources, my tightly-clenched fist reminds me that my trust for safety and security is too easily tied to money and things.  Giving money and possessions to others challenges us to think more deeply about what we trust in for security and hope.  When we let go of a corner of our security blanket, we're provided an opportunity to consider our objects of trust, and ensure that we're not banking on safety from things that can rust, break, or be stolen.
"Can a man be poor if he is free from want, if he does not covet the belongings of others, if he is rich in the possession of God?  Rather he is poor who possesses much but still craves for more."  –Tertullian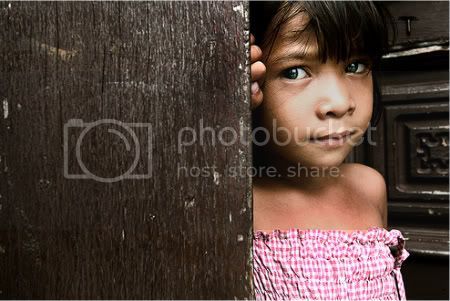 Photo by Roy Yap
APPLICATION TIME
So, what do you think about my 'get rich' scheme?  It's certainly not my idea, but I am slowly learning the truth that I'm blessed more when I give than when I receive.  If you're excited about the idea and eager to be rich today in freedom, relationships, perspective and trust, then here are a few ways to get started.
• Start small by giving just a little something.
• Build a relationship with someone who is in more need than you and your family.
• Commit to give regularly (even if it's a small amount) to one church or charity.
• Expose yourself to needs in your own country and around the world through the internet or the news.  Adopt a country, an orphanage or a cause as a family.  Do research and make the cause your own.
• Prepare ahead for birthdays and holidays and encourage family members and friends to give to a charity in place of a gift for you.
• Do research for ways to give larger gifts to responsible organizations.  Check out these resources for inspiring information and links:
How do you incorporate a spirit of giving in your family?
_____
Nicole does not excel at generosity.  In fact, she often stinks at it.  When they handed out generosity in etiquette school, she must have been in the bathroom or something.  But, she was blessed to live among the materially impoverished for two years in a developing country and has been working in the philanthropic/international development arena for four years.  She writes as a learner, with some practical and theoretical knowledge under her belt, hoping to give herself a good kick in the piggy bank even as she types.  Nicole blogs about learning lessons from God in her everyday life as a mommy, wife, and neighbor at Burning Bushes.
top photo source