The following is a guest post from Heidi at Mt. Hope Chronicles, and was originally published on June 15, 2008.
I love to inspire others to find joy in the simple things in life, as well as share my journey as a mom of three little boys. My passions include decorating and design, photography, literature, education, and family life.
So many Mt. Hope Chronicles readers are creative and enjoy beautiful homes, but they've expressed their frustration that the 'where, what, and how' of wall décor trips them up. I've heard the question over and over: "Exactly how do I hang things on my wall?"
Here are a few of the tips I use when decorating and designing the walls in my own home.
1. Match the artwork size to the wall.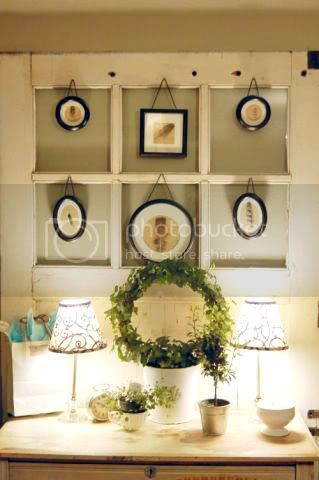 Coordinate the shape and size of your wall decor with the shape and size of your wall space. Large items (or a grouping of small items) belong in a large space; small to small; horizontal to horizontal; vertical to vertical.
2.  Less is more.
Try not to fill bare spaces for the sake of simply filling a space. Wait until you have something perfect or a piece that you really love. While it might take some experimenting and arranging, a little minimalism looks more attractive than haphazard or inadequate arrangements.
3.  Go for three.
The Rule of Three applies to items hanging on the wall.  Go for groupings with odd numbers.
4. Or go for one.
If you have the space, be brave and try one over-sized element to make a bold statement.
5.  Don't hang randomly.

Don't place numerous disconnected pieces throughout a room. Choose one or two favorites, consolidate into groupings, or 'ground' a wall item with a piece of furniture.
6. Pay attention to height.
Aim for consistent wall height between furniture and wall decor throughout a room. Stand in the center of the room and turn slowly. Do your eyes move up and down to follow the focal points along the wall, or do they move smoothly?
7.  Go for eye level.
When hanging items on a blank wall, aim for roughly eye level. If you want to be exact, the center of the item or grouping should be 55-58″ from the floor. In a child's room, it would be appropriate to hang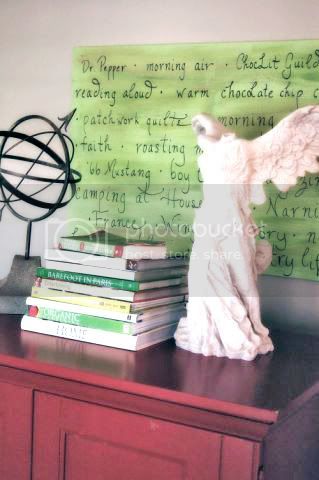 items lower on the wall to match a child's eye level. I throw the eye level rule out the window when hanging a picture above an item of furniture such as a piano or above a mantel. I then hang the picture comfortably in the space available, as long as it is not hugging the ceiling.
8.  Think outside the box.
Use unexpected items on the wall. If nothing else, they can be conversation starters. Hang game boards (Scrabble, Chutes and Ladders, Monopoly…), a grouping of white plates, decorative maps, empty frames painted in bold colors, a collection of straw hats or mismatched wooden oars for a summer atmosphere, a painted quotation, or an old door.
You are only limited by the bounds of your imagination (and your husband's tolerance level). Look through catalogs, magazines, and decorating books scouting for ideas.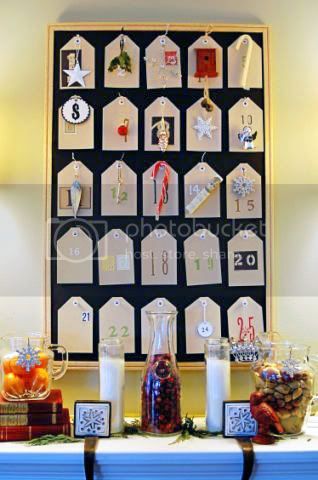 9.  Create your own art.
A canvas painted with a list of the things that makes you happy is much more personal in a home than a store-purchased, mass-produced, framed picture.
Create silhouettes of your children or a collection of treasures found on a nature hike secured in a shadow box. Hang a large framed cork board, a board covered with stainless steel for a magnetic surface, or a surface painted with chalk board paint for an ongoing creative process. I used a cork board to create a personalized Christmas advent calendar.
10.  Don't be afraid.
Your home is a place for self-expression. A place to feel comfortable in your own skin. A place of acceptance.
Ultimately, only you (and the members of your family) need to love the way your home looks and feels. Throw these tips out the window if they are unhelpful or hinder your creativity!
"The longer I live the more beautiful life becomes. If you foolishly ignore beauty, you will soon find yourself without it. Your life will be impoverished. But if you invest in beauty, it will remain with you all the days of your life."
– Frank Lloyd Wright
What's on your walls at home?
top photo source
—
Heidi blogs at Mt. Hope Chronicles, where she shares her life with three boys, homeschooling, photography, and her "forever house."