Today as you read The Art of Simple, I'm either carrying a little baby in my belly or in my arms. There's no way to know which, of course, so I am focusing my pre-mamahood energy to tell you what our little family has planned for the holiday season.
My husband is a German Czech; I'm American. We've done what most couples do, grabbing a few traditions from each side of the family (and ocean!) and mixing them with some of our own.
1. Czech Holiday Customs
My first Czech Christmas dinner was hosted by my mother-in-law one Christmas Eve. She didn't serve turkey like we would in the US; she didn't prepare a duck like we would in Germany. She served carp.
Yes, carp.
Growing up in Montana, I had always learned that carp was the fish you threw back into the pond. These fish live in the pond mud and taste like it… unless you take the Czech approach to this fish.

Czechs go through a very tedious process of cleaning and readying the fish. Part of this process used to consist of keeping your fresh carp in your bathtub for several days leading up to Christmas Eve when your family would sit down for a holiday feast. Now you can purchase your carp ready to go.
Oh, and just remember that this is a "Czech custom," not a "Czechoslovakian custom." Czechoslovakia hasn't existed as a country since 1993. I'd hear from my mother-in-law if I didn't mention that!
As a new mom, I'm excited about the tradition of having a big meal on Christmas Eve like Czechs and Germans enjoy. I always remember my mom missing all the fun of Christmas Day. We were playing with presents; she was cooking dinner.
Want to add some Czech traditions to your holiday?
I make these Czech vanilla cookies (aka vanilkove rohlicky), translated from my husband's Czech grandmother's collection. Various forms of these cookies are made in Austria, Germany, and the Czech Republic all winter long. We also roast chestnuts on Christmas Eve, which is surprisingly simple to do.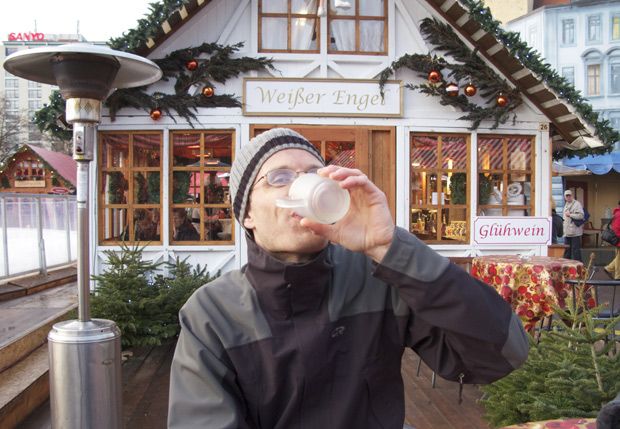 Photo by Katie Clemons
2. German Holiday Customs
The first time I saw Saint Nicholas was in Berlin, Germany. He was riding on a white horse and pausing to visit with all the children in the park on December 6th.
Children leave a little hay or a carrot for the saint's horse (not reindeer) in their shoes the night before. They sing a special Sinterklaas song, and they wake up to find little treats and toys in their shoes. He visited me for the first time that year; I was 25!
At our house, it's a tradition to receive a little ornament in our shoes. As a new mom, I'm thinking baby's first Christmas ornament this year!
Want to add some German traditions to your holiday?
Want a delicious German treat? Try roasting your own chestnuts or making Lebkuchen (German gingerbread cookies).
Advent is huge; in Berlin, shops would sell everything from Advent chocolate calendars and craft kits to Advent tea, which is a box of 24 winter teas.
3. American Holiday Customs
My grandpa used to make a traditional hot beverage called Tom and Jerrys with sprinkles of fresh-ground nutmeg on top. It was one of the only things he ever made in the kitchen.
Dozens of us would sip the frothy drink – alcoholic for the adults – under the Christmas tree that stretched to the extra-tall ceiling as my grandma played Christmas songs on the piano.
So much of who we are comes from the people and the traditions that have come before us. My husband and I follow this recipe for Tom and Jerrys every holiday. Perhaps our little one will discover the magic that comes in a Tom and Jerry mug, too.
Want to add some American traditions to your holiday?
My husband's family never did stockings; St. Nicholas had already brought them little treats. I think stockings and Santa Claus are very American. So is most holiday music. Bing Crosby, John Denver, today's pop stars – you name it. They're singing English Christmas songs over the loudspeakers in northern European malls, too.
And then, of course, there's the American tradition of fruit cake. But we won't go there!
Photo by Katie Clemons
4. Holiday Customs of Our Own
During my first Christmas abroad, I began a daily journal/scrapbook. As I did, I started to see how all the small moments of magic come together to really make a merry holiday, no matter where you are or who you're with.
All month long, I wrote about those magical moments, like seeing St. Nicholas on his horse. I snapped a photo of what he left in my boots. Keeping a Christmas journal helped me focus on gratitude and joy of the season.
As a new mom, I can't wait to dive into this tradition again! In a couple years, I'll have our little guy help with some of the pages!
Want to incorporate our Christmas tradition into your holiday?
I use the "'Tis the Season" Christmas scrapbook and card holder from Gadanke. This book is the perfect storycatching kit with colorful pages of writing prompts for you to document joys of the holiday. Tuck away Christmas cards and memorabilia, and reflect on past holidays and traditions.
Use the code STNICK to save 10% off your entire order at Gadanke.com. Explore personal journals, travel journals, baby books, kids' scrapbooks and more. These books help writers discover their passions and chronicle their personal journeys. Discount good through Wednesday, Dec. 4, 2013.
What types of international customs does your family have? Any that you're thinking of adding?