Reader Sarah asks, "I've been thinking about getting rid of some toys. … However, since this is our first child, I'm always challenged on what we should keep for future kids, or what we should go ahead and get rid of. I hate toy clutter! What toys do you keep around?"
Great question, Sarah, and one we ask often. I wrote about free toys to create or repurpose with everyday household stuff, but there are many times when store-bought toys are worth the money.
I agree with you – toys cost a lot of money, they can easily take up way too much space, and they too often are loved for way too short a season. Timeless toys are best, so that they stand the test of hardcore play, and so they entertain both genders in many different ages.
I also believe that when a toy does less, the child does more. In other words, when a toy lights up, sings, dances, moves different parts, and talks to the kid, then the child… just watches. There's not much room for creative play there.
I ask myself the same question about toys that I ask about everything else in our house, a la the great quote from William Morris – "Have nothing in your house that you do not know to be useful or believe to be beautiful."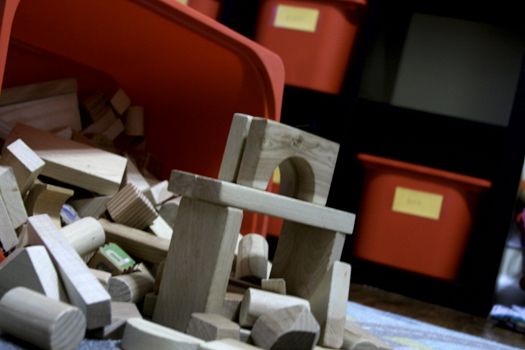 Is this toy useful? And is it beautiful? If so, keep it. If not, find it a good home.
Keep in mind that you need to refer to your children's opinion with these answers – you may find that florescent pink My Little Pony rather hideous, but your little girl may play with it four hours a day. Sounds like it's beautiful in her eyes.
So with this in mind, these are some of the toys that are sticking around our home. Our kids are still young, so I'd love to hear ideas about great timeless toys from those of you with slightly older kids.
Here's my opinion on the best classic, timeless toys for almost any child.
1. Wooden blocks
My mother-in-law made our kids basic wooden blocks out of scrap wood, sanded to a smooth shine. They're nothing but natural wood, which means our babies can drool on them as much as they want with no concern for toxins. Our preschool plays with these daily, and the creative potential is near endless.  Melissa and Doug make a great set of classic blocks, but they're also simple to make if you have scrap wood and the right tools.
It's worth the money to invest in wood blocks. Your grandchildren can play with them when they visit in 40 years.
2. Art supplies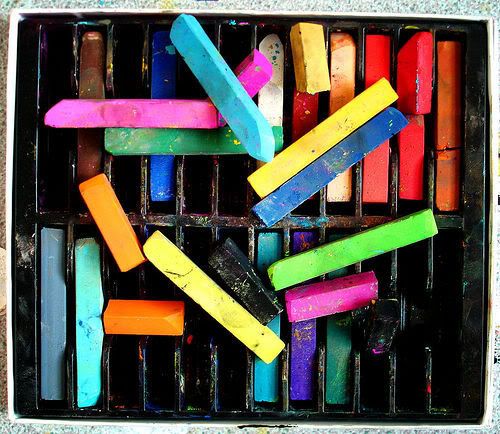 Photo by Chris Gierszewski
I've written about our art supplies closet, and guest writer Amanda shared a great idea about creating a portable craft box for your kids. Kids can spend hours with blank paper, markers, crayons, pencils, paints, scissors, glue, and googly eyes. Don't forget about old magazines, newspapers, leaves, flowers, and toilet paper tubes.
3. Dress-up clothes
Former Halloween costumes can be fun for all sorts of imaginative make believe, as well as your old bridesmaid dresses, your husband's ties, and garage sale hats and purses. My daughter just got a superhero cape for Christmas from Plum, Pear, Apple, and she's already had a blast saving those in need. Don't go overboard with costumes, of course – a simple trunk of fun costumes and clothing is plenty.
4. Books

Photo by Landon Michaelson
Ah, books. I adore books, and this is one area where I really hesitate to declutter too haphazardly. Quality books stand the test of time, and once your child discovers her love of reading, her world expands tenfold. I wrote about my favorite children's books a few months ago, and I've since found even more books I've grown to love.
5. Play kitchen and food
You can easily reuse empty food containers and secondhand kitchen supplies, but I think it's worth it to invest in decent play food. I try to go with either wooden or fabric. We like this set of wooden food you can cut, and for my daughter's birthday, I plan on making her some felt food. You can find some great felted or knitted play food on Etsy. And I like IKEA's ceramic and stainless steel play dishes and cookware.
6. Building toys
Lego, K'NEX, Duplo blocks, Tinker Toys… All these are great for open-ended play and hours of entertainment, either solo or with friends. Similar to wooden blocks, these toys provide a lot of flexibility and creativity.
7. Basic dolls and stuffed animals
I'm a fan of classic baby dolls that don't do much, and I'm a fan of classic-looking animals that are soft, sweet-looking, and aren't going to fall apart. I'm also a fan of not having too many of these things, which can easily happen.
8. Board games
Games are great for interaction, for learning about following directions and taking turns, and for learning how to win and lose graciously. The wide variety of board games out there will appeal to different ages, but classic ones are Memory, Sorry, Mancala, some of the Cootie games, Uno, Scrabble, and basic cards. Cranium makes a good line of children's games as well.
Our general guidelines for toys are that they're made of quality materials, they appeal to a whole range of kids, and they're open-ended to make room for all sorts of creative play.
What classic toys do you keep around? What are your guidelines for what stays and what goes?