Easter is one of my favorite holidays, not only because of the religious aspect, but because it is a celebration of new life and reconnecting with the natural world awakening from its winter sleep.
Children dress in sweet Easter clothes and enjoy Easter egg hunts for chocolate and other sweet treats.  Bunnies, chicks and ducklings abound.  What's not to love?
Unfortunately, Easter baskets have been traditionally filled with non-recyclable plastic eggs made in China, fake plastic Easter grass, and sugary candy made full of preservatives. The Easter baskets themselves are often made of un-recyclable plastic, and assembled in countries that have terrible records when it comes to human rights.
And there is just nothing natural about that.
But don't hang the Easter bunny out to dry yet!
Here are a few ideas to make your Easter a little more eco-friendly.

Easter Baskets
If you have already purchased Easter baskets, plan on storing them and use them year after year.
If your child doesn't have an Easter basket yet, consider the following options:
Repurpose a basket you already have on hand with a coat of spray paint. Or, the thrift stores are full of baskets waiting for a new home.  The baskets seen in the photos were baskets I found at Goodwill and prettied up a bit with leftover spray paint.
Use something you already have as an Easter basket, like a beach pail or a galvanized bucket.  If your daughter will have an Easter bonnet, turn it upside down and fill it with goodies.  Plastic mesh storage containers with a ribbon tied as a handle will work.  Lunch boxes and pillowcases also work well.
Choose a theme for your Easter gifts; the container could be a new tackle box, a flower pot with gardening items, a purse, a backpack or a make-up bag.
Now that you have your basket, what should go in it?
Easter grass, of course!  But not that icky plastic stuff that gets all over your house.  We have some better ideas.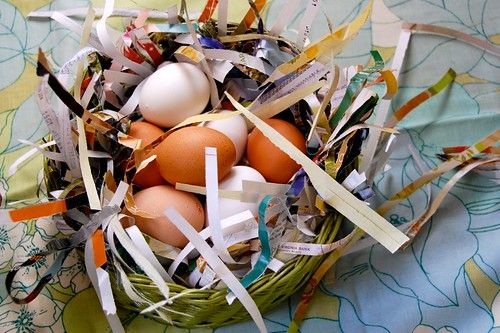 Easter Grass
Shredded newsprint, brown paper bags or magazines make great Easter grass and can be tossed into the compost bin later or reused as packing material.
For a very natural look, you can line the basket with a pot and grow wheatgrass.   But to do this, you'll need 9-12 days for the grass to grow in, so you'd better get started.  (See the tutorial on Simple Kids for more information on how to grow your own Easter Wheatgrass!)
Spanish moss makes great Easter grass and we've  even lined our baskets with pine needles before.
Rafia is a good substitute for Easter grass as well and could be reused later.
Or decide not to use grass at all and line your basket with a gift item like a new beach towel or a soft pastel colored blanket.
Now your basket is ready to be filled with goodies!
Easter Basket Fillers
Start with items that are really wanted or needed by your children and definitely will be used.  None of us need any more trinkety toys that will just end up in the donate pile.
How about an art themed Easter basket full of new art supplies and fun stickers and papers?  Think of items that your children will be needing for warmer weather anyway, like new sandals or flip flops, sunglasses and water bottles.  A few years ago, I filled my boys Easter baskets with summer beach toys, including a new swimsuit and goggles.
Easter Eggs
My family does not eat hard boiled eggs very well, so instead of cooking our eggs we blow the shells out and I scramble the eggs the next morning.
If you already have plastic eggs, store them afterward like you do Christmas decorations, and reuse them next year.
If you are dyeing eggs, consider using natural dyes from items you might already have in your refrigerator.  Katie posted a great how-to for coloring eggs using all natural dyes.  Check it out!
Treats and Sweets
There are a lot of options for filling Easter baskets with items other than candy.  Think along the lines of things you would use for Christmas stocking stuffers.  Here are some ideas to get you going:
Homemade play dough (recipe here)
Bubbles
Dried fruit, nuts, and natural fruit chews and roll ups.
Make a CD with their favorite songs or of yourself reading a favorite book
Coloring books
Crayons or markers
Puzzles
A Yo-Yo
Squirt Guns
Swim Goggles
Homemade egg shaped sugar cookies
Blow-up rafts and swim toys
Bouncy Balls
Silly putty
A Frisbee
Cards/ small games
Kid sized garden tools and seeds
Doll accessories
A jump rope
Books about spring
New tooth brush/paste
New flip flops
Hair bows, bands, ribbons
Stationary
Socks
Jewelry
Paper dolls
Chopsticks
Sidewalk chalk
Pastel colored shoe laces
Spare change
Oh, the list could go on and on…
Let's be honest.  What is an Easter basket without a little chocolate?
Part of the celebration is celebrating how sweet this time of year is.  Look for Fair Trade Certified chocolate choices.  Read why you should choose Fair Trade here.  Fair Trade chocolates can be found in most chain stores now.  Being eco-friendly is easier than ever.  Happy Eco-Easter Everyone!
What are your Easter traditions? Does your family do Easter baskets? What will you be filling your baskets with this year?