In the last two years I quit my corporate job, became a full-time mom, and immersed myself in a start-up — and it has not been financially easy on the family. While we have embraced a frugal life,  my kids seem to notice nothing.  Occasionally,  they complain about being bored. My kids act up when they have nothing to do.  But as long as they are sufficiently stimulated, they are happy little humans.
Over the past year,  I have learned that money is completely a non-issue when it comes to rich experiences for our children. There are a few other things that seem to matter.
What is a RICH Experience?
A rich experience for a child involves some basic characteristics:

1. Learning
Every new experience is a great learning opportunity for kids. As a mom, I try my best to wave some learning into every new experience – like talking about the seasons, or the color of the rain clouds while we are on a walk.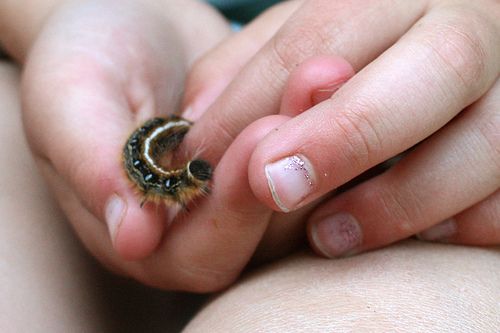 Photo by Woodley Wonderworks
2.  Immersion
A child needs to have her heart and mind engaged in order to learn from an experience. When my kids seem bored or insufficiently engaged, I change it up. Completely new activities are hard for kids to get immersed in right away, so I will often get involved first, and then watch their curiosity slowly build.  Adding a fun factor always helps with immersion, like learning a language or a musical instrument.
3.  Takeaways
The best experiences for my girls come from the simplest moments we can talk about all week long. Finding a takeaway in an experience gone bad is also a great lesson in transforming a bad experience into a good one.
4.  Lots of Smiles and Happiness
Hearing squeals of joy and happiness makes me immensely proud. Even if my kids aren't learning a direct lesson or skill, having fun means their little minds are soaking up life and learning wonderful things we'll discover later.
How do you create a RICH Experience?
Rich experiences  for my kids consist of two basic characteristics — predictability and surprise. It sounds simple, because it really is. So far, it has worked wonderfully for me.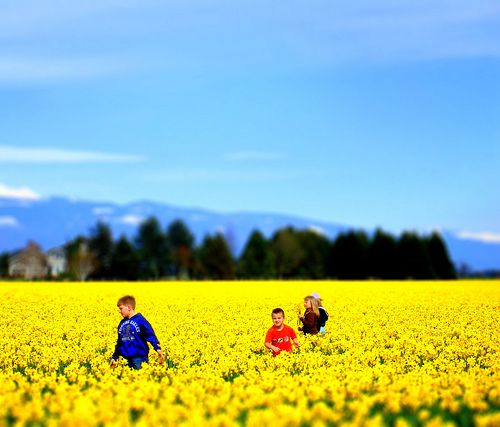 Photo by Rick Kennedy
Predictability
Children love predictability in their routines. Predictable events are grounding for little kids that have no control over their schedules. And for parents, it takes away from the stress of having to plan week after week. I have a number of recurring activities for the kids spread over the week. The particular activity doesn't really matter, but anticipating one is immensely exciting for a child.
Surprise
An element of surprise is the real secret to rich experiences. The surprise element creates just enough of a fun stimulation to keep the kids involved. It is like a little catalyst that will snap the kids into the moment and get them to engage. Friday evenings get so dark and boring when my husband travels because we miss him. But all I need is a new table setting or a little "make our own napkin rings" activity that will get the girls all perked up about dinner.
5 Simple Ideas to Create a RICH Experience on a Frugal Budget
1.    Picnics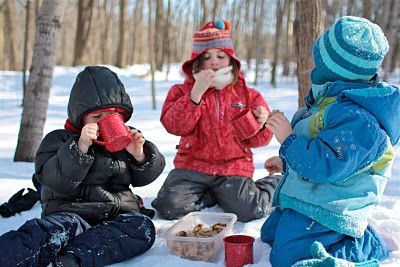 Photo by Aimee of Under the Highchair
Picnics in the backyard, in the living room, or at a playdate. And sometimes in the bedroom. We love picnics. It's really the same everyday food but prepped, cooked, packed, laid out, and enjoyed by the whole family.
We do our picnic and movie night every Friday evening. Before dad gets home, the kids and I plan a little picnic with a board game, snack, fancy drinks, a light dinner, and a movie. We spread out in the living room — it's the only time we don't eat at the dinner table. We often top the evening off with a little family dance to a Bollywood number.
The girls love making the decisions about the food, drink, game and movie each week. For them, it's a real sense of pride and accomplishment.
2. Virtue-based storytime
Our Sunday storytime with a virtue-based song, story, and a craft are a big hit when our kids are around two to eight years old. They take away little gems (fancy beads) for their participation at storytime. They get to see friends, play, and snack.
Back home, we focus on the virtue all week long while we talk about the story and apply it to our lives. Children always have more fun with stories they can apply to their daily lives.
3. Weekly exploration time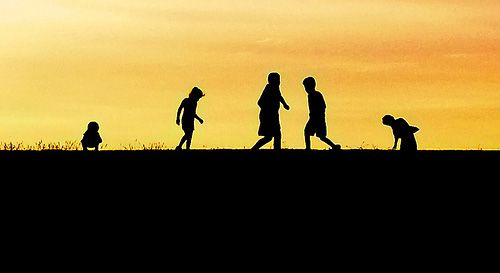 Photo by Josh Pesavento
Every week, my girls and I set aside a two-hour slot out and label it "exploration."  All we know is that we will explore something new at each exploration. Referring to the event as "exploration time" puts the kids in an adventurous state of mind.
Sometimes we choose a new park, try pottery, or visit an animal shelter and play with the animals. The whole idea is to try something completely new. Exposing my kids to a new adventure is a big learning experience for me. I was amazed as my three-year-old followed the instructions, learned and explored while she crafted a little bowl on the pottery wheel.
4. Travel right at home
Travel is hard on a frugal budget. But then, there is no shortage of resources online and in the real world for us to learn anything we want to.
Every week (or every two weeks), my kids and I choose a new country to talk about. We find foods from the country, talk about their language, and find friends who have family back in the country. We live in a city that is very diverse, and we can always find friends from all the different countries.  A must for my girls is exploring the country's music and dance.
5. Bonding time
Every Saturday, my kids go away for a few hours with my husband. We call this "bonding time". My kids absolutely treasure it. It is their special time with Dad, and what they do then is almost immaterial. They have their favorites – the museums, the book stores, aquarium, and the zoo. Whatever it is, It is a special time that they plan and look forward to all week, and it has been the best setup to give me some productive time with work while my kids enjoy time with dad.
I am amazed at the richness in life when we take our minds off money. I love our frugal life because it helps me focus on real and rich experiences. And by finding enough rich experiences with my children, I'm helping them grow and find happiness, irrespective of how well-off they are.
How do YOU create richness in your lives and for your kids? What is YOUR formula to create special experiences?