In our family, the holiday season is closely connected with crafting. I remember making ornaments with my mom as a child and I love sharing those same memories with my own children.
As much as the kids and I love a fun holiday craft project, in an effort to simplify  this year, we decided to scale the crafting adventures back to a minimum.
We went back to the very basics. Armed with pencil and paper, we got to work creating some one of a kind gift tags.
The kids created some simple holiday art work, and with a little bit of technical know-how, I took their works of art and turned them into printable tags and cards.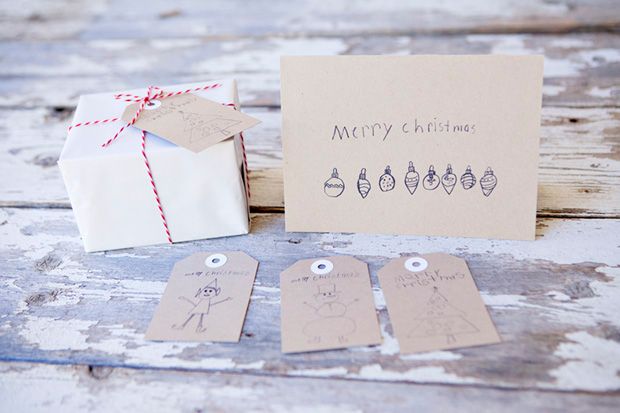 My kids loved everything about this, from the drawing, to seeing their art on my computer screen, and then printing and attaching their tags to gifts for their teachers and friends. It was such a fun project to work on together.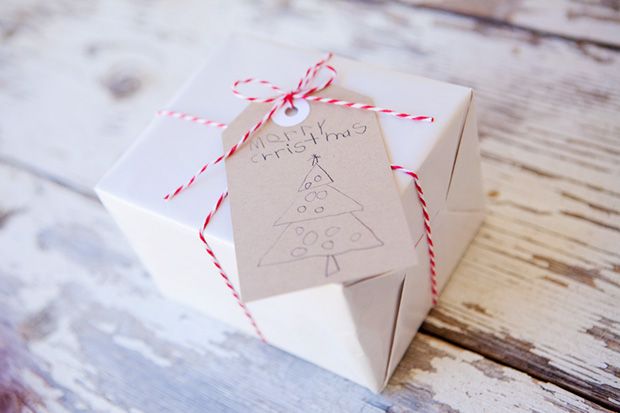 How to turn your child's art into gift tags:
1. Start with a simple line drawing. It can be done with pencil (darker lines work best) or a dark colored pen/marker.
2. When done, scan the artwork. You can also photograph the artwork if you don't have access to a scanner – just make sure your image isn't too dark. You can find some basic tips on photographing children's artwork here.
3. Open the scanned or photographed art in a photo editing program. Try PicMonkey, or even use your favorite photo editing app on your phone. Simply email the scanned art to yourself, save to your camera roll, then edit with your favorite app. We'll need to make some basic edits to the scanned art to make it printable.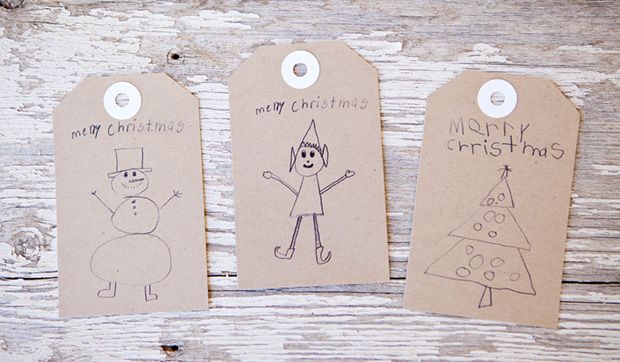 4. First change the image to black and white. You'll notice that the background might be a light grey instead of a nice bright white. This will show up when printed, so we need to adjust the brightness and contrast of the image. This will brighten the whites and darken the lines in the drawing. Play around until you're satisfied with the results and you have a nice, light background.
5. Now you're ready to create your tags or cards. Crop and resize the art, then print on white or kraft colored cardstock. Trim to the size and shape you'd like your final projects to be. Add some punched circles to finish off the tops of the tags, then hole punch and attach to your gifts.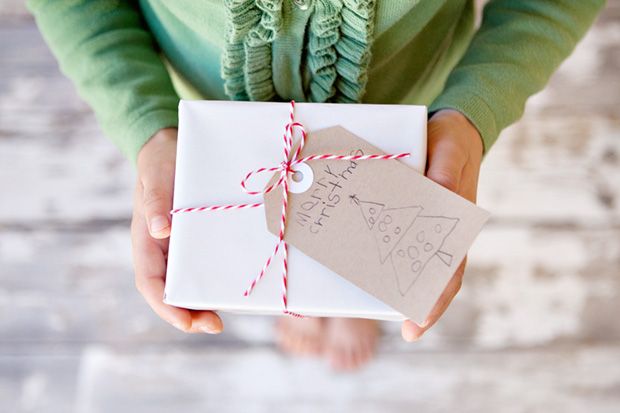 Need more ideas how to turn children's art into one of a kind gifts? Check out a few of these ideas:
Create a frameable collage of your child's art
Put your child's art together in a book for loved ones to enjoy
Turn their drawing into a stuffed doll or toy
Turn their art into a beautiful calendar