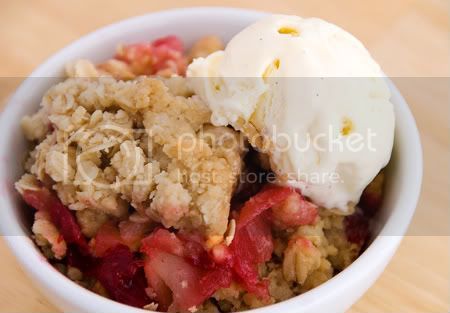 Photo by Jen Yu
It's not yet July and my dessert track record for the past month has been something like this: cobbler, crisp, crisp, fresh fruit cake, cobbler, and crumble.
There's no question that as soon as the seasonal fresh fruit of summer arrives at the market, I'm waiting to pounce on it and turn it into a casual yet utterly delicious dessert. Begone, heavy winter baking featuring caramel, chocolate, nuts, and more nuts; I'm ready for something tart that makes my taste buds sing!
Simple summer desserts tug on our heartstrings. They're old-fashioned, such as a peach cobbler or a strawberry-rhubarb crisp, and they conjure up memories of 'down-home' baking with Grandma.
Far from spiffy modern desserts, these baked treats aren't much to look at, but make up for their rustic appearance with their heartwarming flavours. Simple to prepare, they are outstanding desserts that anyone can make, and they require only a handful of basic baking ingredients and no fancy kitchen tools.
Summer desserts are ideal for the novice baker or the mom with many 'helpers.' They come together quickly with minimal fuss, making them ideal for summer entertaining. After all, who wants to spend hours in the kitchen perfecting a layer cake when the beach is calling?
Confused between a cobbler and a crisp? How about a crumble?  I'll define what sets these desserts apart, and provide links to a few tantalizing recipes of each.
Cobblers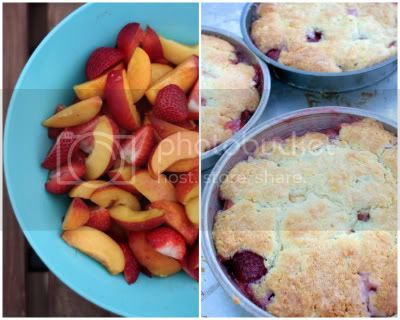 Photo by Aimee
The deep-dish cobbler is my favorite of all baked summer desserts. Thick slices of stone fruits or berries stew gently under a blanket of puffy biscuit-like topping that has been sprinkled with raw brown sugar.  Serve it warm with a dollop of whipped cream and you may find yourself turning down marriage proposals! Fruit and berry fillings are interchangeable–peaches probably being the most popular–while the topping ranges from traditional baking powder biscuits to a fluffy cake batter that is poured over the top. Spices and other flavourings such as lemon zest can be added to the topping for extra flavour.
Crisps/Crumbles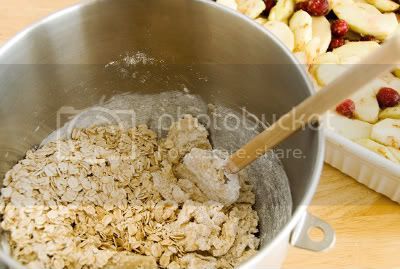 Photo by Jen Yu
As far as I can tell, the only thing that separates these two desserts is on which side of the pond they are served! Britain is credited for bringing us the delightful crumble, stewed fresh fruit topped with a streusel-like combination of flour, butter and sugar, while the American version is essentially the same but is referred to as a 'crisp.'  A crisp often has oats added to the topping and has made a name for itself, thanks to the well-known, much-loved apple crisp.
A crisp (or crumble, whichever you prefer) is handy because the topping can be made in advance. As long at it is refrigerated, it can keep for a few days while you wait for those pears to ripen or to get berry picking. There's nothing better than mounding fruit, still warm from the sun in a baking dish, scattered with a buttery topping and baked to bubbling, juicy perfection.
Fresh Fruit Cakes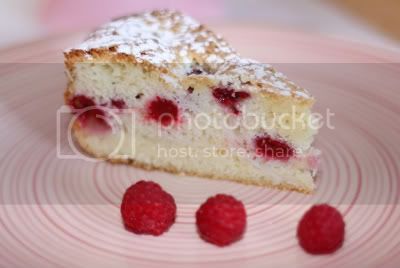 Photo by Aimee
These are purely no-fuss cakes, but by no means are they plain Jane. Assembled in a matter of minutes, they consist merely of a simple cake batter and a few handfuls of fruit. As easy as they are to put together, don't underestimate the sophistication of a fresh fruit cake. A sprinkling of icing sugar or a few fresh berries added to a serving can transform it into quite an elegant dessert.
The batter is usually a classic white or fluffy buttermilk cake, and the fruit can be sprinkled on top, layered between the batters, or placed in the pan first for an 'upside-down' cake. In this case, the pan is lined with parchment paper and as soon as the cake is removed from the oven, it is inverted onto a serving platter and the parchment peeled off. Voilà.
You may notice that the quintessential comfort food, pie, is not included in this post. Wait! Hold those over-ripe plums that you are getting ready to throw at me.  I wanted to compile a selection of desserts any amateur cook could put together. Mastering the perfect pie crust is a technique that takes time and is not a skill that comes naturally to most people.
Also, I find that truly ripe fruit contains so much water, pie just isn't the best idea; the crust will get soggy and you'll miss out on the best part of a piece of pie: the contrast of a crisp crust and soft cooked filling. Try a cobbler for those ripe fruits–the juicier, the better.
Now that summer is in full swing, it's hard to ignore the bounty of summer fruits that crowd the stands at local farmers markets and produce stores. Whether you are tempted by a brilliant berry or a soft-skinned plum, these old-fashioned desserts are the best way to showcase your favourite fruit.
Try your own combinations, using the fruit that is freshest in your area.  Swap out stone fruits and use berries interchangeably–you may like your own interpretation best of all.
Got a simple summer dessert you just can't live with out? Share it in the comments; I'd love to hear about it.