This post is part of a series where we are working our way through Tsh's ebook, One Bite at a Time.  I get to write here and share how I felt about a task, if it was helpful, or even…if it was a complete bust for me and my very real and very crazy family.
As always, you are more than welcome to play along too!  You don't have to carry out the tasks in order, so you can jump in right now and be just fine. Come on, everything's more fun when you do it together, right?  Well, most everything…
Project 22:  Declutter (and rotate) your kids' toys
You know what I love about working through this book?  The weeks when I can say "Hey!  I do that already!" And then I can give myself a little pat on the back and feel really accomplished—without having actually done anything.
I really dislike toys.  Actually, I don't mind toys so long as they are actually played with. But if you have kids, you know that the number of toys that crunch under your bare feet versus the number of toys that are ever truly in use are nowhere near equal.  I am forever donating toys to Goodwill and throwing away toys that have broken/missing pieces.  (And we still have a shocking number of toys!).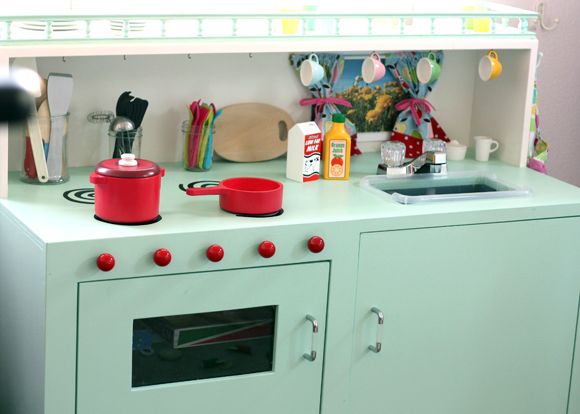 We can't much do the rotating thing because while our house isn't small, there is NO storage space. So instead, I try to cull down every couple of months.  And you want to know a secret?  I don't wait until my kids are napping to do it.
I know, it sounds insane, but it's totally worth it.  I've explained that there are kids whose mommies and daddies don't have as much money to buy them toys, so we will give our toys to a special store where they can go and buy them inexpensively.  Somehow, my son seems to embrace this concept and actually offers up toys for donation periodically.  "Mommy, I don't really play with this toy.  We should give this to other kids."
Maybe I got lucky, but I love that his little heart sees beyond hoarding and that he desires to share in his own four-year-old way.  The jury is still out on if my girls will be as generous.
The toy thing is REALLY hard around here.  You see, my kids are the first (and so far, only) grandchildren for both of our families.  With ultra-excited grandparents just itching to love on their littles, it can be more than overwhelming.  In fact, at one point, I threatened my mom, "If you buy them one. more. toy. please know that you are making a donation to the Goodwill.  I will donate it brand new, in the box, and some other kid will get a real kick out of it."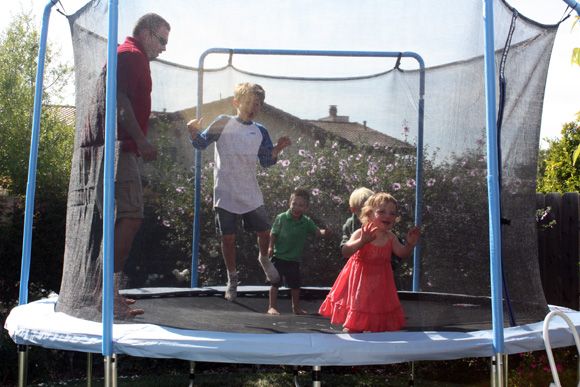 But the thing is, I hate being that way.  I don't want to take the joy away from their grandparent-hood.  I don't want to make it un-fun for them.  But I also don't want to pick up 8,000 plastic toys off my floor—particularly 8,000 plastic toys my kids only put on the floor in the first place because they were looking for the six toys they actually play with.
More importantly, the over-abundance was directly opposite of the values and lifestyle we wanted to instill in our children.  So there was this really awkward tension there: allow grandparents to be grandparents, but not let my kids own more toys than a toy store.
My solution: coordination.
Before every major gift-giving occasion, I try to think of one larger thing the kids would actually play with.  One year, I had everyone chip in for a trampoline.  Last Christmas, I assigned certain elements for a play kitchen to each family member.  My carpenter dad built the kitchen, my painter brother-in-law painted it, my crafty mother-in-law sewed ruffled aprons, my mom bought some of the food, and auntie bought the plates.  This way, everyone was able to buy the kids a fun gift, and I wasn't stuck with a bunch of random toys that would lose their novelty in three days' time.
Other options for future gift-giving
Ask grandparents to pay for…
classes (karate, swim, art),
subscriptions to fun kid's magazines (National Geographic for Kids, Highlights),
or books.
Books are always welcome and are the one thing I don't think you can really have too much of.  Just make sure you explain to your kids who bought the lessons and maybe have them write a thank you note mid-year.   Grandparents like that kind of thing, especially my mom who doesn't like that it's not a tangible thing to be held in hand.
One last thing: no matter what I do, my kids still get more gear than I like at birthdays and holidays.  Often, I'll pull aside a few items and put them up in the closet.  At Christmas, I set aside a couple of dolls and a board game, and on a particularly boredom-inducing rainy day in March, I pulled them out and gave myself bonafide Mommy Rockstar status.
It's a win-win: my kids think I'm amazing, I didn't have to spend a dime, and the gift giver gets individual recognition for their present, when it would have otherwise been lost in the shuffle.
Now it's your turn: How do you handle toy clutter? Have you worked through project 22 from One Bite?