I have had a bad attitude about my house lately. In the midst of yet another home renovation project, a little too much drywall dust flying and too many unfinished little projects have left me feeling like our house just isn't good enough.
Mostly, this happens when I am having people over. I start to feel like it's not good enough for company. I worry what they'll think of my rooms with no baseboards and rooms closed off for construction. I get too caught up in my furniture looking a little too much like little messy kids live here.
My husband informed me the other day that my house attitude needs a paint job.
Ask almost anyone and they'll tell you that the quickest, easiest, least expensive way to refresh a room is to paint it. A gallon of a color that makes you smile can make all the difference. I thought about this and how something as simple and changing my attitude with a smile and a touch of grace could change how I feel about my home completely – just like a fresh coat of paint.
I talk to so many people who feel their home is inadequate, especially when it comes to entertaining and inviting guests into the space they call home.
There is no reason we should be ashamed to invite acquaintances, friends, or extended family into a home that is good enough for us and our immediate family to live in each and every day.
Here are some ideas for changing your attitude about your home.
Your Home Is What You Make It
Every time you invite people over, what they see of your home is what you show them. It's not about beautiful decorations, elaborate finishings or huge great rooms.
A home is about love, friendship, and comfort. Any home can provide those things – big or small, decorated or not.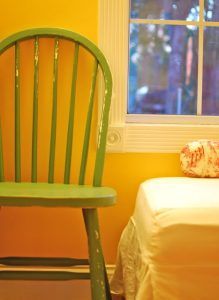 Photo by Remodeling This Life
No One Is As Critical As You Are
We can be our own worst critics, can't we? Extend yourself the grace and love and appreciation that your friends and family do to you.  They aren't there to look around and see what you don't have. They are there for you, and aren't paying attention to all the little things you notice.
Make a List
Nothing will make you feel better about what your home does have to offer than to make a list of all of the things you love about your space. It doesn't have to be about the structure of your home; what's inside it is what matters.
Provide a place to sit (even if it's the floor!) and a smile. Your company is more valuable than any couch you can buy in a store.
What do you do to try to get over my-house-isn't-good-enough-itis?