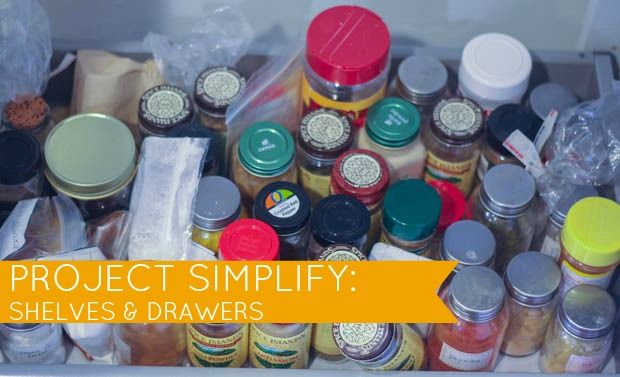 The following content may not be suitable for innocent eyes. Just kidding. But the photos I'm going to show you today will confirm for you that I am, indeed, a normal person. Writing a book about decluttering doesn't mean I don't have to all the livelong day. After all, I live with one man, and three children under eight. And a cat. And a hamster.
So this week is our official first week of Project Simplify 2013, and I hope this series truly a blessing to you and your home this month! It's amazing what happens when we take care of those little gnats that fly around our home, slowly driving us to the breaking point.
And one of the biggest annoyances are shelves and drawers—you know, flat spaces that seem to collect everything. I love how one reader on Facebook described it: Flat Surface Syndrome. Yes. Exactly that.
So no more delaying… Here are my own before-and-after pics of drawers and shelves throughout my home.
I'll start in our bedroom, the area I tend to clean LAST (which is unfortunate, if you think about it). We have a lovely bay window that—well, collects stuff. This is the place where we toss stuff when we're too tired to put it up where it belongs, or when company is on its way and the living room is still a three-ringed circus.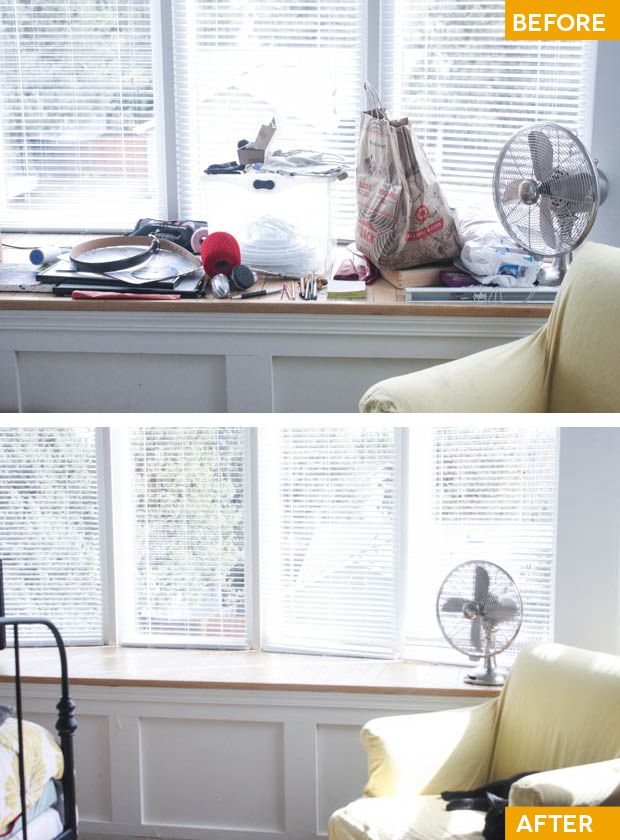 (As an aside, I really can't stand that yellow chair… it'll probably be gone in a few weeks.)
Here's my trusty Craigslist nightstand I painted granny smith apple a few years ago. I love it, but I don't pay too much attention to it. It felt REALLY good to get stuff out of there.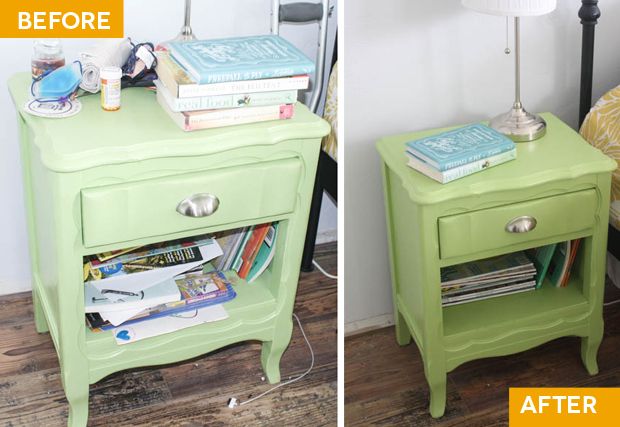 Heading downstairs… I love that we keep our craft cabinet out in the open for easy access, but it means the top is a paper magnet. Honestly, the "before" shot isn't that bad here. It's usually covered in papers, markers, and stickers.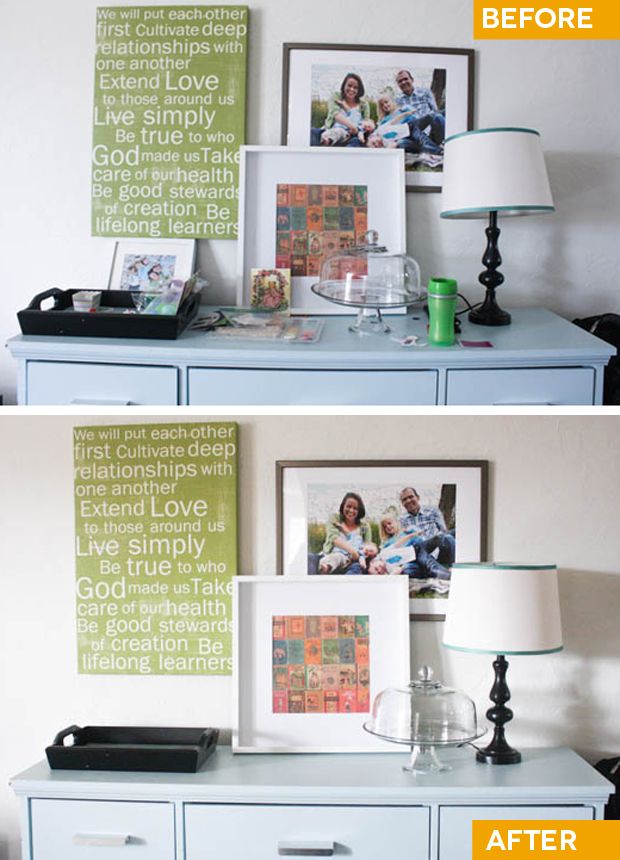 Turn around, and you'll see the kids' bookshelf, also out in the open. There's a certain 6-foot-2 member of our family whose name rhymes with "Schmyle," and he's the only one who can see the top of the shelf. So he uses it as his catch-all spot, unwittingly thinking I can't see his evil ways. I'm on to him.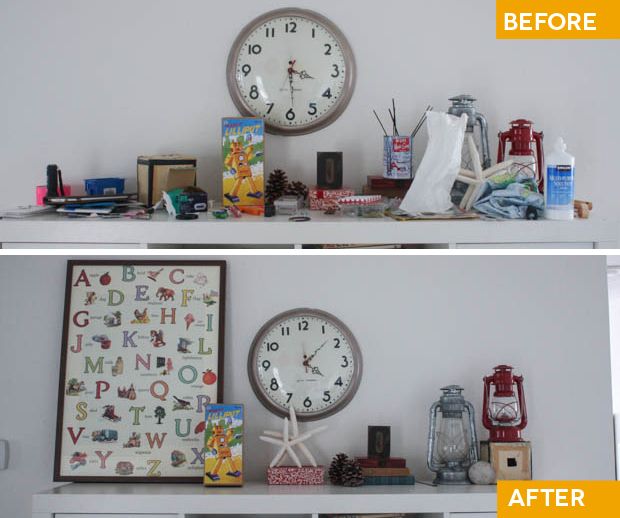 Just around the corner is our kitchen, and while it's fairly organized, I've had some projects neglected since we moved in last summer (you might remember that we bought a fixer-upper, so we're constantly living in a remodel project). One little gnat on my to-do list has been labeling the glass jars that house our baking goods.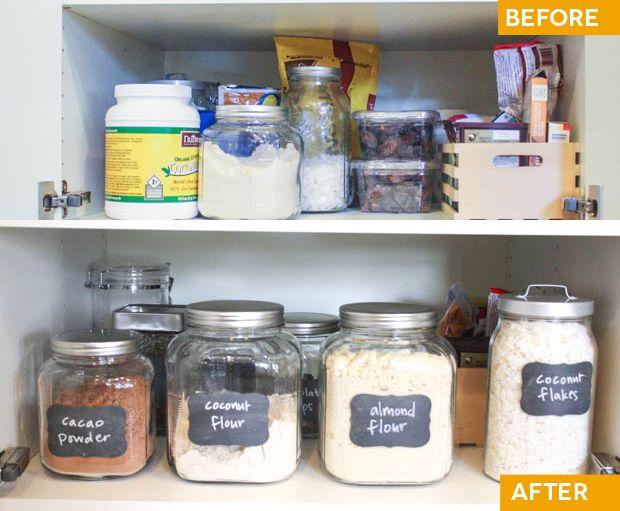 Sigh… That's better. (I used these chalkboard labels, also from the Martha Stewart line at Staples, if you're curious.)
Our spices needed serious help. I love that we've now got pull-out drawers, but its meant needing top labels instead of side labels for our jars. Anytime either of us cooks, we have to lift up each spice jar until we find the right one. Total pain.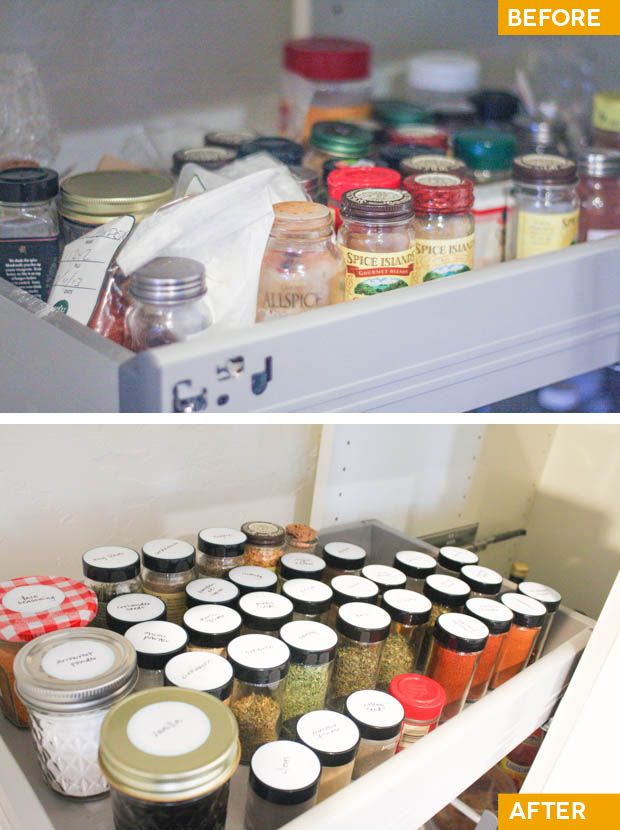 I bought these labels, also from the Martha Stewart line at Staples (sorry they're so hard to see; this is a darker corner of the kitchen, making it hard to photograph). I also bought new jars from Bed, Bath, and Beyond; a buck each. I kept a few in their original jars and just switched out the lid so that it's still nice and flat for the label.
Here's a better shot of the labels, and of the jars: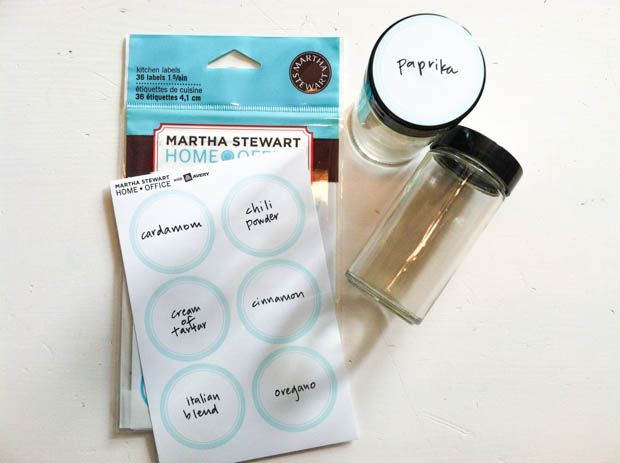 As you can see from the spice drawer, I'm two jars short (there's one in the front row, with a red lid, and one in the back, with a brown). But I didn't let perfectionism stop me; almost completely overhauling my spice collection is better than nothing, right? This is one of my most significant life lessons as an adult—that perfectionism is paralyzing. I'm all about pursuing excellence in my good enough organizing and home keeping. How about you?
Are you in this week? I hope so! All you have to do is take a "before" pic of your shelf or drawer, then declutter, clean, and organize it—and then take an "after" pic. They don't have to be super fancy—mine above are a combination of photos taken with my DSLR and my trusty iPhone, so don't stress it too much.
And also? You can do as many or as few drawers and shelves as you want. Choose to really focus on one major area, or do a lot of smaller ones, like I did. Whatever helps your home the most is great with me.
[statigram_widget]
I can't wait to see your photos! You'll be able to add them to this linky above, or via Instagram all week, so don't panic—you've got plenty of time.
And gear up for our second hotspot next Tuesday… that pesky closet. You know which one I'm talking about.
Which shelves and drawers are clutter magnets in your home?