Fall is a season of celebration and goodness, full of apple picking, baking and enjoying the crisp autumn air.  Sometimes I forget that I should also be "storing up for winter" during all of the fun.
But the days are coming when it gets dark early and we spend most of our time cooped up indoors.  There are things we can do to prepare our homes, yards, bodies and minds for the winter season. Make your list now so that you can do a little bit at a time and still enjoy the changing leaves and seasonal fun.
At Home
Make sure you're breathing fresh air this winter by changing your filters and/or having your ducts cleaned.
Save money and stay warm by checking the seals around doors and windows. If you lose a lot of heat through the windows in your home, consider heavy drapes or tint, which serve as insulation and holds the heat in as well.
Drain your hot water heater to remove sediment and improve performance. If your hot water heater is in your basement or garage, consider wrapping it in insulation to make it more efficient.
Clean ceiling fans and then reverse their direction so they turn clockwise and push warm air down.
Test carbon monoxide and smoke detectors and replace their batteries.
Fix cracks in your sidewalk and driveway and secure any loose handrails to make those surfaces safer in the snow and ice.
In Your Yard
If you don't already have one, fall is the perfect time to start a compost pile so that it will be ready for spring gardening. Use leaves and garden debris to get it started.
Prune dead branches on trees and bushes, but save the rest of your pruning for spring!
Add mulch or other top-dressing to protect perennials from winter frost.
For Your Body
Create a plan to make sure you get the exercise you need to stay active and healthy during the winter. Enlist a walking partner, make a plan to hit the gym several times a week, or fire up Wii Fit and get moving at home.
Look for natural remedies such as coconut oil and natural lotion bars to protect your skin during the cold winter months.
Remember that you still need to drink plenty of water during the colder months, even if you prefer curling your hands around a warm cup of coffee or tea.
Update your menu plan to incorporate seasonal fruits and veggies and hearty soups into your diet.
Take a cue from the shorter days and commit to sleeping more during the winter months, at least seven to eight hours a night.
For Your Mind & Spirit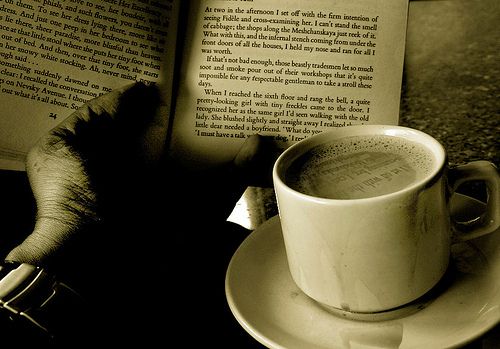 Photo by icultist
Even though we're heading into the busy Christmas months, there's nothing better than wrapping up in a blanket with a good book in the dark evenings of wintertime. Make a list of books you'd like to read over the coming months and set a reasonable goal for how much you'll read each week.
Winter can also be a time of staying home more without busy sports schedules and hours of daylight to keep us running around. Is there something you'd like to learn more about or a skill you'd like to practice? Start stocking up on supplies and researching the topic now so you can learn something new this winter!
Look for volunteer opportunities that the whole family can participate in. For stay-at-home moms and homeschooling families, getting out of the house when you might be tempted to bunker down (I know I am!) is good for you, and everyone can benefit from helping those in our communities who need it. Serve at a soup kitchen, take meals to shut-ins, or shovel your elderly neighbors' sidewalks and driveways when it snows.
Enjoy harvest time this fall, but start thinking about how you can prepare for winter in the midst of your celebrations!
How will your family prepare for the upcoming winter?