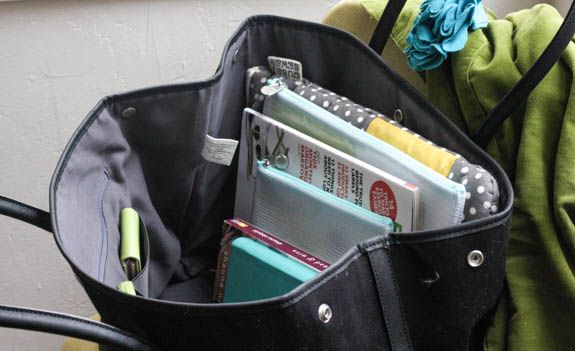 Next month, we're going to do another Project Simplify. Remember that? It's a series we do here in the spring, where we declutter, clean, and organize some part of our house—group-think spring cleaning, holding each other's hands for accountability. It'll be quite a bit different than in previous years (more on that soon!), but yep, you've asked for it, so we're doing it.
But I thought it'd be fun this month to do some back-to-the-basics talk. We haven't done this in awhile—short posts with quick thoughts about keeping life's certain compartments a bit saner. We're kicking it off today with bags. Purses, handbags, clutches, diaper bags—whatever you carry, let's talk about simplifying them.
The first time I met Myquillyn, I was carrying a tiny thing of a purse; it was basically a wallet with a strap, and ever since, she's jokes that i only carry around tiny purses. You may have the same assumption about me, but I only wish this were true. I hate clutter and needless stuff, as you well know, and I really don't have much use for carrying more than I need.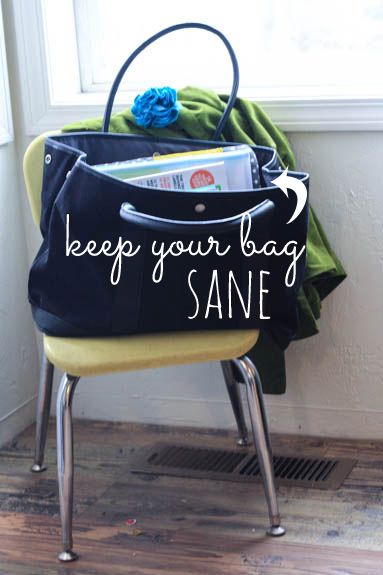 But—I'm a mom, a writer working from home, and a mostly-functioning member of society. Try as I may, I can't just get by with a tiny little wallet.
What's in my bag
I change bags from time to time, as my workload and the season changes. The past few months I've been using this number: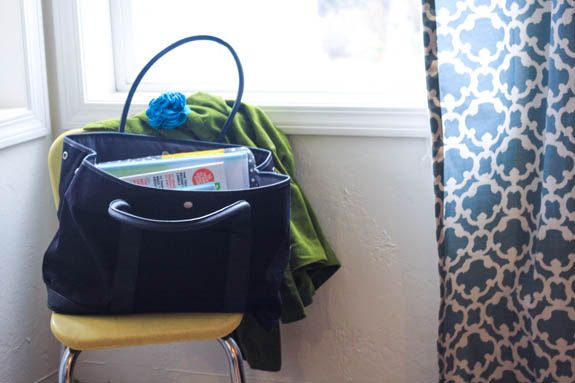 it's a simple small tote from Martha Stewart's home office line. I like its marriage of form and function—it's nice on the eyes, but it's nothing fancy. It carries my stuff like a boss.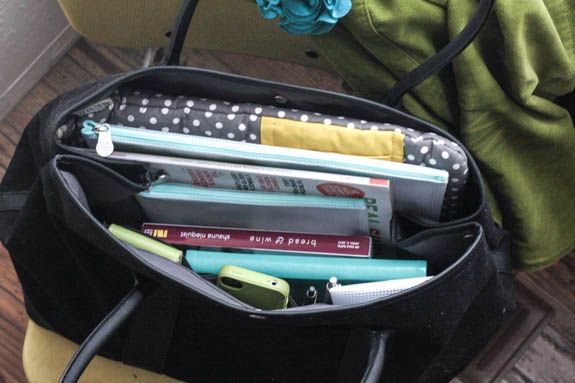 I like how it snaps open for easy access, too.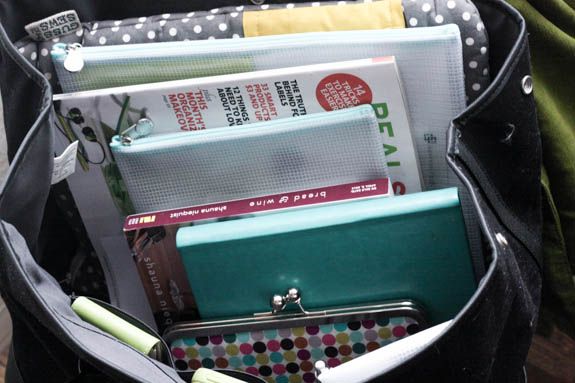 (You might also recognize my laptop case from Gussy Sews. My wallet is also from The Burlap Bag, and of course, I'm currently reading Shauna's new book.)
I don't always carry this bag around, of course—for date nights, grocery runs, and otherwise everyday mom stuff, I usually schlep around this canvas tote I bought in Turkey a few years ago.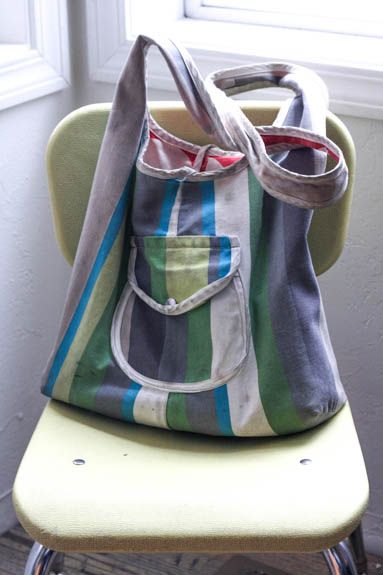 It needs a serious washing. But it is reversible.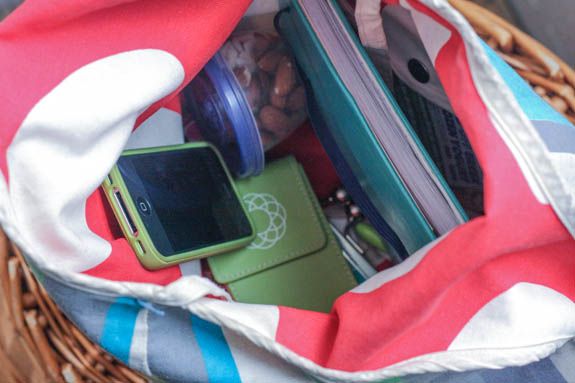 But when I need to have my act together, and when I need to look like I know what I'm doing, my black tote does the trick.
Here's what I also love—these little pockets and inserts to keep my stuff sane: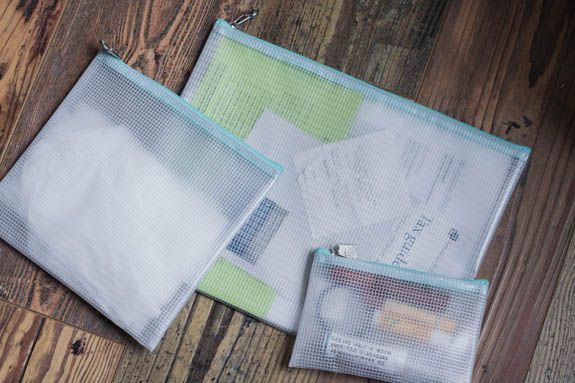 I keep papers and receipts-yet-to-head-home in the larger one, meds and grooming supplies (hair bands, lip stuff) in the smaller one, and in the medium one? I keep wipes. Because what mom doesn't need them eighteen times a day?
A few other ways I keep my bag sane:
1. I empty it frequently. As in, near-daily.
2. I jettison whatever I don't need for whatever it is I'm doing. Having a smartphone helps me tremendously in this department—it carries most info I need. I really detest carrying too much stuff.
3. I keep like things with like, nice and contained. Those little bags? So simple, yet so helpful.
4. I rarely take receipts because I have an online copy of the transaction with my bank account. (Exceptions, of course, are with work expenses and purchases I may need to return.)
5. But when I do keep a receipt, I keep it in my zip-up bag, and then I stab it on my receipt holder-thingy when I get home.
6. I just… don't carry much stuff. Decluttering is always so much easier than organizing lots of stuff, so it's my number one secret to staying organized: get rid of it if you don't need it.
What's in your bag?
We're all in different stages of life, so not everyone operates like me. I'd love to know what's been your strategy for keeping a decluttered bag.
Update: Just got word from the powers-that-be that there's a one-week promo at Staples starting this Sunday, March 10—spend $40 on any Martha Stewart tote and/or accessory and get $10 off! I'm still waiting to hear back from them if a coupon is required, but I'll update here when I know. That's kinda fun.
This month, we'll also talk about the basics behind streamlining beauty and self-care products, menu planning, and budgeting. What are some other back-to-the-basics topics would you like to explore? Oh, and of course, how do you keep your bag under control? And what essentials do you have to carry with you?