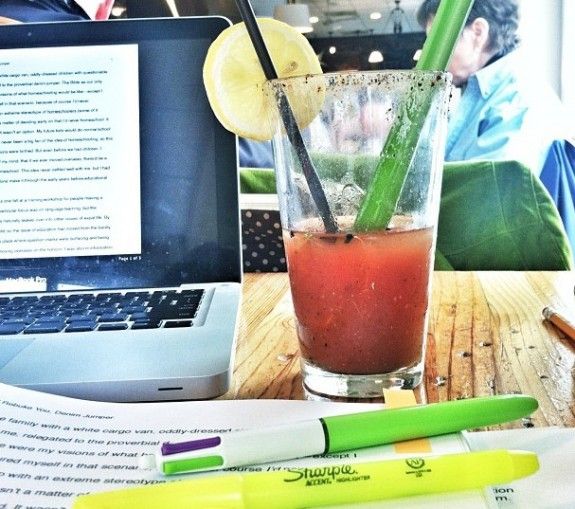 Phew… I'm done. With my book, I mean. Or, at least the first draft. I emailed it to my editor a little over a week ago, and I'm still catching up on sleep.
I definitely went through that phase I hear is all too common with other authors, where you just want the thing done, for heaven's sake, and you kinda feel guilty for having such unloving feelings for a book. But in all honesty, I love the thing, and I'm so happy with how it turned out. So very happy. I can't wait to share it with you.
Now, a few of you have asked how I wrote the book, and I'm assuming you mean beyond the What-program-did-you-type-it-in? sort of stuff. So I thought I'd write a post with a few of the things that helped me write a 55,000 word book while not losing my head.
First things first—I had serious help on the home front.
Our babysitter cleared out her schedule for January, and we used her services a lot. Normally she's here a few times a week. For all of January (and a good bit of December, too), she helped out Tuesday through Friday.
Kyle also organized his work calendar so that he didn't have major projects on his docket for January. He's not self-employed but he can work from anywhere and set his own schedule, so his flexibility was enormously helpful. He manned the homefront and cooked most of the dinners, and he generally rocked.
And while I did write about a third of it here and there when I had time last year, the bulk of the manuscript was written this past December and January, with a deadline of February 1. Not everyone works well this way, but I find it's my best way of writing a book—slamming it out almost all at once. Which leads me to…
I cleared my brain (and my calendar).
Book writing is a different beast than writing blog posts. Not only is the writing style different (paragraphs are longer, word choice tends to be slightly different), but their different purposes and formatting beg for different work habits. At least for me.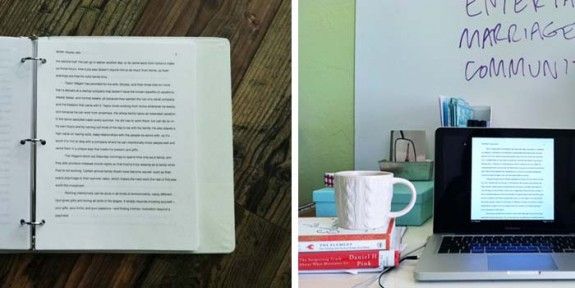 The reason I prefer writing a book in one large concentrated time is because I'm a mom of little kids, and in real life, my brain doesn't have the luxury of hours to think uninterrupted. If I set aside three hours to write the book every Thursday, let's say, I'd spend the first 30 minutes rereading what I wrote last week, the next 30 editing it, and then two hours to write as much as I could, with much of that possibly being research.
So, I cleared my calendar and wrote nothing but the book in January. And as you know, I wasn't on the blog much in January, but I also cleared my personal calendar as well—I saw friends maybe twice the entire month. I also wrote on the weekends, which I almost never do in normal life.
I kept my eye on the prize.
The hard thing about writing a book is that it's a massive undertaking, and it requires so much of your concentration. The good thing about writing a book is that there's an end in sight (unlike publishing a blog).
I had a word count to meet and a deadline on the calendar, so I had a very specific goal. This helped me so much—I don't think I could write as well if I didn't have the book already sold and on a publisher's calendar, which pushed me artistically and professionally.
And I could keep writing when I didn't feel like it because there was a light at the end of the tunnel. No way could I live full-time the way I did in January, but I knew it wasn't forever, so I kept going. (I remember feeling this way when I wrote my first book, so it helped that I expected this.)
I also wrote a chapter-by-chapter outline ages ago, for my book's proposal, and that helped enormously: I mostly stuck to it. The manuscript evolved on its own and now looks a bit different than my original plan, and that's a good thing. But it certainly helped when my head was swimming and I just didn't know what to say anymore—I'd look at my outline, and say, "Oh—I should just say that."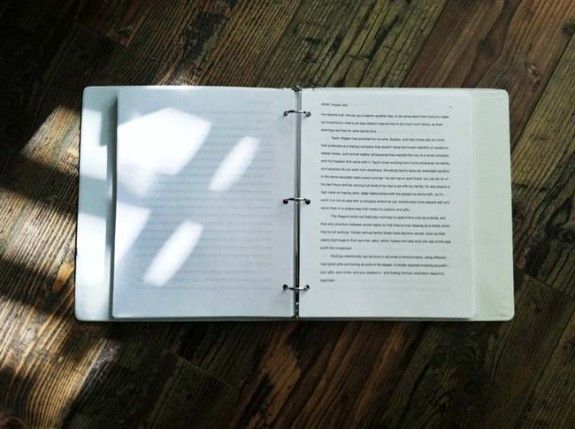 I'm fiercely proud of this book, more than almost anything I've written, and it's also very different than anything I've published so far. Much more personal. More storytelling. A different voice. I'm really so eager to share it with you all when it's time. These traditional books with paper and glue still take awhile to make, oddly enough, so it won't be out for awhile.
But even if you don't love it, and even if the majority of Amazon one day says, "Why did she bother writing this?" I'll tell you why: I needed to write this. Writing changes you, both in your skills in the craft, but also in your inner gut. This book asked me to go back and relive stories in my life. I cried after writing some chapters, especially the ones where I take you to the different places around the world I've lived. In some ways, this book has further healed me, and I'm excited to start 2013 with the book under my belt and with newer thoughts in my head (I've pretty much thought of February as the first of my new year, because of my deadline).
So regardless what happens with the book, it's changed me. And I'm really happy about that.
UPDATE: Here's part two of this post.
This one post has become two, so in a few days I'll share I've shared more of the
practical
side of my book-writing—what tools I like to use, where and how I write, my favorite tips. So do you have any questions you'd like me to answer? I'm not an expert, but I'm certainly willing to tell you what I've learned.