It seems like as soon as the temperature starts to rise and the flowers begin to blossom my need to redecorate and rearrange my house shifts into high gear.
I feel the need to move the chairs closer to the windows.  I want everything to look lighter and brighter.  I find myself pouring over decorating magazines and websites, drooling over new prints and patterns.
Does this happen to you too?
Don't rush out and buy a new piece of furniture just yet!
You can reuse, refinish and repurpose furniture you already have to give your rooms a new Spring look for almost nothing.
Keep in mind, some of these photos are of my real house…the one I live in with my three messy boys, a dog and a cat. And a husband who doesn't do windows.
So,  dismiss the dirty floors and dusty windowsills.  Remember…we're talking furniture today.
Here are a few ideas on how to re-imagine the furniture you already own.
Re-Purpose It!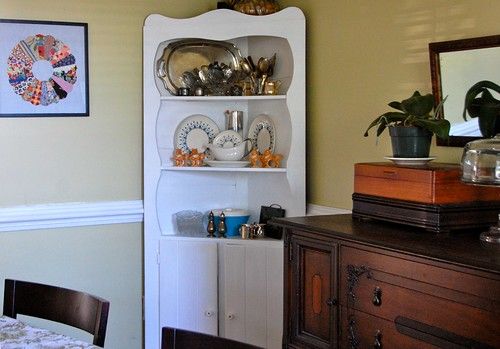 Photo by Eren Hays San Pedro
Don't get stuck with the idea that a piece of furniture must stay in the same room forever, or with the same purpose or function.
The corner cabinet in the photo above previously held diapers and books in my boys' nursery when they were little.   And now it holds extra serving pieces and dishes in the dining room.
Small side tables work great in a master bathroom next to the tub.  Chairs, side tables, stools, and benches can easily be moved from one room to another.
How about bringing the outside in? Or the inside out? You can give a kitchen a garden feel by bringing your patio table inside.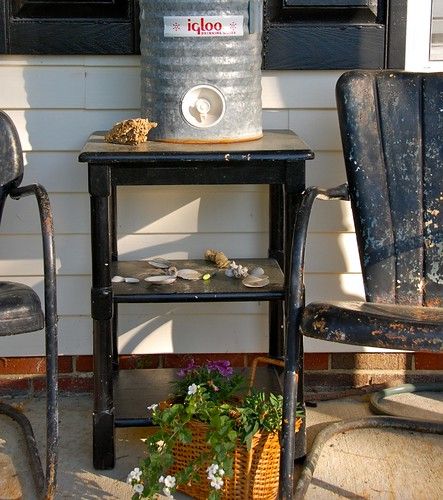 Photo by Eren Hays San Pedro
This little table used to sit beside our couch, but it now welcomes guests (with a coat of polyurethane) on the front porch between our vintage iron chairs.
Re-Use It!
If it is the clutter that is getting to you, try adding doors or shutters to your bookcases.  Or use a tension rod and curtains to cover the mess.  You'll love the instant change.
Covering a sofa with a slipcover might be the easiest way to update your couch.
Dining room chairs are easily recovered with fabric and a staple gun or small nails.
Cut the legs off a taller table to make it a shorter coffee table or a play table for a playroom.
Add castors to a trunk or suitcase to make a rolling coffee table.  Or add castors to a bedside table to make a small kitchen island.
Take drawers out of a chest and use them as shelves.  Then, add a tension rod and curtains to the dresser for a different look.
Add fabric or wallpaper to the backs of bookshelves, or as curtains if cabinet doors are missing.
Re-Finish It!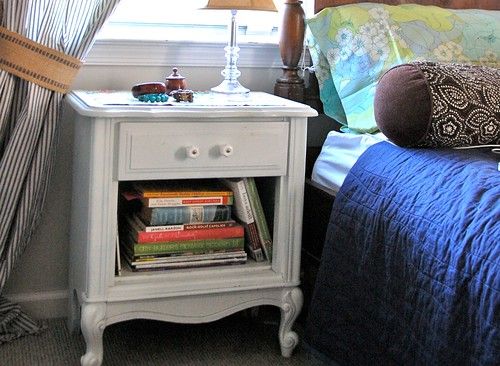 Photo by Eren Hays San Pedro
Refinishing is much easier than you would ever think. Quality wood furniture is expensive, so if you have a good, solid piece of furniture it will save you money in the long run if you can find a way to make your piece work in a new way.  The side table above was natural maple color and it would not have worked in the bedroom next to our mahogany bed.  A fresh coat of white paint and it looks perfect in this space.
Paint Is My Best Friend
Almost everything looks better with a coat of white paint.  If you feel like your room is looking a little too dark, consider painting one of the larger pieces a lighter color.
If you have mismatched pieces that don't share the same finish or wood color, consider painting them all the same color for a more unified look.
I know all of the decorating magazines tell you to change out the hardware and knobs, but this really works.  If the hardware on your kitchen cabinets or dresser drawers are making it feel a bit frumpy, change them out!  You will be glad you did.
Just look at what one family did with their old media cabinet using a bit of paint and imagination.
Add a Little Age
If you love the look of Pottery Barn furniture, but not the prices, you can give your current furniture the same treatment for little to nothing.
I love furniture with a rustic feel.  "Rustic" means that my 5 year old can run his hot wheels into the leg of our kitchen table to his heart's content giving his mother a hear attack.
This is a great link on how to repaint furniture black with an aged look. (I'm sure it would work with white paint too). Or this one explains the techniques for using wax to get a worn look.
Strip It
I hate stripping furniture.  I've only done it once.  But it was worth it.
If you have mostly painted pieces, one natural wood table or buffet can keep your room from having that "matchy-matchy" look.  And stripping furniture is a great alternative if you have a quality wood piece of furniture that you want to return to its original state.
This TLC tutorial should get you going.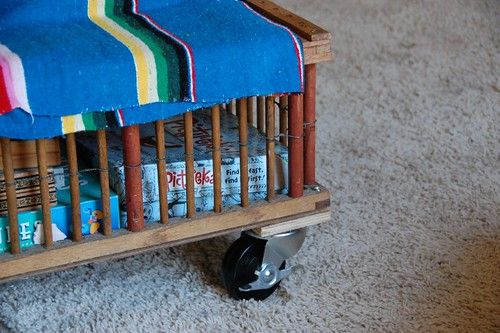 Photo by Eren Hays San Pedro
Other Inspiration
Here are a few other links to get your creative juices flowing.
Have you repurposed a piece of furniture lately?  Tell us about it!   Or do you need some ideas on how to reuse an old item of furniture? We want to hear about that too!