For the first time, our two reading kids' levels have gotten somewhat close—so I've made one master reading list this summer. They're divided by Level A—easier books, and Level B—harder books.
(Head here for a few more details.)
This master list is for older kids and tweens who read at their grade level or above. So, age 8-13. (A broad range of age and maturity, I know.) As a parent, you know what's best for your kiddos.
Happy reading!
LEVEL A: around age 8-11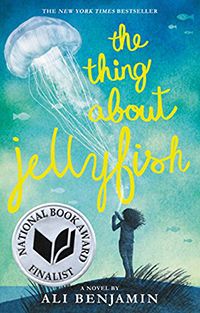 The Thing About Jellyfish
Author: Ali Benjamin
Description: Suzy's best friend was a strong swimmer. There is no way Franny could have drowned, at least in Suzy's mind. Suzy's search for a different explanation for her friend's death leads her to believe that Franny was stung by an Irukandji jellyfish. Having nothing but time, since she has no other friends and has decided to stop talking, Suzy sets out to prove her theory.
Amazon Barnes & Noble IndieBound
---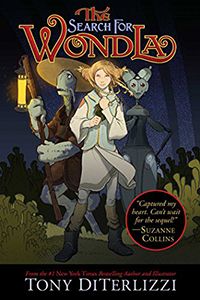 The Search for Wondla
Author: Tony DiTerlizzi
Description: When a marauder destroys the underground sanctuary that Eva Nine was raised in by the robot Muthr, the twelve-year-year-old girl is forced to flee aboveground. Eva Nine is searching for anyone else like her: She knows that other humans exist because of an item she treasures—a scrap of cardboard on which is depicted a young girl, an adult, and a robot, with the strange word, "WondLa."
Amazon Barnes & Noble IndieBound
---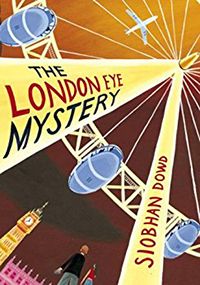 The London Eye Mystery
Author: Siobahn Dowd
Description: Ted and Kat watched their cousin Salim board the London Eye. But after half an hour it landed and everyone trooped off–except Salim. Where could he have gone? How on earth could he have disappeared into thin air? Ted and his older sister, Kat, become sleuths, since the police are having no luck.
Amazon Barnes & Noble IndieBound
---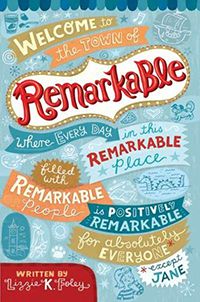 Remarkable
Author: Lizzy K. Foley
Description: Everyone in Remarkable is remarkable. Everyone except Jane, that is. While the rest of the town is busy being talented, gifted, or just plain extraordinary, she's never been anything but ordinary. Then Jane finds herself in school with the mischievous Grimlet twins, and her life suddenly gets a whole lot more interesting.
Amazon Barnes & Noble IndieBound
---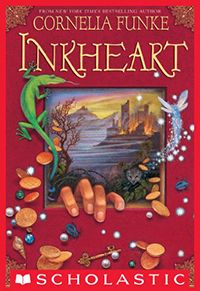 Inkheart
Author: Cornelia Funke
Description: One cruel night, Meggie's father reads aloud from a book called Inkheart, and an evil ruler escapes the boundaries of fiction and lands in their living room. Suddenly, Meggie is smack in the middle of the kind of adventure she has only read about in books. A great read-aloud.
Amazon  Barnes & Noble  IndieBound
---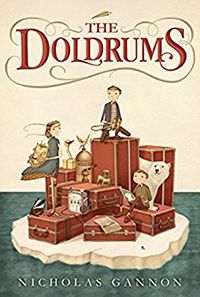 The Doldrums
Author: Nicholas Gannon
Description: Archer B. Helmsley needs an adventure. His grandparents were famous explorers until they got stuck on an iceberg. Now Archer's mother barely lets him out of the house. Archer enlists Adelaide—the girl who, according to rumor, lost her leg to a crocodile—and Oliver—the boy next door—to help him rescue his grandparents.
Amazon Barnes & Noble IndieBound
---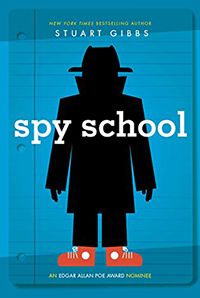 Spy School
Author: Stuart Gibbs
Description: Ben Ripley may only be in middle school, but he's already pegged his dream job: C.I.A. or bust. Because of his innate nerdiness, Ben isn't surprised when he is recruited for a magnet school with a focus on science—but he's entirely shocked to discover that the school is actually a front for a junior C.I.A. academy.
Amazon Barnes & Noble IndieBound
---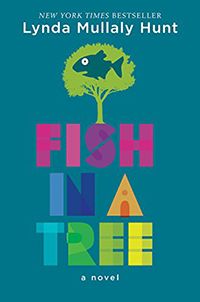 Fish in a Tree
Author: Lynda Mullaly Hunt
Description: Ally's been smart enough to fool a lot of smart people. Every time she lands in a new school, she is able to hide her inability to read by creating clever yet disruptive distractions.  She is afraid to ask for help; after all, how can you cure dumb? However, her newest teacher Mr. Daniels sees the bright, creative kid underneath the trouble maker.
Amazon Barnes & Noble IndieBound
---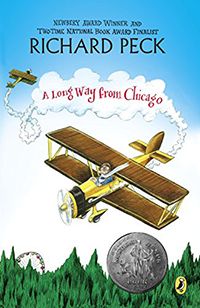 A Long Way From Chicago
Author: Richard Peck
Description: Each summer Joey and his sister, Mary Alice, leave Chicago to visit Grandma Dowdel's seemingly sleepy Illinois town. But they discover that it's far from sleepy, and Grandma is far from your typical grandmother. Adventures abound, and Joey and Mary Alice have nine summers they'll never forget.
Amazon Barnes & Noble IndieBound
---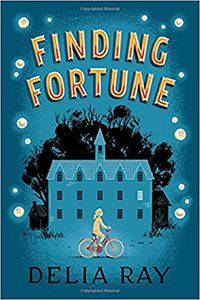 Finding Fortune
Author: Delia Ray
Description: Like the small town of Fortune, Iowa, Ren feels like her little family is slowly breaking apart. She decides to run away to the neighboring town, where she discovers an old school that's been turned into a boardinghouse—and a mystery. With her new friend Hugh, Ren sets out to help boardinghouse owner Ms. Baxter find long lost treasure hidden in the house.
Amazon Barnes & Noble IndieBound
---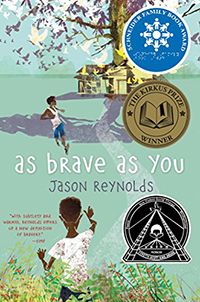 As Brave as You
Author: Jason Reynolds
Description: Born-and-bred Brooklynite brothers spend a month with their grandparents in rural Virginia while their parents take a long overdue vacation, but it's only after the boys are left in their grandfather's care that they realize that he's blind. They're also expected to do chores and follow their grandmother's strict rules—and they discover that it's possible to exist (sort of) without the internet.
Amazon Barnes & Noble IndieBound
---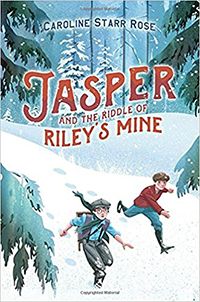 Jasper and the Riddle of Riley's Mine
Author: Caroline Starr Rose
Description: The Klondike Gold Rush is calling, and Jasper and his older brother, Melvin, decide the time to go is now. On the way, they learn about an old coot who's long since gone, but who's said to have left clues to the location of his stake, which still has plenty of gold left. The first person to unravel the clues and find the mine can stake the claim and become filthy rich. A fun read-aloud.
Amazon Barnes & Noble IndieBound
---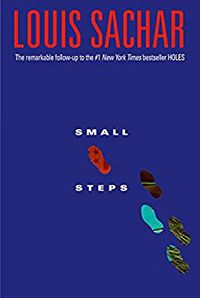 Small Steps
Author: Louis Sachar
Description: Two years after being released from Camp Green Lake, Armpit is home in Austin, Texas, trying to turn his life around. But it's hard when you have a record and everyone expects the worst from you. The only person who believe in Armpit is Ginny, his ten-year-old disabled neighbor. The sequel to Sachar's beloved Holes!
Amazon Barnes & Noble IndieBound
---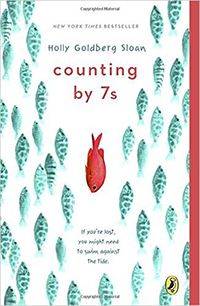 Counting by 7s
Author: Holly Goldberg Sloan
Description: Willow Chance is a twelve-year-old genius, obsessed with nature and diagnosing medical conditions, who finds it comforting to count by 7s. Suddenly, her world is tragically changed when her parents both die in a car crash, leaving her alone in a baffling world. But this book isn't a tragedy—this odd but endearing girl manages to push through her grief and find a fascinating surrogate family.
Amazon Barnes & Noble IndieBound
---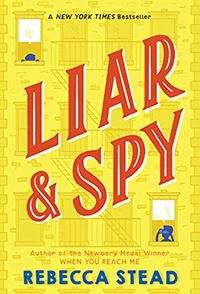 Liar & Spy
Author: Rebecca Stead
Description: Georges' life is turned upside down when his father loses his job and they move from their house into an unfamiliar Brooklyn apartment. He sees a sign advertising a Spy Club and meets Safer, a loner who lives in his building, and Safer's warm, welcoming, and quirky family offers him respite from the stress at home.
Amazon Barnes & Noble IndieBound
---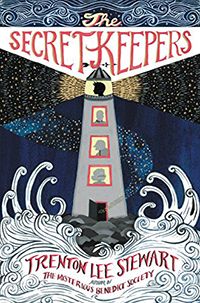 The Secret Keepers
Author: Trenton Lee Stewart
Description: When Reuben discovers an extraordinary antique watch, he learns it has a secret power. At first he's thrilled with his new treasure, but as one secret leads to another, Reuben finds himself torn between his innately honest nature and the lure to be a hero. Now he's on a dangerous adventure full of characters, traps, and escapes, as he races to solve a mystery.
Amazon Barnes & Noble IndieBound
---
LEVEL B: around age 10-13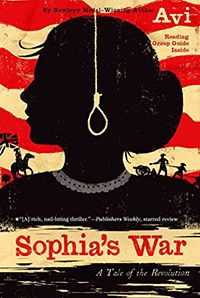 Sophia's War: A Tale of the Revolution
Author: Avi
Description: In 1776, young Sophia Calderwood witnesses the execution of Nathan Hale in New York City, which is newly occupied by the British army. Recruited as a spy, she becomes a maid in the home of a British commander, and learns that someone in the American army might be switching sides.
Amazon Barnes & Noble IndieBound
---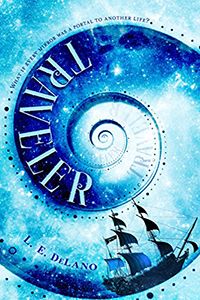 Traveler
Author: L.E. DeLano
Description: Jessa spent her life writing down stories more interesting than her own, until the day her favorite character, Finn, shows up and invites her out for coffee. She learns that she and Finn are Travelers, born with the ability to slide through reflections and dreams into alternate realities.
Amazon Barnes & Noble IndieBound
---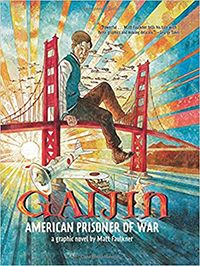 Gaijin: American Prisoner of War
Author: Matt Faulkner
Description: With a white mother and a Japanese father, Koji Miyamoto quickly realizes that his home in San Francisco is no longer a welcoming one after Pearl Harbor is attacked. Once he's sent to an internment camp, he learns that being half white at the camp is just as difficult as being half Japanese on the streets of an American city during WWII. (This is a graphic novel.)
Amazon Barnes & Noble IndieBound
---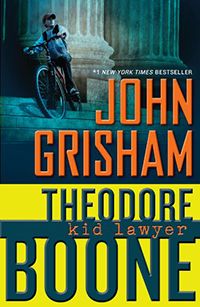 The Theodore Boone series
Author: John Grisham
Description: In the small city of Strattenburg, there are many lawyers, and though he's only thirteen years old, Theo Boone thinks he's one of them. Theo knows every judge, policeman, court clerk—and a lot about the law. He dreams of being a great trial lawyer, but Theo finds himself in court much sooner than expected. Yep, that John Grisham.
Amazon Barnes & Noble IndieBound
---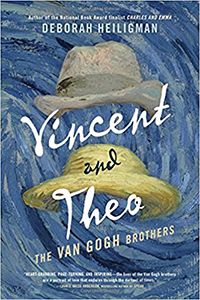 Vincent & Theo: The Van Gogh Brothers
Author: Deborah Heiligman
Description: The enduring friendship between Vincent and Theo Van Gogh shaped both brothers' lives. Confidant, champion, sympathizer, friend―Theo supported Vincent as he struggled to find his path in life. Drawing on the 658 letters Vincent wrote to Theo during his lifetime, this true story is a tale of two brothers'  lives intertwined.
Amazon Barnes & Noble IndieBound
---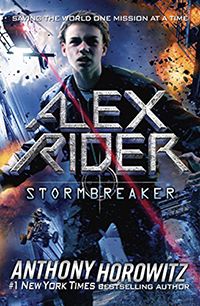 The Alex Rider series
Author: Alex Horowitz
Description: 14-year-old Alex Rider's world is turned upside down when he discovers that his uncle and guardian has been murdered, then makes one discovery after another until he's sucked into his uncle's undercover world: the Special Operations Division of M16. Alex's mission? Complete his uncle's last assignment.
---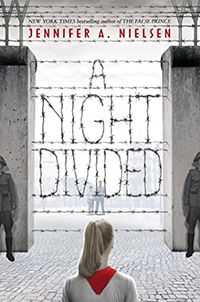 A Night Divided
Author: Jennifer Nielsen
Description: With the rise of the Berlin Wall, Gerta's family is divided. She, her mother, and her brother Fritz live on the eastern side, but her father and middle brother, who had gone west in search of work, can't return home. One day, Gerta spots her father on a viewing platform on the western side, pantomiming a peculiar dance. Then she realizes her father wants them to tunnel beneath the wall.
Amazon Barnes & Noble IndieBound
---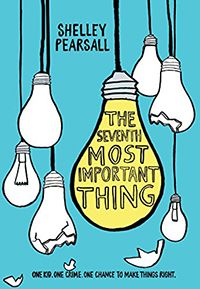 The Seventh Most Important Thing
Author: Shelley Pearsall
Description: For the country, it was the year President Kennedy was assassinated. For Arthur Owens, it was the year his Dad died. When he sees his Dad's hat being worn by the neighborhood "Junk Man," it's just too much. The judge pronounces a "highly unconventional sentence," and Arthur must spend every weekend of his community service helping to complete an artistic masterpiece.
Amazon Barnes & Noble IndieBound
---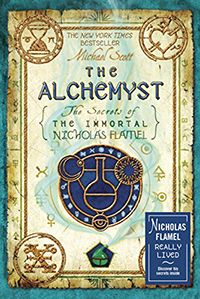 The Alchemyst
Author: Michael Scott
Description: Nicholas Flamel was born in Paris on September 28, 1330 and discovered the secret of eternal life. The records show that he died in 1418. But his tomb is empty—Nicholas Flamel lives, but only because he has been making the elixir of life for centuries. (The series is perfect for Harry Potter fans!)
Amazon Barnes & Noble IndieBound
---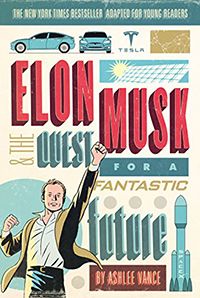 Elon Musk & The Quest for a Fantastic Future
Author: Ashlee Vance
Description: The young reader's version of the recent biography, this book traces Elon's journey from a kid in South Africa to a young man in the United States, his dramatic technical inventions, and his world-changing companies. Elon has sparked new levels of innovation in the world—this is a detailed but fast-paced look at his story (my kids are fascinated by him).
Amazon Barnes & Noble IndieBound
---
A few affiliate links are used here, which means at no extra cost to you, making a purchase by clicking these links helps support this site. Thanks!