It sneaks up on me every year. Every. year. I spend every December thinking I've got all kinds of time to get my Christmas shopping done, but then I blink, and suddenly—whoosh, it's the second half of the month. You too?
Hopefully you don't feel the overwhelming need to buy extravagant gifts for all the loved ones in your life—because after all, there's very little we really need, and things don't represent any sort of value we place on people.
But you still might want to find the just-right gift for the just-right people in your life. I'm that way, too.
The stores are nuts right now (believe me, I went to some this week), but you still have four days left to order off Amazon with free two-day shipping. Buy local if you can, but if you've got other things on your calendar and would like to finish your holiday shopping in your pajamas by the fire, I've curated a solid list of gifts for you.
I've tapped the hive mind for most of these ideas, and as of this morning, they're all available for free, two-day shipping with Amazon Prime.
Below are the ideas for men—one of the trickier types of people to buy for, I find.
Head here for the complete run-down of last-minute Amazon gift ideas, from toys to teens to stocking stuffers.
Stay in your jammies and pour another cup!
Last-minute gift ideas for men
(Men would like many of the books for women as well.)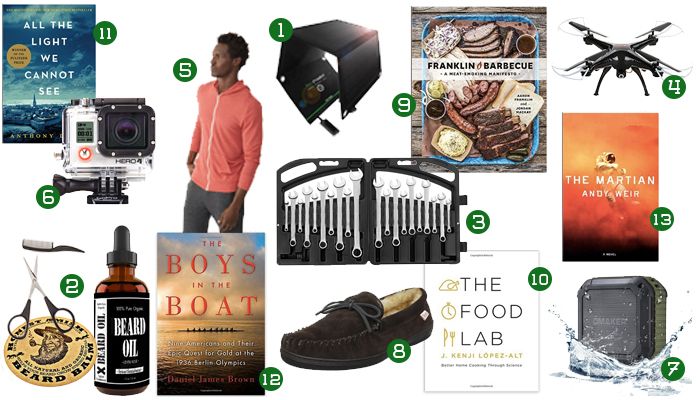 1. Solar Charger with Dual USB Port: Kyle loves this portable device charger that relies on solar power—we used it all the time on our round-the-world trip.
2. Beard Oil + Beard Balm + Beard Trimmer and Comb: If you've got a hairy guy on your list, he'd enjoy this treat of a grooming stash.
3. Wrench Set: Got a tinkerer? A good set of wrenches are an essential staple, and they're affordable, too.
4. Quadcopter with Wifi Camera: I don't really get the appeal to remote controlled things, but Kyle does, and these are super popular right now.
5. Men's Rocky Zip Hoodie: Alternative Apparel is a great brand (they're on our Ethical Shopping Guide list), and this is a great hoodie. They also have good henley shirts.
6. GoPro: Kyle loves this portable, high-quality camera—he got over a terabyte of footage off it on our round-the-world trip. Thumbs up.
7. Outdoor+Shower Bluetooth Speaker: Great for traveling, a workshop, in the shower, or just to cart around the house, these speakers come highly recommended.
8. Men's Moccasin-style Slipper: Good slippers are worth the investment, and this style is a classic in a reputable brand.
9. Franklin Barbecue: A Meat-Smoking Manifesto: For the grilling lover in your life, this famous barbecue is a local Austin tradition.
10. The Food Lab: Better Home Cooking Through Science: Got a foodie? They might love this science-y approach to understanding recipes.
11. All the Light We Cannot See: My favorite book I read in 2015, it chronicles World War II in Europe from the perspective of a French girl and a German boy. Fantastic.
12. The Boys in the Boat: Nine Americans and Their Epic Quest for Gold at the 1936 Berlin Olympics: I'm reading this over the holidays after it came highly recommended to me. I love fantastic stories that also happen to be true.
13. The Martian: Such a fun read.
Head here for the rest of the Last-Minute Gift Idea list—you'll find ideas for kids, teens, women, and stocking stuffers, too.
You might also want to check out our overall 2015 Holiday Gift Guide, our Ethical Shopping Guide (some brands can be found on Amazon!), and here are my Recommended Reads for simple living.
Best wishes as we head towards this next week, moving from Advent in to Christmastime! It truly is the most wonderful time of the year…. Treat yourself by taking the stress of stores off your to-do list.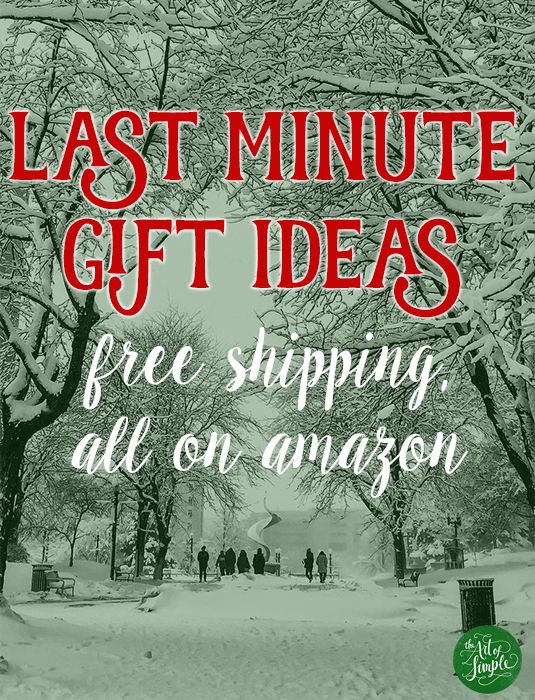 Affiliate links are used here, which means at no extra cost to you, making a purchase by clicking these links helps support this site. Thanks!