Man oh man, did Christmas sneak up on me this year. I really can't believe it's in three days. Mine's a bit different this year, obviously—gingerbread house making? Going to The Nutcracker? Watching Elf? Not even a little bit. Our gift-giving is crazy simple this year—just a few things that can fit in our backpacks, plus a few event-oriented gifts like a museum, a date at the movies, and some alone time (guess whether that last one is for a kid or an adult…).
However, this is the day I annually remind you that you still have a few options on Amazon, if you're the last-minute type and need to give a tangible, wrapped-in-a-bow gift. Monday the 22nd is THE last day to order via Amazon to get free shipping with Prime in time for Christmas day.
And this year, Target has the option to buy online and pick up in stores, if that's helpful for you—skip the crowds and buy online, then just get in and out. Use the links below, then click on the blue "find in a store" button to see if it's at your location.
Below are my recommendations, if you're still after a meaningful, not-too-cluttery gift. You can also check out our Holiday Gift Guide, though we can't vouch for on-time shipping for those, as well as our year-round Ethical Shopping Guide.
The big fat disclaimer
And as always—because I have to remind you every year—yes, shopping locally is best. Please consider supporting local businesses first. Small businesses depend on our dollars, so every year, our family spends the bulk of our gift budget at these places. But I'm also a realist, and for parents, it's not always deal with traffic and last-minute "I wants" at the stores. If you'd like to skip all that, this is for you. Sometimes, ordering online with fast, free shipping really is helpful.
Toys
I love classic toys that can be curated in to a larger collection—instead of a bunch of random kits that don't work together. Some favorites:

I also love that my tween still plays with her India doll from Heart 4 Heart—the collection features girls from around the world, each with a back story about their daily life, their culture, their home, and their living conditions. Love these sweet things.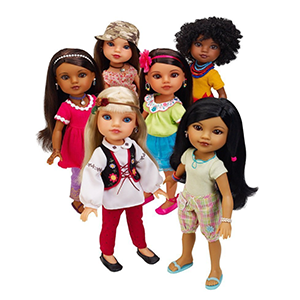 (Toys for younger kids)
All three of our kids loved to play with/chew on their wooden stacking tower, and the well-reputed Grimm's Spiel und Holz Design brand is available on Amazon. We also LOVE anything from the Green Toys brand—the almost 7-year-old still plays with his trucks.

We've had a set of wooden blocks since our oldest was a baby, and they all still play with them ten years later. And our daughter played with her wooden doll house for years.

Board games
When we give a whole-family gift, we do board games; one game for a whole clan. I prefer sticking to classics, especially for families with younger kids:

If the family's a bit older, or for couples:

Camera
If you've got a camera on your list and aren't sure which type to buy, here's a shortcut from me.

• Simple/budget: We've had this Canon Powershot for years, and it takes fantastic photos for a point-and-shoot. Good for adults and kids alike (those made-for-kid cameras make me crazy—just invest in a much better quality real camera—you won't have to replace it in a year, like the juvenile varieties).
• Mid-range: We're using the Sony Alpha a6000 on our current trip, and I'm in love. It's a nice compact DSLR—not all the bells and whistles, but that's fine by me, yet it's a bit more than a basic point-and-shoot.
Gift sets
I like combining a few gifts to create one larger gift that reflects the recipient's life stage or hobbies. A few ideas:

• For a coffee lover, do a bag of Equal Exchange coffee plus a French press, Aeropress, or Chemex.
• For the baker, go with Joy Wilson's new Homemade Decadence plus nested mixing bowls and fair trade chocolate baking chips.
• For a couple in need of a date, do a gift card for movie tickets plus one of the board games mentioned above, or maybe Ungame for Couples.
• For the writer, doodler, or all-around thinker, you can't go wrong with a Moleskine notebook plus good pens (these are my current fave).
Books
My favorite—give a book, and you give the gift of alone time, knowledge, inspiration, and who knows what else. Here are my top gift recommendations:

• For the person who wants a slower, more meaningful life: Notes From a Blue Bike by yours truly
• For the person who needs permission to be imperfect: The Nesting Place by Myquillyn Smith
• For the person in search of a more thoughtful life: The Sacred Year by Michael Yankoski
• For the person who wants to better savor life (with recipes): Bread & Wine by Shauna Niequist
• For the person on a spiritual journey: Found by Micha Boyett and Tables in the Wilderness by Preston Yancey
• For the person in need of an epic story: the Harry Potter series by J.K. Rowling
• For the person who needs a smidgen of beauty: New Collected Poems by Wendell Berry
Gift cards and digital gifts
A gift card or digital gift isn't a cop-out… I actually love getting them.

You can still get one for Amazon in a nifty tin.
Give an online crafting course from Craftsy—everything from knitting to woodworking to baking to drawing to a million other things.
Or, give an online course from Udemy, and give the gift of knowledge—foreign languages, business basics, fashion design, even a musical instrument.
For Amazon, orders need to be made by December 22, 2014 to still get free shipping in time for Christmas—that's Monday. (Of course, you can still pay shipping on the 23rd). Don't stress over gifts—simple is always best, and less is always more.
My family and I are enjoying a low-key week for the next few days, holing up and settling in to a friends' house in Sydney. I hope you have the merriest of Christmases! May it be exactly what you need right now. Grateful to have you as readers, my friends.