This contest has ended. Check below for the results!
Note from Tsh: I smiled when I first read today's guest writer Laura Laing's book title: Math for Grownups. If anyone needs Basic Math 101, it's me (just ask my parents). So when Laura asked if I'd like to check out her book, I jumped at the chance. And I'm so glad I did! Now, Simple Mom readers have a chance to win a copy as well. Read on…
You've probably figured out by now that math in your everyday life isn't much like the worksheets and timed drills you suffered through in elementary and middle school. And in the real world, you can leave those way, way behind.
That's because grownup math has more to do with problem solving than remembering that 7 times 8 is 56. Most of us don't use trigonometry or calculus. But basic math skills figure into some of the most critical decisions of each day—how to save money, save time and save your sanity. These days, you need to know how much top soil to order for your flower bed or what time your parents will arrive in Boston, if they're driving in from St. Louis.
Four summers ago, I decided to build a deck—something I'd never done before. This process taught me a lot about the math I already knew and how to fill in the gaps with some pretty simple problem solving skills.
Tackle your fear
Don't let these problems throw you completely. If the math freaks you out, deal with those feelings first.
Building a deck was an overwhelming proposition for me, and not only because I'd be using power tools. The materials were expensive. (What if I ordered too much or too little?) The project required skills I didn't have. (What if I had to mix concrete?)  And I was going to have to deal with tiny details that can make me crazy. (What if the deck turned out six inches too tall on one side?)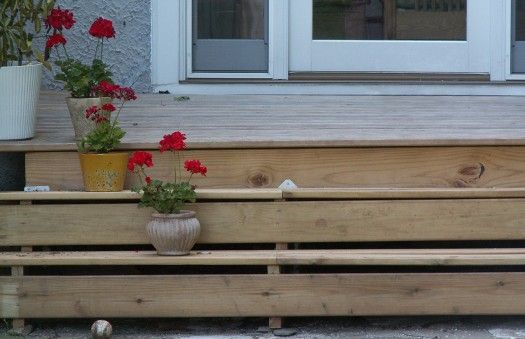 Photo by Laura Laing
And then I asked myself a basic question: How hard could it be?  I'm as smart as the average construction worker. Besides, how great would I feel drinking my coffee out there in the morning? (Answer: pretty darned great.)
Figure out what you know
It's easy to focus on your shortcomings, but good problem solvers almost always start with what they already know. Take my deck. I knew how big I wanted it to be and that I didn't want any railings. I also knew that it would be situated over an existing concrete pad. I knew that I needed a set of steps and that it would be attached to the side of my house. I knew how to use a circular saw and swing a hammer.
Brainstorming these little details not only boosts your confidence, but also highlights what you need to find out.
Research what you don't know
With my deck, I felt pretty confident that I could manage the posts and decking. But the stairs were pretty darned scary. So, I watched online videos and read articles. I trolled through DIY forums for been-there-done-that advice. Basically, I gathered information.
These days, the Internet makes it relatively easy to learn something new. Don't remember the formula for the area of a triangle?  Look it up. Want to know how many tablespoons are in a cup? Open up a browser. There's no need to remember everything you were supposed to learn in school. Not with the world wide web at your fingertips.
Get it down on paper
This is my favorite piece of problem-solving advice. Whether you're figuring out how much you'll save with your weekly stash of grocery coupons or you're hanging pictures in your hallway, writing and drawing can be a huge help. And you don't have to get fancy.
I drew my deck designs on the back of a school flier that my kid brought home that spring. I didn't use a ruler, and nothing was drawn to scale. By the end of the project, the paper had been folded and refolded so many times, I could see light through the creases. This drawing was for my benefit, so no one else needed to understand it.
Check before you do
Unfortunately, the most important thing (besides confidence) that was probably drilled out of us in our math classes was the ability to spot an unreasonable answer. When the goals are speed and memorization, there's no time for that kind of self-evaluation. But as a grownup, you can and should take this step.
Each time I measured a board to cut for my deck, I stepped back and took a look. Did it look too long or too short? Then I measured again. And took another look.
When doubling a recipe, make sure the altered measurements make sense. When balancing your checkbook, look through the amounts to be sure that they're reasonable. You might be surprised by the little mistakes that you find, mistakes that could lead to bigger problems.
Each day, we're faced with problems. And if you're like most folks, the ones involving math are often the most daunting. But as grownups, we have more freedom to break the rules and get help. Having a few go-to problem-solving techniques can get you to a solution quicker and more confidently. And who couldn't use a little more time and confidence?
Giveaway time!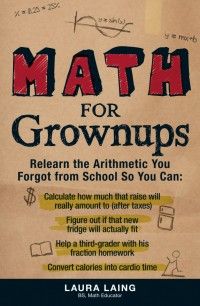 10 Simple Mom readers will win a copy of Laura's new book, Math for Grownups! To enter, simply leave a comment on this post, answering this question: "Growing up, what was your favorite subject in school?" (If you're reading this via email, you must click over to the post to leave a comment.)
This giveaway will end Saturday, September 10 at 11:59 pm PST (that's tomorrow). I hope you win!
The winners are: Shannon, Theresa, Angela, Emily, Julie, Gretchen, Lawana, Catie, Fiona, and Bree. You'll be notified shortly! Thanks for entering.