This past weekend, my husband and I repainted our living room. A few years of kids running around and putting scuffs and dings on the walls, not to mention one major home improvement project, made this painting a necessity.
To ease my mind about taking care of the furniture during the process, we moved almost everything right out of the room.  We removed mirrors, shelves, photos off the walls, and books off of the shelves, and then moved almost all of the furniture out of the room.
It was then that I decided this was the best time ever to really simplify the space — I was going to reset the room, declutter, and start with a clean slate.
From my experience, here's how to quickly and easily simplify your space by resetting a room.
Part One:  Take Everything Out
Sometimes, organizing and decluttering feels like a losing battle because I find myself shuffling things around instead of actually removing things that I just don't need, use, or love anymore. They stay because they are there.
When you remove everything from the room, you'll see how open and free the space feels.  You'll therefore be much pickier about what you choose to put back in.
As I moved things out of my living room, I noticed that some stuff didn't really belong, but over time they had somehow blended in with the space. Once you've removed everything from the room, it's easy to see what to put back – only the things you need, use, and love.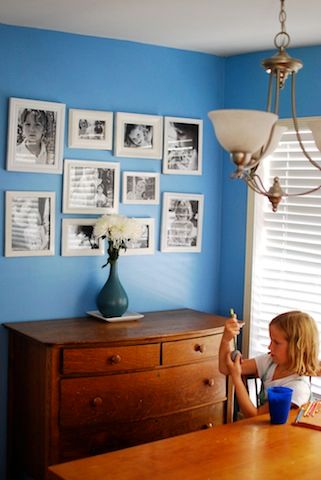 Photo by Remodeling This Life
Part Two:  Put Stuff Back
By starting over with a blank slate, you can better visualize your space.  It's hard to see where to move a chair, table, couch or photo when there is already stuff everywhere.
Picture how you want to walk into the room, what you want to see, and very importantly, what you don't want to see.  When I reset my room, I deleted about 20 percent of what was there. There were knickknacks from shelves, books that were outdated and untouched, and accessories that just weren't working in the space.  They were things that just didn't belong.
As you add things back into your space, go slowly.  Let the space breathe. One of the biggest lessons I've learned in simplifying my spaces is that open space is okay. Less is more.
Questions to ask yourself before you add things back:
Do I love it?
Does it work in the space?
Do I use it?
It's easy to declutter and say goodbye to things when you're looking at them in a box, armed with a donation bag next to you and a beautiful open space in front of you. The choice is easy. Keep what you need and love, get rid of what you don't.
A note from Tsh: Reading Emily's post here reminds me a lot of what I wrote in my e-book, Spring Cleaning for Normal People.  Yes, this is a shameless plug.  But I did want you to know — especially you newer Simple Mom readers — that if you're interested in a step-by-step process that leads you through this exact process that Emily describes, well then, I know of a little handy-dandy guide.  The e-book encourages you to ask questions about all your stuff based on the famous quote by 19th century architect William Morris:  "Have nothing in your homes that you do not know to be useful or believe to be beautiful."  And then gives you the kick in the pants to do the things you need to do.  Head here to learn more about it.
Do you have tips or tricks for streamlining and simplifying the spaces in your home? Please share in the comments!