"As we struggle with shopping lists and invitations, compounded by December's bad weather, it is good to be reminded that there are people in our lives who are worth this aggravation, and people to whom we are worth the same." -Donald E. Westlake
Gift-giving doesn't come naturally to me. Perhaps it's because it's not high on my "love languages" (I'm the type that'll just go get it myself if I need it), I often feel a bit deer-in-the-headlights when it's time to make those purchases. (Gift wrapping, however, is another story. Give me a roll of paper, some tape and a movie marathon, and I'm good to go.)
I've mentioned before that we're a three-gift family, at least for the kids—no specific reason, really (if we're in a spiritual mood we'll say it's to remember the three gifts given to Jesus), but this tradition has paid us in dividends. The kids know every year how many gifts to expect, and it gives us grownups a finish line to our buying. Three gifts, three kids. Done.
Consider starting a tradition like this, if you haven't yet (I know quite a few families who follow the "something you want, something you need, something to wear, something to read" practice as well). It tempers the "I wants," and it gives you peace of mind.
It puts gift-giving and receiving in its rightful spot: just one thing of many that makes the Christmas season special.
I've spent the past few weeks putting together a gift guide for you—a collection of simple gift ideas that help you purchase thoughtfully. In my opinion, these things aren't too cluttery, they support solid businesses, and they're neither overpriced nor so-cheap-they-break.
These are gifts I'd be happy with, in other words. And they're gifts I'll actually be giving this year.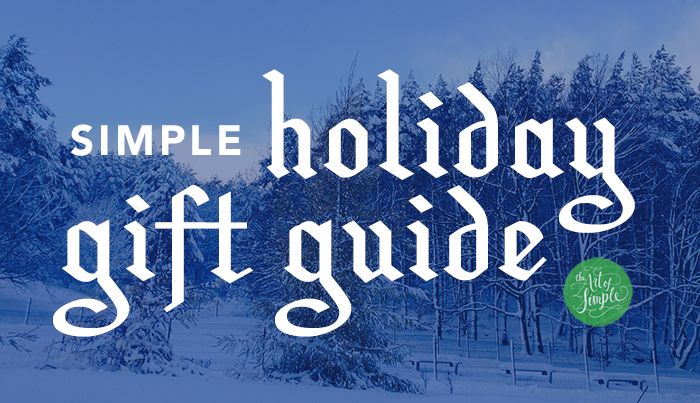 Head here to check out the blog's Simple Holiday Gift Guide.
And? We'd really appreciate you doing your online shopping through the links we provide in the guide. When you make a purchase, at no extra cost to you, you help keep this blog running. We love doing what we do here, encouraging and championing the simpler life. Thank you for your faithfulness as a reader! I'm grateful to call you friends. Y'all are the best.