Days two through five, and some of day ten of my e-book are devoted to overhauling the more "public" areas of the home — the living room, kitchen, and outdoor spaces.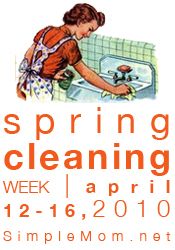 These are some of the most important spots in a home, because they're seen and used by most everybody. From your children, to guests, to those late nights watching a movie with your spouse, you want a comfortable living space for most any situation.  That's why it's hard to keep them decluttered and simple, with only those things you truly love.
Using the three-step process of decluttering, cleaning, and organizing, the hopeful result is a refreshed common area in the home that the whole family will enjoy.  It's an important part of your Spring Cleaning Week.
Here are a few tips for each of these important areas.
Living Room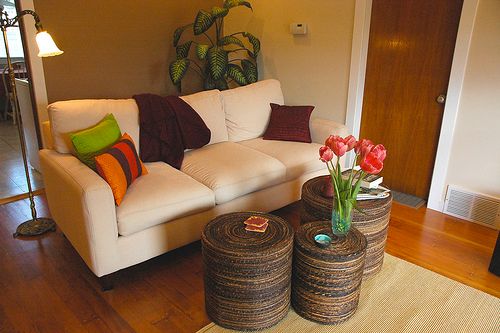 Photo by Wonderlane
•  Take the time to "assign" a few objectives for this general purpose space. Is this a media haven for your family?  Do you like to entertain guests here?  Let the space function properly, and don't have extra stuff you don't really use here.
•  Make this a place the whole family would enjoy. Perhaps you can bring in everyone's books here, as a central library (that's what we've done).  Or you can have games, puzzles, or craft supplies here, so that your family pursues these activities together.
• Keep things as contained as possible. If you have a lot of one thing, such as DVDs, keep them better organized in drawers or containers — left out on shelves, and they'll get disheveled and look cluttered.
• Remove all your knickknacks during the decluttering phase, and then only bring back the ones you love. Do it gradually.  You might discover a more pared-down look you love, and you can get rid of the rest.  (This makes surfaces easier to clean, too.)
Kitchen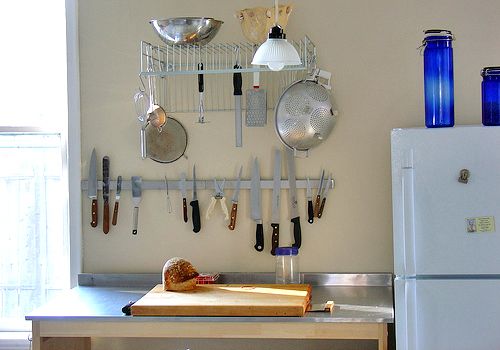 Photo by Barb McMahon
•  It may seem obvious, but store items near where you use them most.  Keep cooking utensils by the stove.  House dishes and glassware near the dishwasher or refrigerator.  And keep napkins and silverware somewhere central, where someone can set the table without disturbing the cook.
•  Arrange your pantry so that your most often-used ingredients are at eye level. Keep snacks higher, so that the family is less tempted to graze between meals.
• Honestly question the purpose of every item in your kitchen. This room is Gadget Central, and we really don't need more than the basic tools.  Awhile back, Aimee shared a great comprehensive list of the most essential tools for any kitchen — use this as a starting point.
•  Keep counters as clear as possible — think of them as a cooking tool. Any gadget left on the surface is taking away valuable counter space, one of the most useful cooking tools around.
• Think outside the box when it comes to storage containers. Aimee wrote a great article about good ideas for kitchen storage on Simple Bites.
Outdoor Spaces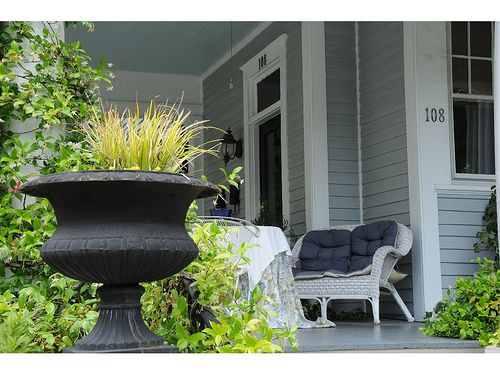 Photo by Teresa Morgan
• What does the front entry of your home say about what goes on inside?  If it's too difficult to maintain a landscaped entry, then stick to a potted plant that thrives in your local environment.
• Give your front entry an easy refresher with a new welcome mat. They work wonders.
• If being outside is a priority in your family, then make some space to spend time together outdoors.  It doesn't need to be large — when we lived overseas, all we had was a simple dining table and chairs on our balcony, but we used it near daily.    Do what you can to create a simple family space to relax outside.
• Keep like things with like. Use sealed plastic containers to store outdoor toys, barbeque tools, and gardening supplies.  Even simple laundry baskets work well, and you can usually find these cheaply at thrift stores.
• Don't underestimate lighting, which adds a festive ambience. Wind white Christmas lights around your deck, your table umbrella, or your awning for an instant, year-round face lift.  Candles add tons of ambience as well.
I look forward to hearing about your progress, so feel free to link to your posts!  Tomorrow, we'll discuss the second part of the three-step process:  non-toxic cleaning.
What are your tips for overhauling the living room, kitchen, or outdoor spaces?