Last week, I shared the summer reading list for our 7-year-old son. It's a healthy blend of pure fun with a sprinkling of challenge, so I thought it fitting I do the same for our oldest, age ten.
Tate is a voracious reader who also gets distracted by summertime fun (as well she should). She'll go in fits and spurts of nonstop reading for a week, barely eating her lunch, followed by two weeks of nothing but duct tape crafts and tree climbing.
This reading list reflects her personality. A few sweeping, epic adventures along with some short, easy reads.
Let's get right to it, shall we? And like Reed's list, you'll find a free download at the end of this post—feel free to print and distribute!
10-year-old, slightly advanced reading level
Recent favorites are the Harry Potter series, the Percy Jackson series, May B., The Giver, and Greenglass House. This list works for both boys and girls.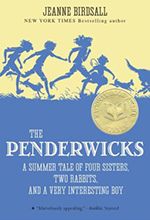 The Penderwicks (any in the series)
• author: Jeanne Birdsall
• find it online
We read the first book together a few years ago, so I think she'll like to dig deeper in the series. "This summer the Penderwick sisters have a wonderful surprise: a holiday on the grounds of a beautiful estate called Arundel. Soon they are busy discovering the summertime magic of Arundel's sprawling gardens, treasure-filled attic, tame rabbits, and the cook who makes the best gingerbread in Massachusetts. But the best discovery of all is Jeffrey Tifton, son of Arundel's owner, who quickly proves to be the perfect companion for their adventures."
---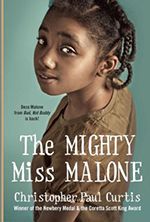 The Mighty Miss Malone
• author: Christopher Paul Curtis
• find it online
"'We are a family on a journey to a place called wonderful' is the motto of Deza Malone's family. Deza is the smartest girl in her class in Gary, Indiana, singled out by teachers for a special path in life. But the Great Depression has hit Gary hard, and there are no jobs for black men. When her beloved father leaves to find work, Deza, Mother, and her older brother Jimmie go in search of him, and end up in a Hooverville outside Flint, Michigan."
---
The Girl Who Could Fly
• author: Victoria Forester
• find it online
"You just can't keep a good girl down . . . unless you use the proper methods. Piper McCloud can fly. Just like that. Problem is, the good folk of Lowland County are afraid of Piper. And her ma's at her wit's end. So it seems only fitting that she leave her parents' farm to attend a top-secret, maximum-security school for kids with exceptional abilities."
---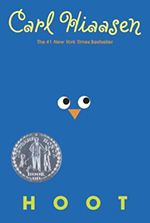 Hoot
• author: Carl Hiaasen
• find it online
"Roy Eberhardt is the new kid–again. This time around it's Trace Middle School in humid Coconut Grove, Florida. But it's still the same old routine: table by himself at lunch, no real friends, and thick-headed bullies like Dana Matherson pushing him around. But if it wasn't for Dana Matherson mashing his face against the school bus window that one day, he might never have seen the tow-headed running boy. And if he had never seen the running boy, he might never have met tall, tough, bully-beating Beatrice. And if he had never met Beatrice, he might never have discovered the burrowing owls living in the lot on the corner of East Oriole Avenue. And if he had never discovered the owls, he probably would have missed out on the adventure of a lifetime."
---
Rain Reign
• author: Ann M. Martin
• find it online
"Rose Howard is obsessed with homonyms. She's thrilled that her own name is a homonym, and she purposely gave her dog Rain a name with two homonyms. …When a storm hits their rural town, rivers overflow, the roads are flooded, and Rain goes missing. Now Rose has to find her dog, even if it means leaving her routines and safe places to search."
---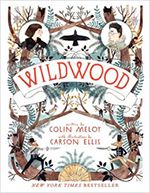 Wildwood (any in the series)
• author: Colin Meloy
• find it online
"Prue and her friend Curtis uncover a secret world in the midst of violent upheaval—a world full of warring creatures, peaceable mystics, and powerful figures with the darkest intentions. And what begins as a rescue mission becomes something much greater as the two friends find themselves entwined in a struggle for the very freedom of this wilderness. A wilderness the locals call Wildwood." (Bonus: it's set in Portland, Oregon!)
---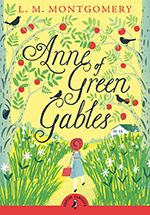 Anne of Green Gables (any in the series)
• author: L.M. Montgomery
• find it online
"When Marilla and Matthew Cuthbert of Green Gables, Prince Edward Island, send for a boy orphan to help them out at the farm, they are in no way prepared for the error that will change their lives. The mistake takes the shape of Anne Shirley, a redheaded 11-year-old girl who can talk anyone under the table. Fortunately, her sunny nature and quirky imagination quickly win over her reluctant foster parents. Anne's feisty spirit soon draws many friends–and much trouble–her way." Also, LOVE the look of this box set.
---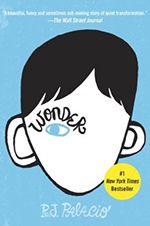 Wonder
• author: R.J. Palacio
• find it online
Approximately 17 thousand people have told me I'd love this book, so I'll give it a shot this summer. "August Pullman was born with a facial difference that, up until now, has prevented him from going to a mainstream school. Starting 5th grade at Beecher Prep, he wants nothing more than to be treated as an ordinary kid—but his new classmates can't get past Auggie's extraordinary face."
---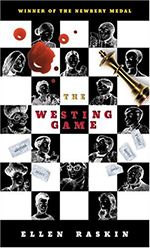 The Westing Game
• author: Ellen Raskin
• find it online
One of my all-time favorite childhood books, so I cannot wait to introduce this one to Tate. "A bizarre chain of events begins when sixteen unlikely people gather for the reading of Samuel W. Westing's will. And though no one knows why the eccentric, game-loving millionaire has chosen a virtual stranger—and a possible murderer—to inherit his vast fortune, on things for sure: Sam Westing may be dead…but that won't stop him from playing one last game."
---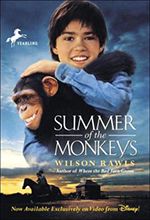 Summer of the Monkeys
• author: Wilson Rawls
• find it online
"The last thing a fourteen-year-old boy expects to find along an old Ozark river bottom is a tree full of monkeys. Jay Berry Lee's grandpa had an explanation, of course–as he did for most things. The monkeys had escaped from a traveling circus, and there was a handsome reward in store for anyone who could catch them. Grandpa said there wasn't any animal that couldn't be caught somehow, and Jay Berry started out believing him."
---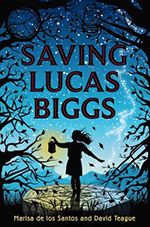 Saving Lucas Biggs
• author: Marisa de los Santos
• find it online
"Thirteen-year-old Margaret knows her father is innocent, but that doesn't stop the cruel Judge Biggs from sentencing him to death. Margaret is determined to save her dad, even if it means using her family's secret—and forbidden—ability to time travel."
---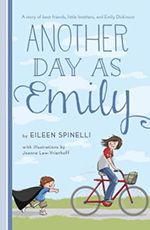 Another Day as Emily
• author: Eileen Spinelli
• find it online
"Eleven-year-old Suzy just can't win. Her brother is a local hero for calling 911 after seeing their elderly neighbor collapse, and only her best friend was able to win a role in the play they both auditioned for. Feeling cast aside from all angles, Suzy sees a kindred spirit in Emily Dickinson, the subject of her summer project."
---
Mysterious Benedict Society (any in the series)
• author: Trenton Lee Stewart
• find it online
Tate read the first one a few years ago, and loved it. "'Are you a gifted child looking for special opportunities?' When this peculiar ad appears in the newspaper, dozens of children enroll to take a series of mysterious, mind-bending tests. (And you, dear reader, can test your wits right alongside them.) But in the end just four very special children will succeed. Their challenge: to go on a secret mission that only the most intelligent and resourceful children could complete."
---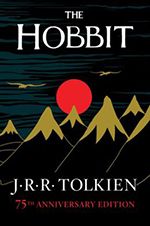 The Hobbit
• author: J.R.R. Tolkein
• find it online
Tate started this on our travels but set it down when she got bogged down by details. Perhaps she'll try again? We'll see. "Bilbo Baggins is a hobbit who enjoys a comfortable, unambitious life, rarely traveling any farther than his pantry or cellar. But his contentment is disturbed when the wizard Gandalf and a company of dwarves arrive on his doorstep one day to whisk him away on an adventure."
---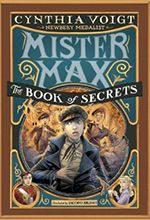 Mister Max: The Book of Secrets (any in the series)
• author: Cynthia Voigt
• find it online
The whole series looks intriguing; she's already read the first one. "Someone is breaking windows and setting fires in the old city, but the shopkeepers won't say a word about the culprits. …When the mayor begs for help, Max agrees to take the case, putting himself in grave danger."
---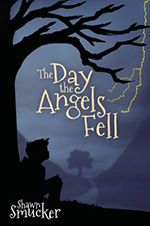 The Day the Angels Fell
• author: Shawn Smucker
• find it online
This is our family's current read-aloud, and all five of us are transfixed (if not a little spooked out at times). So, so good. "When a summer thunderstorm drives 12-year-old Samuel Chambers into a local antique shop, he finds himself watching through a crack in the door as three old fortune tellers from a visiting fair scratch a message onto the surface of a table: 'Find the Tree of Life.' Tragedy strikes his family less than 24 hours later, and as those words echo in his mind he realizes that Finding the Tree of Life is his only hope."
---
Like her brother, Tate's goal is to read six books (though they both can easily read ten with a bit of focus). When she meets her goal, we'll do something fun together.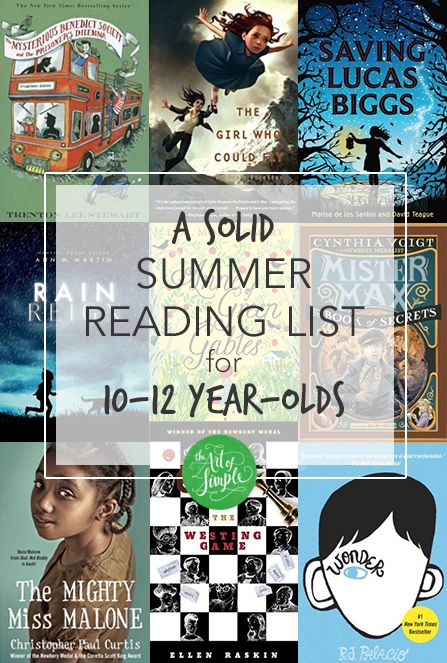 Affiliate links are used in this post, which means at no extra cost to you, ordering things after clicking on them means you'll help financially support this site. Thanks!