It's Eleanor Roosevelt who said that she tried to do something risky every day. Maybe something new, uncomfortable, or different.
Maybe that something "new" is hosting your first Easter dinner in your home this year, and you're scared to death. I was fortunate because while I was growing up, my mother taught me a lot about entertaining—but I realize that many people didn't have this sort of role model.
We can be so focused and locked into our busy schedules and routines that we skip one of the most important gifts that we can give ourselves and our children. That gift is practicing and showing our children what hospitality looks like.
Signs of genuine hospitality
• We make others feel warm and welcome in our homes. The ability to love people where they are at and to be interested in their lives.
To provide good food and conversation for others.
• We put our imperfections aside. It's okay to have mix-matched goblets, or slightly burned rolls, or an imperfect house. Showing our children how to improvise is a gift in itself.
• We don't compare ourselves with others. Remember why you are having people over, don't think about what others have and what you don't have. Keep your mind on things that really matter and let go of the "magazine-perfect" image.
• We focus on the small ways we can make a difference in the lives of others. It's not always about us.
• We love our families first. Let your family see that, yes, it takes work to bring it all together (it might be a little tense, especially the hour before the guests arrive), but that entertaining can be a family affair and we can love each other during the process. Show that when the door is opened, the smiles on our faces are real and not forced.
Many people don't want to spend the money or put up with the fuss of entertaining
I get that. It's true, it takes thought, effort, sometimes hard work, and money to host others. But don't forget about the reason for having people over. I've often told my kids that we're hosting others so we can get to know them better. We're putting ourselves aside—our pocketbooks and our time—and we're investing in their lives.
I believe if we focus on an attitude of giving, without thinking of what we'll get in return, we'll change our minds and hearts toward others. Hospitality truly is a matter of the heart.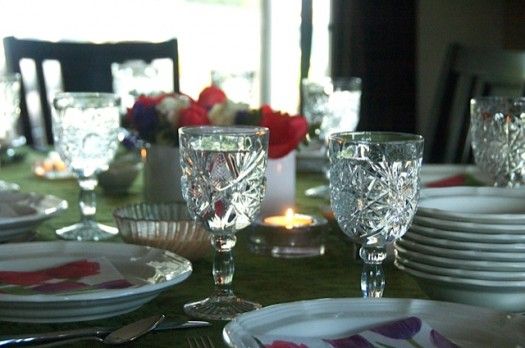 My plan
I'm hosting this year. The date is easy (Easter). I'm currently putting the menu together and delegating several dishes, which will save me money and time. I'm counting "heads" and coming up with a plan for where our guests will sit.
I'm also giving myself a pep talk so that I will not overcomplicate the day. I will make it as enjoyable as possible for my family (our family always see us at our worst, don't they?) and will not save things for the last minute, thus making everyone miserable.
I will focus on the reason for our celebration (I love Easter!), and on that day, I'll hopefully just sit back and enjoy our family and friends. (Especially my immediate family, as they are growing up so quickly—soon they'll all be out of the house, and then entertaining will take on a different flavor.)
So, with Easter right around the corner—or maybe for another upcoming entertaining opportunity—ask for help if you're uncomfortable. There are lots of entertaining tips on my blog, written for people reluctant to entertain (such as learning how to push past your fears).
Maybe you can find a friend who will entertain with you. Hosting together can be a really fun way to have a party, especially if it's with a seasoned hostess you can learn from.
"Risk something every day." Thank you, Eleanor!
Are you inviting others over for Easter?