The older I get, the more I love Valentine's Day. But maybe not for the reasons you would expect.
As a young Gen X'er (is that even a thing anymore? ) I knew that liking Valentine's Day was against the code of cool.
In my twenties I was hyper-aware that I should be too smart, too cynical, and too wise to be tricked into all of that mushy, sentimental, forced-love stuff.
Now don't get me wrong, I happily accepted every gift my husband bestowed on me each and every February 14, but I attached no real meaning to the day. I never longed for it to be The Day of All Things Romantic.
I never expected grand-gestures, wild surprises, or expensive outings. It was just a nice day, in the middle of a cold month, where we exchanged moderate size gifts and ate a decent meal out.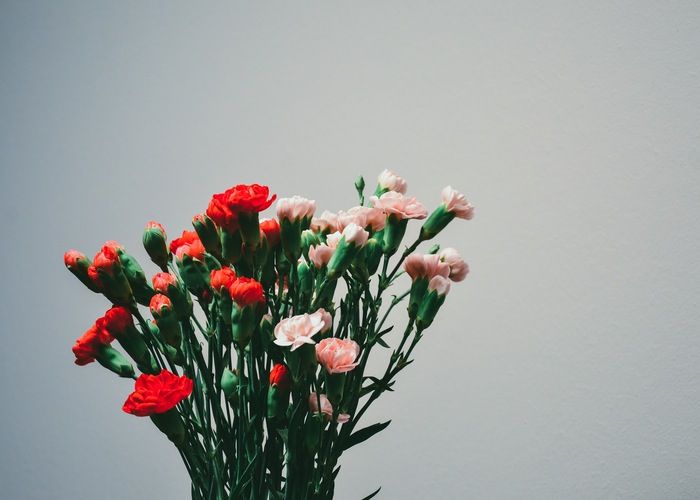 But then we had kids.
And being married got harder.
And the bills became bigger, the struggles rougher, and the to-do list longer.
There were fights and tears and therapy and many, many, come-to-Jesus moments.
We were exhausted.
But we made it through. The kids got older (which meant we slept through the night with surprising regularity), the communication got better, and we grew more tender towards each other.
We made it to the other side of I Don't Know if I Can Do This.
And on the other side of that season, what I discovered is that I really loved Us. I loved my husband. I loved our marriage. I loved our children. I loved our family.
With all our quirks and hurdles and frayed edges, with all the work it took to keep going, I loved it still, more than ever.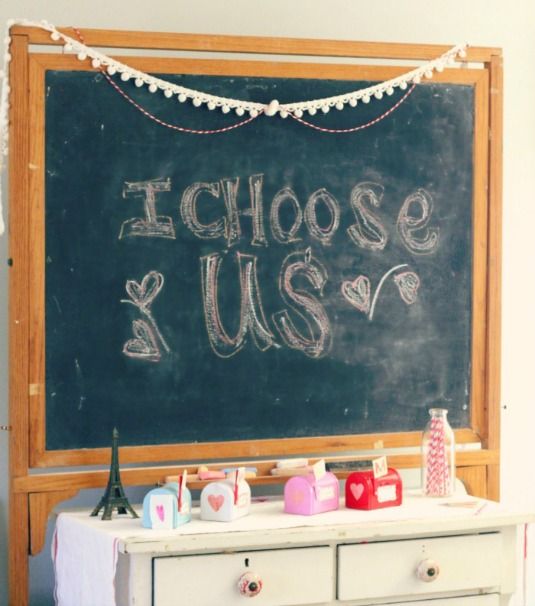 And in that season of re-birth, somewhere along the line, Valentine's Day became a celebration of our love. Of our choice. Of the choosing, again and again, to be an Us.
Valentine's Day became a day to raise the metaphorical family flag and cheer on the team, celebrating the blood, sweat, tears, and laughter it takes for us to be a family of love.
When this internal shift happened, my approach to all things Valentine's Day also shifted.
Now instead of day focused on romantic love, it became a day– a season even– to celebrate our family, to celebrate the ways, big and small, intentional and accidental, that we work hard on to be a loving family.
That's how the Family Valentine's Mail Box project began.
In the weeks leading up to V-Day (as I now refer to it), I unpack my small box of Valentine's decorations (which include an entire manila envelope of my father's childhood cards) and set up our Mailbox Station before I do any other decorating.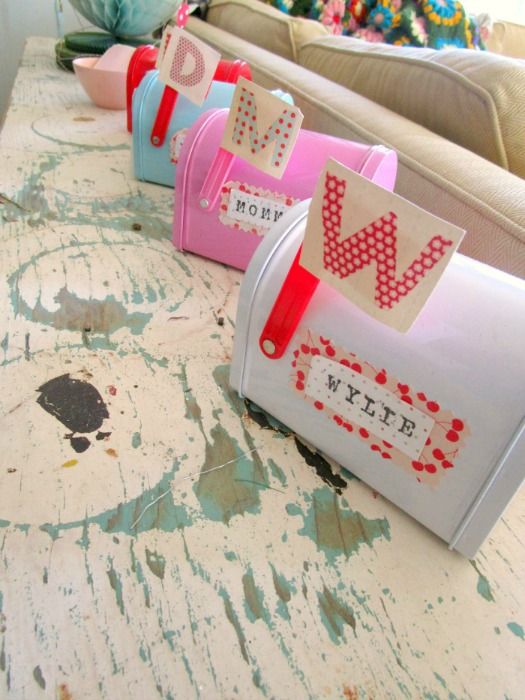 This little station – usually set up in the kitchen or dining room – is a simple but meaningful way our family has adopted to celebrate this holiday.
Each family member has their own mail box. Near the mail box and all around the house there are little stacks of note paper and colorful pens. We all write each other little "love notes" and hide them in the mail boxes, raising the little flags when a delivery has been made.
Sometimes the notes are serious, sometimes they are silly, but always they are special. Even my teenage boys participate, scribbling sweet notes when no one is looking.
There's a long life ahead of you and it's going to be beautiful, as long as you keep loving and hugging each other." – Yoko Ono
I like to think that is what these little mailboxes are – a way of loving and hugging through words and pictures, a celebration of all that we are and all that we hope to be.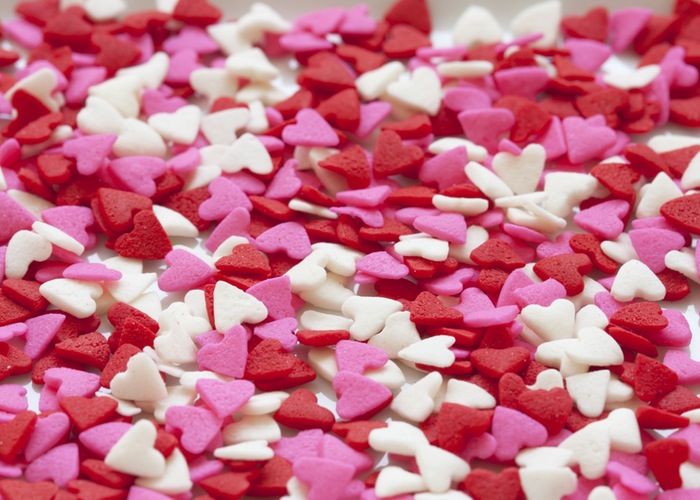 DIY Family Valentine's Day Mail Boxes  – ages 5 and up.
Supplies:
Inexpensive Mini-Mail Boxes
Craft Tape
Glue Stick
Letter Stamp & Ink Pad  or Permanent Marker
Heart Punch or Heart Shapes
Scrapbook Paper
Small Notepad
Pens
Scissors (kraft or regular)
Letter or icon stickers (optional)
Directions:
Using your scraps of scrapbook paper, stamps and ink pad -or permanent marker – create a layered label for each mail box. Or if you don't have stamp set just use markers, crayons, whatever you have on hand. The goal is not perfection, but participation!
Attach the labels to the same side of each box using your glue stick.
Cut out one small paper heart and glue to the front of each box.
If you want, make a flag cover for each box, that bears the first initial of each family member or some other sort of icon that represents them well. You can do this buy cutting out a piece of card-stock weight paper, then adhering a letter or icon sticker to the card-stock.  Other options including cutting the letter out using a coordinating piece of cardstock paper, hand lettering one with a permanent marker, or letting your kids and partner design their own flags. Attach each flag cover to the existing mail box flag with regular craft tape.
Place your mail boxes in a high-traffic area of your home, where people will see them and remember to stop and write a love note or draw a little picture or maybe leave a treat or two inside each box.  Make sure to also leave plenty of paper and writing utensils next to your mail station.
Save
Save
Save
Save