As a cookbook author, I might "cook for a living", but sometimes it's still a struggle to get a home-cooked meal on the table in a timely manner. Our family's busy schedule includes everything from swim lessons to physical therapy to meeting a commuter train most school nights. I confess that the siren song of takeout beckons me more often than I would like.
In an effort to eat more healthfully and save money, I've narrowed down five easy strategies for feeding my family homemade meals without the hassle. I hope they'll help you, too.
1. Plan your meals.
Having a meal plan is really half the battle to eating well on a budget. When I fly by the seat of my pants, I crash and burn – and spend too much money.
Meal planning doesn't have to be complicated. It can be as simple as as jotting down five meals you could make with what you already have on hand.
Paying for a meal planning service is a great way to simplify if you've got more money than time. Let someone else do the thinking! There are also free meal plans to download to give you a little extra help.
2. Choose simple meals, like breakfast for dinner.
I'm pretty sure my kids could eat breakfast foods every night of the week. I'm not suggesting you stock up on Sugar Coated Chocolate Bombs. Breakfasts, like Whole Wheat Banana Pancakes or Eggs and Sweet Potato Hash, are nutritious, simple meals that everyone loves.
When you're stuck for a dinner idea, just start making that second breakfast of the day. Or the third.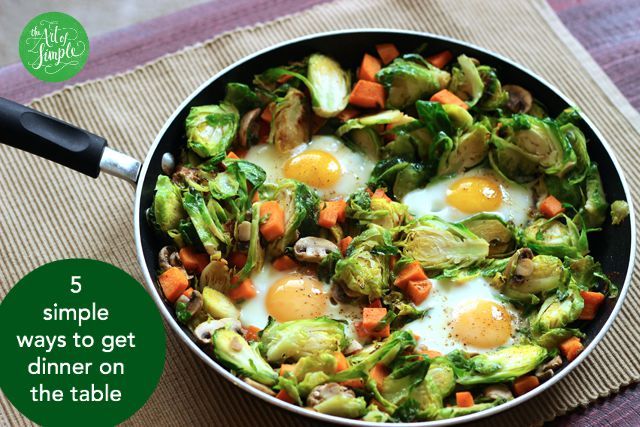 Photo by Jessica Fisher
3. Lean on the quick fix.
I spent most of 2014 compiling recipes that took me 30 minutes or less to prepare. I was shocked at how much variety was possible in half an hour, less time than it takes me to find my keys and wait in line at In-n-Out Burger.
Since then, I regularly stock my cupboards and freezer with ingredients that I can prep quickly and easily, such as salad greens, canned beans, quick-cooking grains, frozen chicken tenders, frozen vegetables, and flatbreads. Having these ingredients at the ready makes whipping up dinner super easy.
4. Set up your kitchen for success.
When my kitchen is cluttery and the sink is full of dishes, it's as if my cooking space were lined with Kryptonite. If that's something that works against you, too, consider clearing things out, dejunking the cupboards, and giving yourself a little kitchen make-over. Something as simple as a larger skillet or a nicer chef's knife can make a world of difference.
A more organized kitchen will make your feel awesome — and make the dinner prep so much more fun.
5. Just eat something.
While I love to set a fancy table and prepare a great feast, I've found that it's important to give myself a break. Every meal does not have to be an event.
Give yourself permission to nosh on a snacky dinner and relax tonight.
Dinner time doesn't have to be the "witching hour". A few simple tweaks to your routine can make your meal prep time sweet and easy.
What's YOUR favorite way to get dinner on the table without a lot of fuss?