Ever since I started writing about sewing, I've had people telling me it's something they've always wanted to learn. It's often one of two things holding them back– either they are intimidated and don't know where to start, or as with many other potential hobbies or aspirations, they can't seem to find (or make) the time.
The nice thing about sewing is that once you have the supplies you need, you really can ease your way in. This spring I (finally!) published my first eBook, Sewing School 101: Simple Tips to Get You Stitching, and in it I reveal that the list of required materials for learning to sew is actually quite minimal.
It's a commitment of around a hundred dollars to get you going– less if you can acquire or borrow a sewing machine as you're first learning.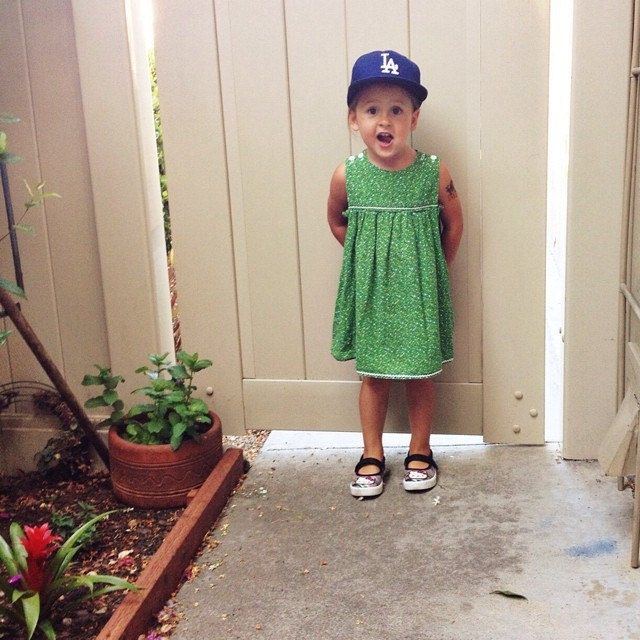 So let's say the time thing is what's holding you back. Today I'll share some ways to work around that, to help you make time so that you, too, can go on to make some handmade gifts, clothes, accessories, quilts, family heirlooms (such as the dress my daughter's wearing in the photo above- my mom made that for me thirty years ago!), or anything else.
1.  Block off time for it.
I've been reading a lot about creativity and productivity lately, and the biggest thing I've been learning is how we need to be intentional with our creative endeavors.
If you really want to learn to sew (or learn any new skill), start by setting aside some time for it. Set a time– maybe a certain naptime, or a Saturday morning, or a night of the week when the kids are in bed, your spouse is otherwise occupied, or your work for the day is done– and block out some time on your calendar as your learning-to-sew time.
Actually write it in (or schedule it in your digital calendar), too. Treat it like it's a class you're taking, and try to keep that time as set apart, making it a priority.
2. Get some friendly support.
Accountability always helps when we want to stick with something. Ask your spouse to help you commit to your learning time, invite a friend to learn with you, or ask a family member or friend with experience to come alongside you.
If you don't have anyone in your immediate community who sews, reach out online! My eBook is truly designed to function like a friend teaching you the ropes, and you're welcome to shoot me an email any time you have questions or need encouragement.
3. Start small.
It's important to start with small projects that can be finished in a reasonable amount of time– like one or two sittings. This will give you confidence to persevere, and your learning curve will be shorter if you're not having to review all your skills each time you get to work on a complicated project.
4. Take baby steps as you move forward.
Go at your own pace as you learn to sew, even if that means practicing each basic skill a few times before you move on.
The more confident you get in each aspect of the process, the more likely you are to move forward and try harder things. Don't worry if your journey is slow; each step will stimulate your creativity as you work through challenges (because they will come) and figure out your machine's quirks.
5. Get your kids involved.
If you're a parent, having kids underfoot probably feels like the biggest hurdle to sewing. Working around them will take you longer, but they'll appreciate your handiwork that much more when they've observed the process– just like kids who garden seem to enjoy their vegetables more.
I have a whole essay in my ebook about getting kids involved, but one of the simplest ways is to simply let them push the floor pedal a little while you sew. Once you're confident enough, slipping a little one up on your lap (keeping their hands at a safe distance from the needle) can be a sweet way to welcome them into your sewing journey.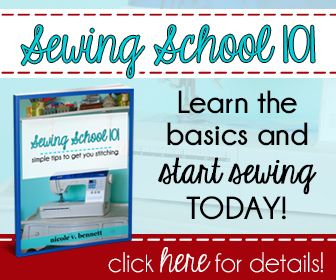 My goal in writing Sewing School 101 was simply to make sewing more accessible to my readers, by friendly guiding them along in the basics and then leading them into actually making some projects with the skills learned.
The skills are broken down into easy-to-tackle steps and the color photos will help you visualize what you're learning.
As I celebrate the launch of Sewing School 101, several of my friends are writing about the book for my blog tour. Head here for all the information.
The help doesn't stop with the book either– I've got resource pages on my blog and I'll be starting a sewing Q & A column in my (monthly-ish) newsletter.
Have you got a sewing question? Feel free to ask me here in the comments, and then subscribe to my newsletter for ongoing education.