I'm currently coming down from an adrenaline high after two big weekends in a row of farm-to-table dinners here on Kindred Farm in Santa Fe, Tennessee. My chef husband, Steven, and I are limping around, taking epsom salt baths, stretching, and trying to recover. But we're not complaining, because we truly love doing this.
When we moved to Tennessee to start our organic produce farm, we had a big dream to create a special gathering space for people in the community and eventually host a farm dinner on our own land. We'd done this before in urban settings back in Dallas with our previous business, Urban Acres. But this time, we had to actually create a farm from scratch first and then grow stuff. First things first: we started with plowing up the soil on the first day of spring 2017 (more of the backstory in this post or in this podcast episode).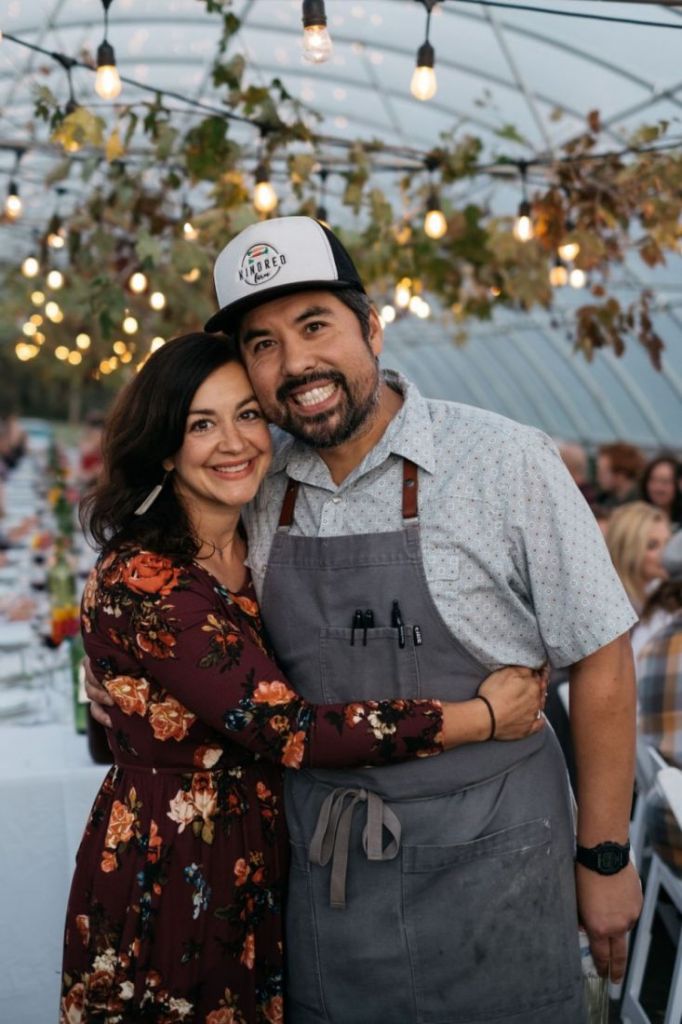 Seven months later on a perfectly sunny and cool October evening, almost 100 people arrived for the first (of what would become many) Kindred Dinners—local and seasonal multiple-course feasts at long tables under the stars, cooked and prepared by Steven and other local chefs over open fire, with live music by local artists, seasonal craft beer, and wine. Friendships forged and memories made.
"Kindred" means "family, tribe, or clan," and we chose that name for our farm because we wanted to create a space for people to connect on a deep level and feel safe and welcomed. We've seen it time and time again—folks may arrive as strangers, but by the end of the night they're sharing stories of their lives, exchanging texts, and making plans to see each other again. And that's the beauty of what can happen around the table. It's more than a piece of furniture—it's a place where our bodies and souls are nourished.
In the last two years, we've hosted six big (100-150 people) Kindred Dinners and a few smaller ones. Each experience has taught me something new about myself, humanity, and gathering people in meaningful ways.
I thought I'd share a few of those lessons I've learned along the way:
1. It's good to do something that requires more than ourselves to accomplish it.
With that first dinner two years ago, we went for it, not really knowing what we were getting into. I'll never forget the small army of people whose many hands worked together to create something beautiful. Every friend, farmer, chef, and artisan involved in the event offered up their gifts and abilities.
Our close friend, Amy, offered her time and expertise as our Events Producer. Others came over and hustled to finish constructing our barn, paint a mural on the side, hang signs, and cut tree stumps to hold lanterns to light the path at night. Our photographer neighbor agreed to capture photos during the evening so we could sear it into our memories. Her husband delivered trucks of firewood from his own woodlot for the cooking fires. Steven and the other chefs spent hours developing and collaborating and prepping an exquisite menu, like fire-roasted squash, potatoes, beans, fresh bread and desserts, homemade pasta with Bolognese sauce, and salads filled with buttery lettuce grown in our field just down the hill.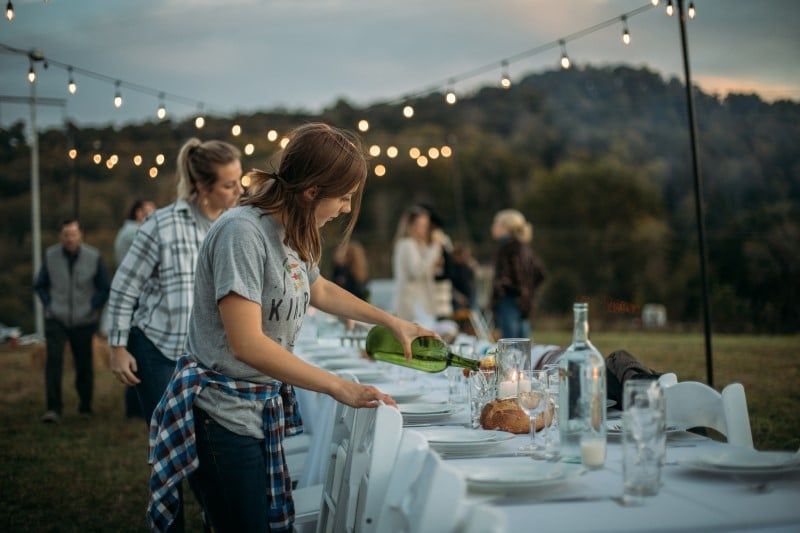 During that dinner, I was in awe—I looked around and saw all the unique gifts and talents involved and was reminded that we were created to operate as a village, a body with many parts. Today, we have an incredible team of servers and chefs who've been with us for awhile now, and we couldn't do it without them.
2. Sometimes we need to disconnect in order to connect.
In a time when our lives can be consumed with online "likes" and comments, when everything from paying bills to keeping in touch with our college friends is done on our phones, we need to disconnect in order to connect with the real, flesh-and-blood lives around us. Lucky for our Kindred Dinners guests, we don't have much internet service in Santa Fe, anyway—ha! Whenever we can detach from our phones (other than for taking some photos!), sit down for a long period of time without rushing, and look each other in the eyes—like around a campfire or sharing a pot of coffee or a slow meal—something beautiful happens. Strangers become friends, and we see that we're all more alike than we thought—we all long to feel known and nourished. One of our guests, Luke Garmon, said,
"Eating at a Kindred Dinner gave me the chance to slow down to the speed of listening—to the stories of our food, to those gathered at the table, and to the larger conversation of community."
These days, slowing down and connecting has become the rare, foreign thing. We're here to help people recapture that and hopefully take some of it back into their normal, daily lives.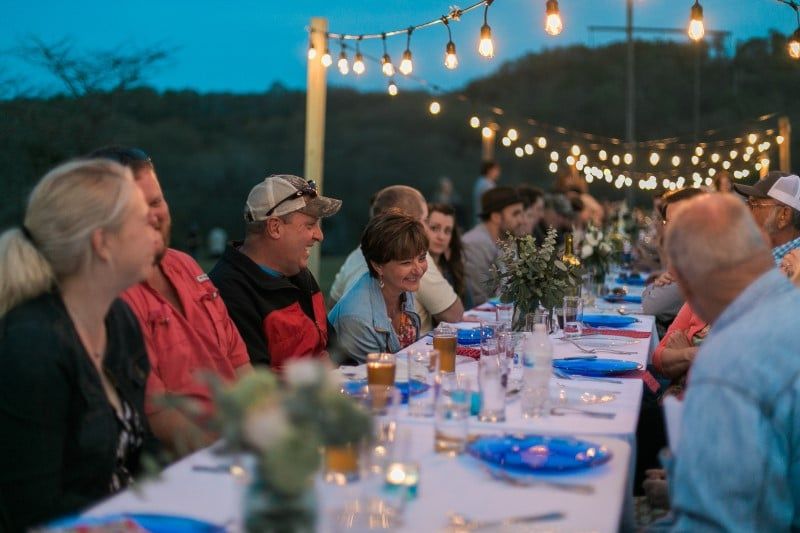 3. We have to learn to push through challenges.
Hey, I have an idea…let's host a dinner for 125 people outdoors in the middle of insane humidity in July in the South, while cooking everything over hot, open coals! Learning to push through challenges was also the story of last summer's dinner. Because of the intense, brutal heat in the South, we needed a shady spot. We carefully took down the slack line, swings, and climbing things in the "forest of fun" where our children normally play by our creek and transformed it into the dinner site.
The whole setup for that dinner was exponentially more difficult because of the heat, but when you have 125 people coming for dinner, you buck up and make it happen (even if you have a huge wasp sting on your elbow from earlier in the day, and the hair you just blow-dried has frizzed more than Monica's in that FRIENDS episode when they're in Barbados.) There ended up being cloud cover that evening that cooled everything off a bit, we handed out paper fans, and our team put together a dreamy forest feast. But we decided to never do a summer dinner again!
4. Sometimes the storm makes everything better.
Speaking of challenges…after four dinners in a row without rain, the 100% chance of thunderstorms finally came this May for our spring dinner. For days, we checked the weather apps obsessively, and when we realized the storms were inevitable, we moved machinery and equipment, dug trenches for water to be rerouted, and transformed our greenhouse, a place that was covered in dirt 48 hours before, into a twinkle-lit room where 150 guests would be welcomed, loved, and served.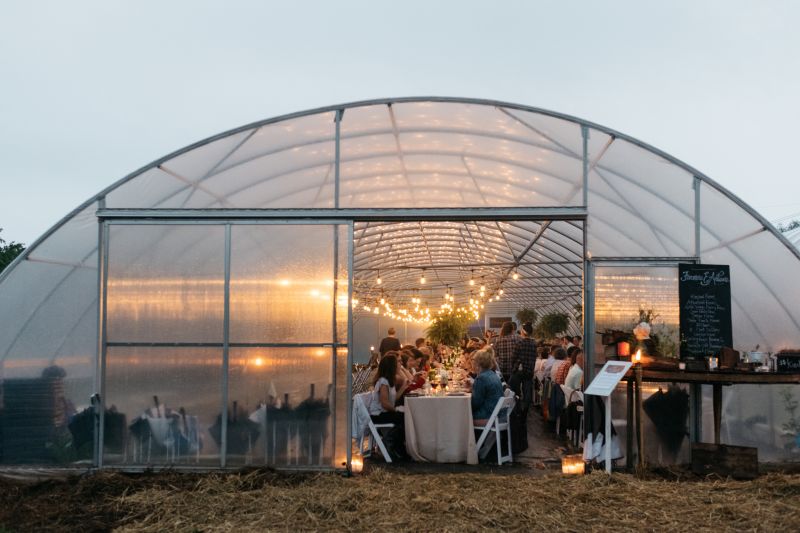 And our incredible guests showed up with cheerful attitudes in the rain, with their rain boots and umbrellas, entrusting us with their evening, their time, and their hunger. As the night went on, there was this hum of excitement, as if we were all going through something crazy together—Dinner in a greenhouse! Amidst the lettuce rows! In the pounding rain! That night, I saw firsthand that any setting can become a sacred space of connection with the willing hearts of those who are there.
5. Hospitality is more than just hosting.
Our Events Producer, Amy Parman, said the most beautiful thing:
"In the world we know today, true hospitality is rebellious, radical. The act of opening yourself up to give or receive a meal, a drink, or a safe place to stay, flies in the face of a culture fixated on speed and self-reliance. To willingly place yourself in the hands of another, and exchange feelings of welcome and gratitude, may well be the ancient practice that keeps saving the world one generation at a time."
Until then, I always saw hospitality as the act of inviting people into your space to care for them in some way. I never thought about the other half of hospitality: the guests' willingness and vulnerability to show up. As we enter the holiday season, no matter the size of our gatherings, let's remember that both the guests and the hosts need each other.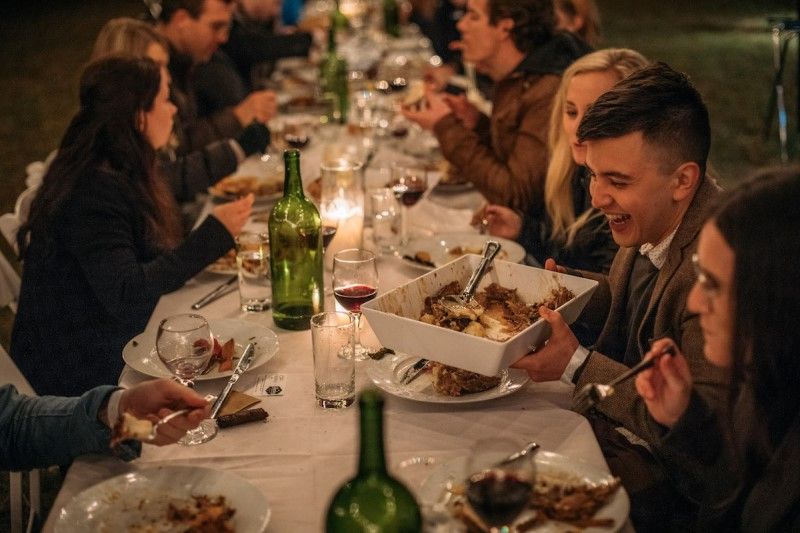 6. People don't want perfection; they want authenticity.
I think we can all quickly tell if something is thrown together as part of a mechanical system, or if it's created with heart. If we put our hearts and souls into creating opportunities for connection, it really doesn't have to be fancy. There doesn't have to be an activity or entertainment at every turn. No one notices if we didn't perfectly clean up that pile of tools or equipment. This is true for Kindred Dinners as much as in our own living rooms and around our kitchen tables: people just want to exhale, be themselves, and feel at home with other real-life people, in all their imperfections.
• Listen to the podcast episode about this post.