This has not been a normal summer for anyone I know. For me, it's been a bit lonelier without the normal family visits, shared milestones, and even ordinary rituals like going to the library. It's also been a bit…subdued. I'm not sure there's another word for it. The past few months have blended together somewhat. The past and the future both look a bit hazy right now. What did I do in June? I'm not sure I can remember. I'm guessing I worked and went for walks.
That said, I love summer. And even though this one's been nothing like I'd expected, there have still been a lot of bright spots. Shiny moments I'm going to hold onto in the months ahead like the night the fireflies lit up the entire field behind our apartment building and the afternoon we spent wading in Lake Superior.
And even though the school year is starting this month for a lot of people, I'm a firm believer in holding on to summer until the autumn equinox. (This year it's September 22.) In that spirit, I wanted to share some ways to savor summer while it's still here.
1. Read a summer novel.
Maybe it's because we don't have a lot of sandy beaches where I live, but I've never really been into the idea of a "beach read." (I know you don't have to read it on the beach, but still.) Instead, during the summer I often feel like reading a historical novel that takes place in the English countryside. (It's a very specific book craving, I know.) One year it was I Capture the Castle by Dodie Smith. This summer, I still plan to read In Farleigh Field by Rhys Bowen. Some people want to go to the beach in the summer. I want to go to England.
2. Watch for shooting stars.
This is the time of year for the annual Perseid meteor shower. (What we often call "shooting stars" are actually meteors.) If you look up in the night sky anytime between now and August 22, you could catch a glimpse. During the meteor shower's peak (August 11-13), there can be as many as 50-100 meteors an hour.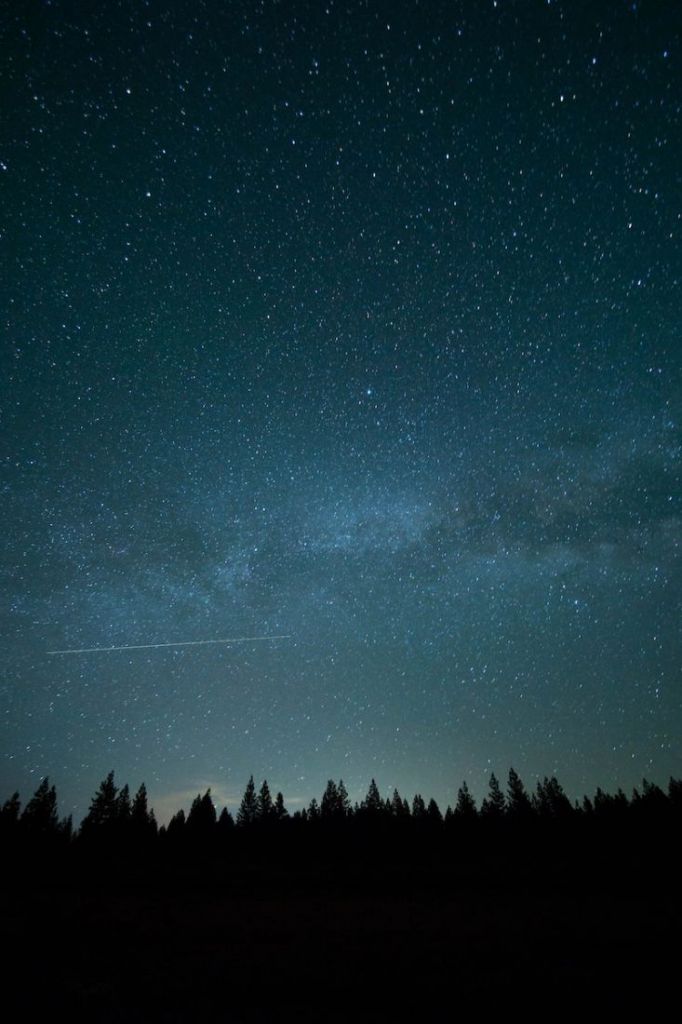 3. Wear shorts.
Sometime in my late '20s, I stopped wearing shorts. I felt uncomfortable in them, as if someone my age wasn't supposed to wear them. (Also, when businesses like grocery stores set their thermostats to 55 degrees, shorts become unnecessary.) But this summer has been the summer of shorts. I work from home full-time and control the thermostat, so really, it doesn't matter what I wear. Considering that I wear about four layers of clothing in our colder seasons, wearing shorts has been a bit liberating.
4. Bake a fruit cobbler.
I love all fruit desserts: cobblers, crisps, crumbles, galettes, grunts, slumps, and pandowdies. I love this strawberry vanilla crisp and have been wanting to try this galette recipe using blackberries and peaches.
5. Eat a meal outdoors.
Our apartment has a balcony, but one evening this summer, we packed a picnic dinner and walked to a park. Mosquitoes aside, I love eating outdoors. Keep it simple (pre-made sandwiches) or make it special. (Our alfresco dinner included a charcuterie board and wine.)
6. Watch a sunset or sunrise.
Watching sunsets or sunrises tend to be something people do on vacation, but they can be just as beautiful right where you live. I've found they have a way of helping me slow down and pay attention to the world beyond my screen.
What about you? What are some ways you're savoring summer—despite everything?