My home is 987 square feet and comes with a 12-month lease. It has worn carpeting I can't replace and walls I can't paint. Since my college dorm, it's the tenth place I've lived and the seventh apartment. When my husband and I got married and moved into our current apartment nearly six years ago, I thought we'd be here for a year. Maybe two.
Home ownership has always been the goal but with student debt and an overpriced housing market—we live in an ever-expanding university town—it's been a moving target. I grew up in a sprawling suburb where home ownership was the norm. It was a natural milestone people reached sometime after high school graduation and before they had kids. Apartment buildings came with some stigma.

I know it's different in other countries and large American cities, but sometimes around here, apartments still have that stigma. I'm often the only renter in a room full of homeowners. I nod politely when people tell me, "I could never live in an apartment," as if it's a type of hardship.
But in my experience, living in an apartment is not a hardship, and I know we're not alone. The number of people who rent in the U.S. is on the rise. I'm an old Millennial and 60% of us are renters, not homeowners. (We're also more likely than other generations to prefer renting.)
I'm not sure if I would go that far. There are days I would love to own a home. I dream about a kitchen that has more than two drawers. I dream about a living room that doesn't do double-duty as a dining room. More than anything else, I dream about a yard.
There are benefits to home ownership. And there are benefits to renting. (Not having to shovel our 40 inches of snow this winter is one.) Regardless, my past nine addresses have taught me a few things about how to make a home wherever I am. After all, home isn't something you buy. Home is something you create. In addition to a mindset shift, there are also a few practical things I've done to turn an otherwise generic apartment into a place we like to be.
When we first moved in, our unfurnished apartment had all the charm of a chain hotel: beige everything, utilitarian window blinds, dim overhead lighting. Despite this first impression, I knew the place had potential. It was one of the reasons we chose it. If possible, before you choose an apartment, I'd recommend deciding which features are most important to you. Based on our past rental experiences, these were ours:
1. Natural light
Sunlight goes a long way in making an apartment feel less like a hotel room. For our current home, we prioritized finding an apartment that was a corner unit so we'd get windows (and lots of light) on two sides of our main living space.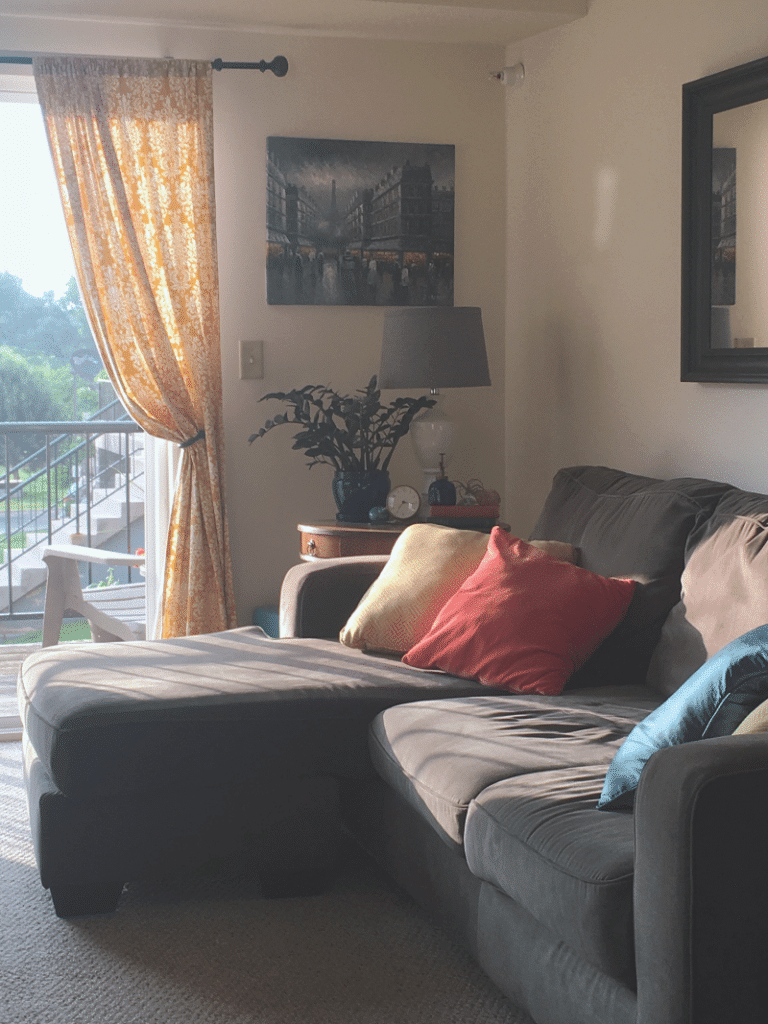 2. Storage
Our apartment complex has at least a half-dozen possible floor plans. When deciding between a few different units at the same price point, we chose one that offered an extra closet in the bathroom and a separate storage unit (a glorified closet) down the hall. When you live in a small space, you become a minimalist by necessity, but it's nice to have some extra storage space for items like camping gear and Grandma's china.
3. Outdoor Space
I once lived in a flat that didn't have a yard or patio so my roommates and I would sit on the roof for fresh air and sunlight. It wasn't ideal. Our current apartment has a balcony. It overlooks the parking lot but it provides us with a space to grow flowers and hang bird feeders.
4. A View
In addition to outdoor space, the view from your windows is also worth considering. While our living room does overlook the parking lot and surrounding apartment buildings, beyond the parking lot is a grassy park lined with big oak trees. This daily glimpse of nature has given us more joy than we expected. (Plus we can watch sunsets and approaching thunderstorms.)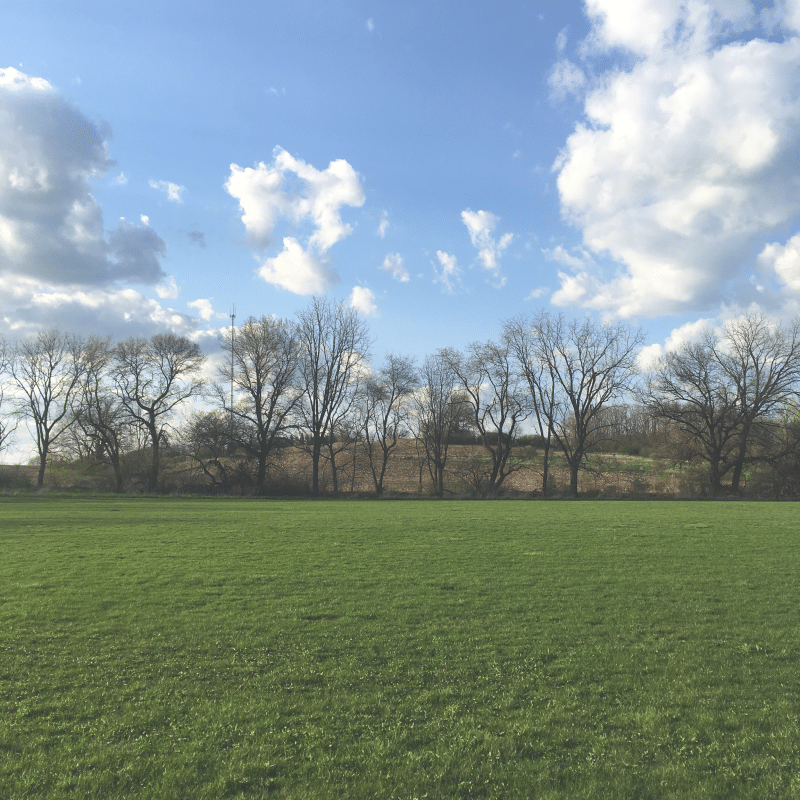 Once we signed a lease for an apartment that met some of our bigger priorities, it was time to move in and furnish it. Here are four practical decor decisions that have made our apartment feel even more like home:
5. Curtains
All of my apartments have come with cheap plastic blinds. They're functional but not much to look at. This time around, I decided to cover up the blinds with curtains. Window treatments are expensive though. For our large patio door, I bought some discounted fabric in a bright pattern and sewed my own. For the rest of our windows, I bought cheap sheer panels similar to these. Or you can go the DIY route with one of these ideas.
6. Color
Our walls, carpeting, tile floors, and countertops are all varying shades of beige and we can't do a thing about it. We can, however, add color and pattern in small ways. Our curtains and bedspread are bright mustard yellow. And in the living room I've used coral, blue, and gold as accent colors wherever I can.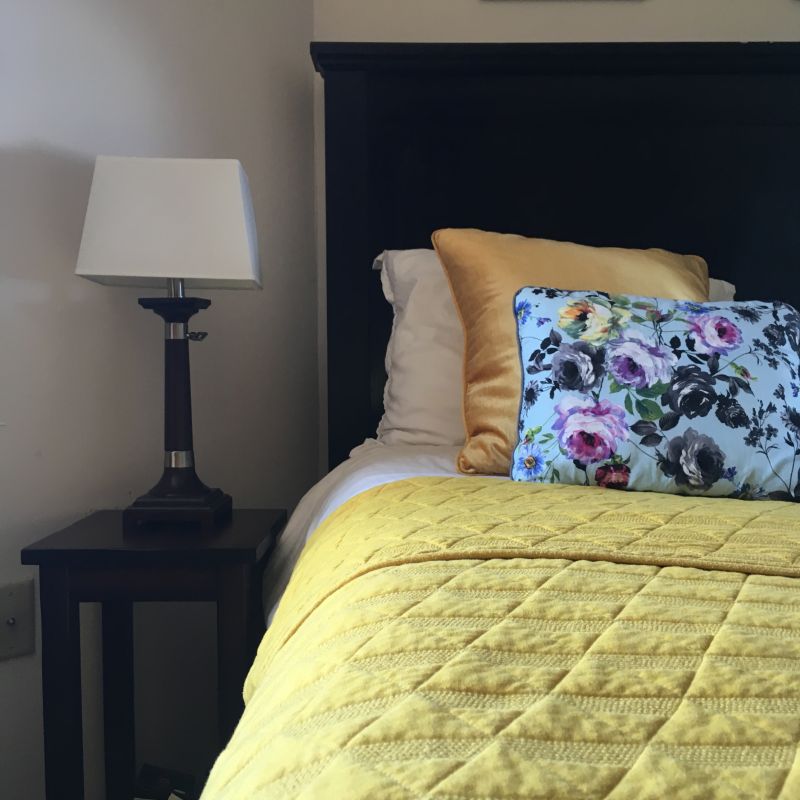 7. Plants
My husband and I love plants. We have so many of them that we've reached a point where we can't fit another one in our apartment without removing furniture. I've never had a good reputation with plants. I've somehow managed to kill even the most un-killable of them: a cactus.
Since my husband took over our plant care, our indoor nursery has thrived. Three of our favorite low-light, low-maintenance plants are our rubber tree (we have a full size and a mini), our Madagascar dragon tree, and our ZZ plant. The latter is by far my favorite. It looks shiny and green year-round. (Though if you have pets or young kids, its leaves are toxic when eaten.)
It's also worth mentioning that I once successfully grew a Meyer lemon tree in our apartment. It never looked entirely healthy but before it died, it did produce two harvests. (For a grand total of six lemons.)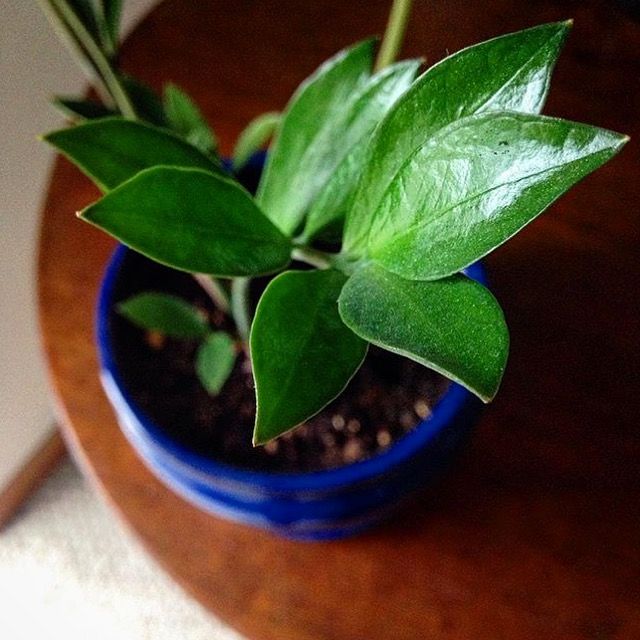 8. Semi-Permanent Decor
When you live in an apartment, it's tempting to forgo semi-permanent design decisions. Whether it's a painted wall or custom shelving, the effort doesn't seem worth it. But I've learned that these types of changes can go a long way in personalizing a space.
In our apartment, my husband built and installed a set of custom picture rails that fill the wall next to our dining table. It's become our favorite feature in our home.
Then after three years in a dim kitchen, he installed under-cabinet lighting using a few inexpensive strips of LED lights. I've been surprised by how much joy this simple change has brought me. (It turns out cooking is a lot more fun when you can see what you're doing.)
Someday we'll leave our apartment. Or not. We never really know where  life will take us despite our best-laid plans. Either way, making a home right where we are is something I'll never regret.
• Listen to the podcast episode about this post.
Are you a renter? I'd love to hear about your experience in the comments below.