Because I live on a farm in the country, people often ask if my life is still busy. Well, I'd rather use the word "full," but the truth is, I'm just as busy as any mom with young children who is also an entrepreneur.

My days are mostly filled with homeschooling my daughters (ages 5 and 8) and a variety of jobs on the organic farm where I live with my family in a little 1940's farmhouse about 50 minutes south of Nashville (you can hear a little more of our story in this post or this podcast episode).
By mid-April, we'll be in full swing here on the farm, prepping for our spring Kindred Dinner and getting our on-site farm store ready to be open every Saturday morning for the season. I also help my husband, Steven, with his private chef business while finding time to invest in my writing and podcasting projects. Whew!

Recording my "day in the life" helped me appreciate my peaceful setting that can make the busier days more bearable: I walk out my back door to beauty, there's the constant sound of water running from Snow Creek across the street, and at every meal, I feel connected to the earth and where our food comes from.

It also helped me recognize that slowing down time is important to me, as much as it's in my control. The more I pay attention in the little moments, the more I'm able to pull back the reins on time. So, after I wrote this, I came up with a new daily motto that I'd like to share with you:

Today, I will log more moments in the present so time feels longer.

With that in mind, I present to you a day in my life.

5:30 a.m. – Wake-up call! My phone alarm plays piano music so I can wake up gently. I also put it all the way across the bedroom so I have to actually get up to turn it off.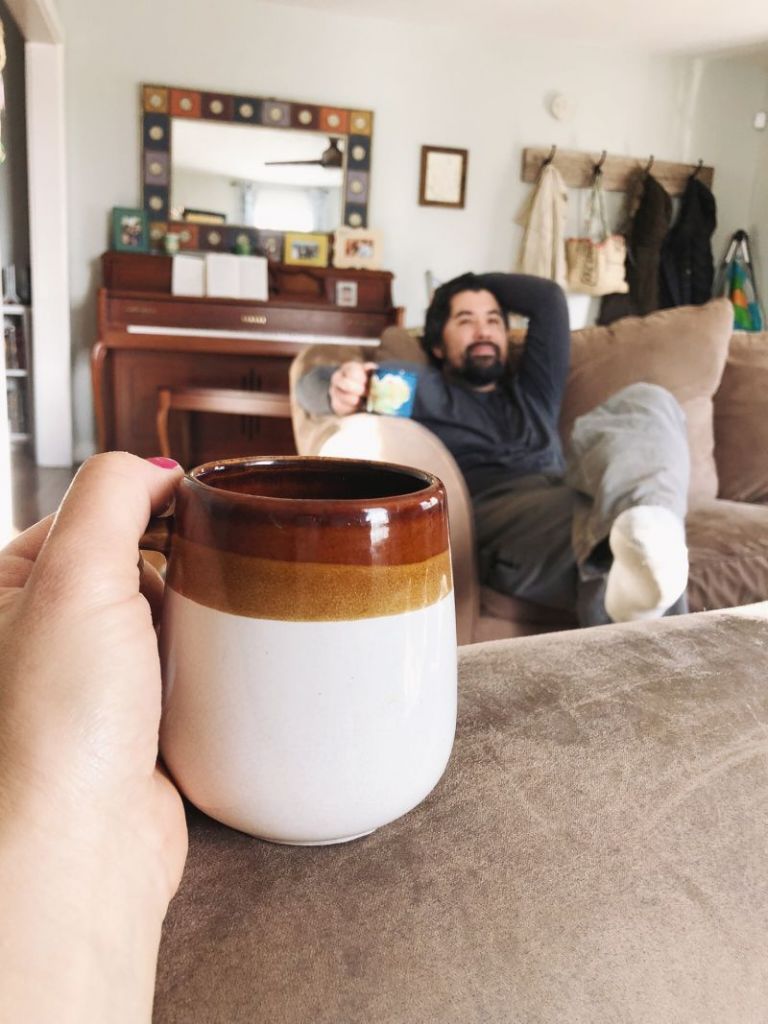 5:32 – My husband, Steven, and I are both up and at 'em. He turns on the electric teakettle and the coffee grinder before I finish brushing my teeth. I say a silent prayer that the coffee grinder doesn't wake up our children. The heavenly scent woos me into the dining room. We're serious about coffee in these parts—it's usually our local favorite, Muletown. Steven tells Siri, "French press," and she immediately sets the timer for 4 minutes.

5:36 – I select a mug at the drink bar in the dining room, one of my favorite spots in our home. I find literal joy by selecting a mug each morning, thinking about who gave it to me or the memory it holds. This morning, I choose my large, smooth white pottery mug with the word "DREAM" stamped onto the side in a typewriter font and think of my friend Jenni in Houston who mailed it to me years ago in a snail-mail exchange.

5:40 – Morning quiet time—a sacred new routine Steven and I have carved out in the last year. I'm definitely an introvert (albeit a very social one), but I've finally realized that my day absolutely has to start with quiet, or I'll be a reactive, uptight, slightly anxious version of myself for the rest of the day. We'll often sit in silence at first, taking those first hot sips of our drinks, and I'll read, or journal some thoughts and prayers. Then we'll often preview the upcoming day or just process what's going on in our lives right now. It's a treasured time for us to connect.

6:08 – The dark living room starts to brighten. I'll never tire of seeing the sun rise from behind the Tennessee hills as it peeks over the roof of our little farm store.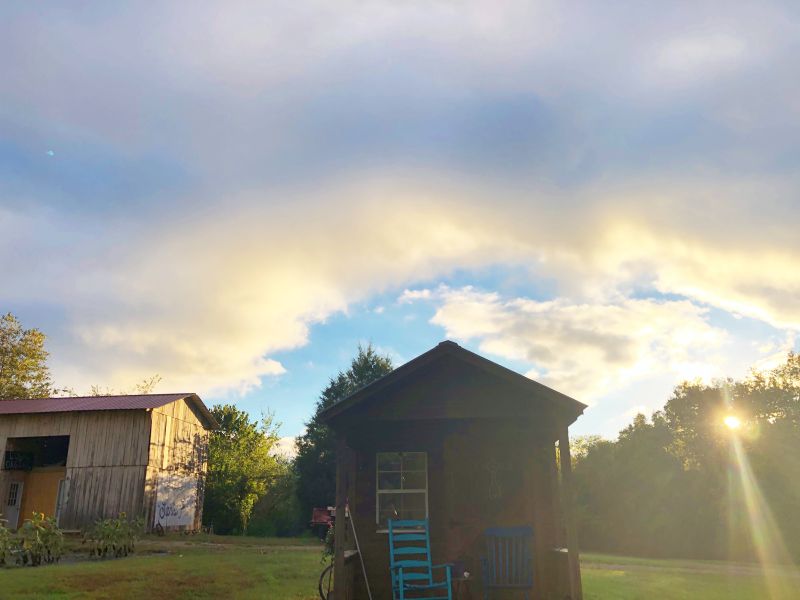 6:13 – My 5-year-old, Norah, comes stumbling down the stairs with eyes half closed, curly hair spiraling out in all directions. I look in the mirror and my curly hair looks exactly the same. I tell her it's too early to wake up and ask if she wants to go lie down in my bed. Thankfully she answers a groggy "yes" so our quiet time can continue a little longer.

6:36 – Settle back into my favorite chair in the living room—a cozy suede armchair for two that Steven and I got at Rooms To Go in 2004. That thing will have to disintegrate before I get rid of it. I work on some writing assignments and updating my website.

7:00 – My 8-year-old, Luci Belle, wakes up and comes downstairs. I welcome her to join Steven and I in quiet time as long as she honors the quiet for 30 more minutes. She gladly opens a chapter book about horses, which she's really into right now. I love seeing her develop a love for reading on her own.

7:30 – I warm up some more coffee with coconut milk on the stove top, and when I get back to the living room, I see that Norah is now awake for good and nestled under a blanket on the couch with her big sister. Time to get moving with the day.

7:35 – This morning we have some sourdough bread on hand, and the girls read about cinnamon toast in our bedtime story last night, so they wanted to try it for breakfast. Norah also gets eggs with broccoli with hers, and Luci Belle gets a side of pepperoni and goat cheese. I know, totally random, but whatever works to get some protein in their bodies.

I've been practicing 16:8 intermittent fasting since January and have been feeling amazing (more on this soon…), so this means that after dinner, I fast for 16 hours until I eat the next day. So it'll be more like brunch around 10:30 or 11 a.m.

7:40 – Steven had to cook for three different clients yesterday in the the small commercial kitchen in our barn. We just recently finished the kitchen, but the deep stainless steel sink isn't working yet. He hauls in plastic tubs piled high with all the dishes from last night—I start tackling the pile.

7:45 – Go up to the top of the hill and feed the chickens (we have about 90), carefully dodging our crotchety rooster, Francis. Steven will gather the eggs before he leaves for work this morning to cook for his client. It's Wednesday, which is usually the day we go to our homeschool co-op 45 minutes away, but this week is spring break. We'll do our learning time at home this morning and then meet up with two of my close girlfriends after lunch who homeschool their boys so we can all play outside.

As we start our day, I remind myself that my main goals for homeschooling are 1) building character and 2) cultivating a love of learning in my girls. I can so easily get caught up in checking boxes and trying to replicate a traditional school environment at home instead of embracing the freedom we have for curiosity, imagination, and learning at our own pace. I'm so glad I get to do this for another day.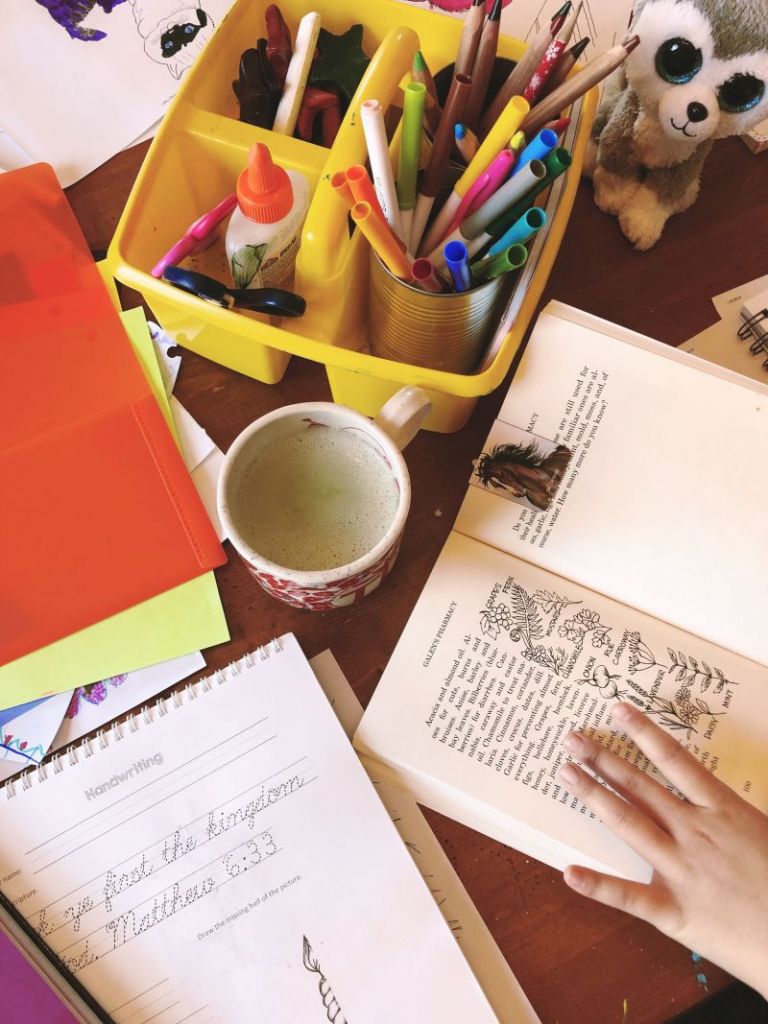 Today, we're continuing to soak up early world history with our Peaceful Press curriculum. Our current read-aloud is A Single Shard by Linda Sue Park, a Newbery Medal book set in 12th-century Korea. My oldest also reads us a picture book about a Japanese family—Grandfather's Journey by Allen Say. I play Crazy 8s with Norah. We do some interest-led learning about flamingos, and Luci Belle makes a journal page about them. (From this day forward, Norah will tell everyone she meets, with authority, "Did you know that flamingos get their pink color from the carotene in algae, which is even more than in shrimp?!")

10:30 – My stomach is growling, and it's been 16 hours. Time to eat brunch. My favorite easy meal is a big bowl of random healthy goodness—this morning, it's farm-fresh eggs, broccoli, leftover chicken from dinner last night, a scoop of hummus, and organic roasted seaweed or "keem" as we call it, which is the Korean word for "seaweed." We go through so much of that stuff!

I take my bowl up to the schoolroom. Luci Belle wants to "teach" us some lessons about a Dutch painter from the 1500s, and we look up his birth and death dates and calculate how long he lived. We watch a YouTube video about the history of transportation and each design our own car. They say homeschooling is the "re-education of the mother" and for me, it couldn't be more true. I absolutely love learning something new everyday alongside my girls and all the connection time with them.

12:00 – We finish up schoolwork.

12:36 – After the girls eat lunch, we head out the door to my friend's house while also hauling my recycling bags. Out here in the country, we don't get recycling service, so I take it to the convenience center 7 miles away about once a week. To me, the extra effort is worth it—my mama taught me to recycle, and I could never forgive myself if I threw all that stuff in the trash. On the way to the car, I remember I need to check on the lettuce plants and seed trays in the greenhouse which have been struggling from the crazy temperature fluctuations we've had lately. We grow our Certified Organic salad mix year-round, so we're harvesting and planting lettuce every week. I also check on the progress of my other seedlings I started recently: kale, tomato, cucumber, zinnias, calendula, cabbage, and Swiss chard.

1:14 – Finally pull out of driveway to head to my friend's house.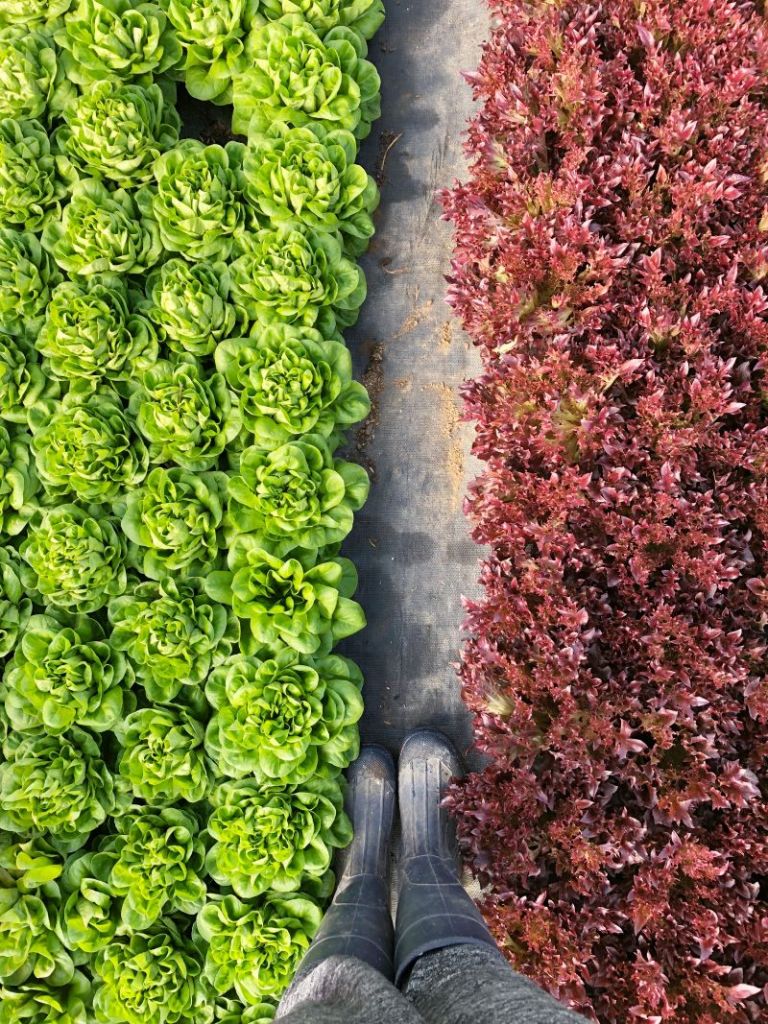 1:35 – We ride around my friend's land and down to the pond on her property. The kids all grab nets and buckets and go down to the water to catch things. We go to the playground by their barn, and the kids all convene in the treehouse where they seem to be having a meeting of some sort. Suddenly, it's more quiet than I can ever remember them being, and we realize they're "spying" on the grown-ups.

Normally I would have a snack around 2:30 or 3 p.m. (usually macadamia nuts, a Dang bar, Bulletproof bar, or a smoothie), but I don't feel like I need it today. Since I started intermittent fasting, I feel so much more in tune with what my body actually needs—such a contrast to how I felt before. I'm perfectly happy sipping a Raspberry Lime Spindrift while we talk about our school plans for the coming fall and just catch up a little.

4:24 – That was so refreshing for my soul to spend time with my close friends while our kids played. I didn't mean to stay this long, though, and I still have to wash 20 dozen eggs when I get home.

4:30 – On the way home, I drop off the recycling and then drive down my favorite country road, Dark's Mill, with its impossibly gorgeous views—cottages and farmhouses, silos, rolling hills with daffodils, sheep, and cows. Oh, Tennessee…sometimes I feel like I'm living inside a children's storybook.

4:44 – Arrive home and realize Norah fell asleep in the back seat, so I let Luci Belle go play in the yard while I stay in the car and catch up on a phone call with my mom in New Jersey, telling her about our trip last week to Disney World, which was a gift from Steven's parents. We finish talking, and Norah is still asleep, so I check Instagram and email on my phone.

5:01 – She's still sacked out. I drive us up to the top of the hill to the greenhouses so I can close them up for the night. It's still too cold at night to leave the doors open, and it's important to trap in the warmth from the day to keep our lettuce and plant babies alive. While I'm there, I pick some lettuce for dinner and let it ride shotgun on the way back down the hill.

5:08 – I wake Norah up and carry her inside while she holds tightly to her rainbow umbrella.

5:10 – Time to start dinner. My husband is home but is getting a cough and starting to feel run-down. Bless him, he can't get sick! He has multiple clients every week for his private chef business, and if he doesn't work, he doesn't get paid. So I tell him to go take a lavender epsom salt bath and rest. He says he's going to fast through dinner so he can try to kick whatever is trying to take him down. I start whipping up some dinner for myself and the girls. Right now, I'm thankful for the approximately 53 pieces of seaweed I ate at lunch with my salad—it must have given me tons of extra energy. I've needed it today!

5:45 – Dinnertime. A few days a week, my husband doesn't make it home for dinner because he has back-to-back clients and a 55-minute drive home from Nashville. Tonight, he would usually be eating with us since he's home, but he's not feeling well. So I make the girls dinner and let them eat it at the bar overlooking the kitchen while I make dinner for myself, which is Kindred Farm salad with avocado, Tessamae's Ranch, cucumbers, carrots, and apples. I add some sautéed chicken with mushrooms and broccoli. Another big, satisfying and healthy bowl.

6:00 – I unabashedly let my girls watch Mary Poppins on a weeknight so I can start washing those 20 dozen eggs that needs to be delivered tomorrow to one of our restaurant clients. This is actually one of my favorite things. Sometimes I do it in silence, which is how I start out today. After a bit I decide to listen to episode 183 of the Simple podcast where Andrea and Tsh talk about Writing + Silence. I really needed to hear about Andrea's realization that it was important for her as a writer to actually write, not just get caught up in pursuing a writing lifestyle. And as a fellow introvert and Highly Sensitive Person, I identify so much with Tsh's points about needing silence in my life. As I'm listening, I realize that the peace and sounds of nature that so many people long for, like an abundance of birdsong in the pine trees by the creek, are actually right outside my back door. I never knew I'd love living in the country, but now I can't imagine not being surrounded by these hills and trees and so much beauty.

6:41 – Still washing eggs.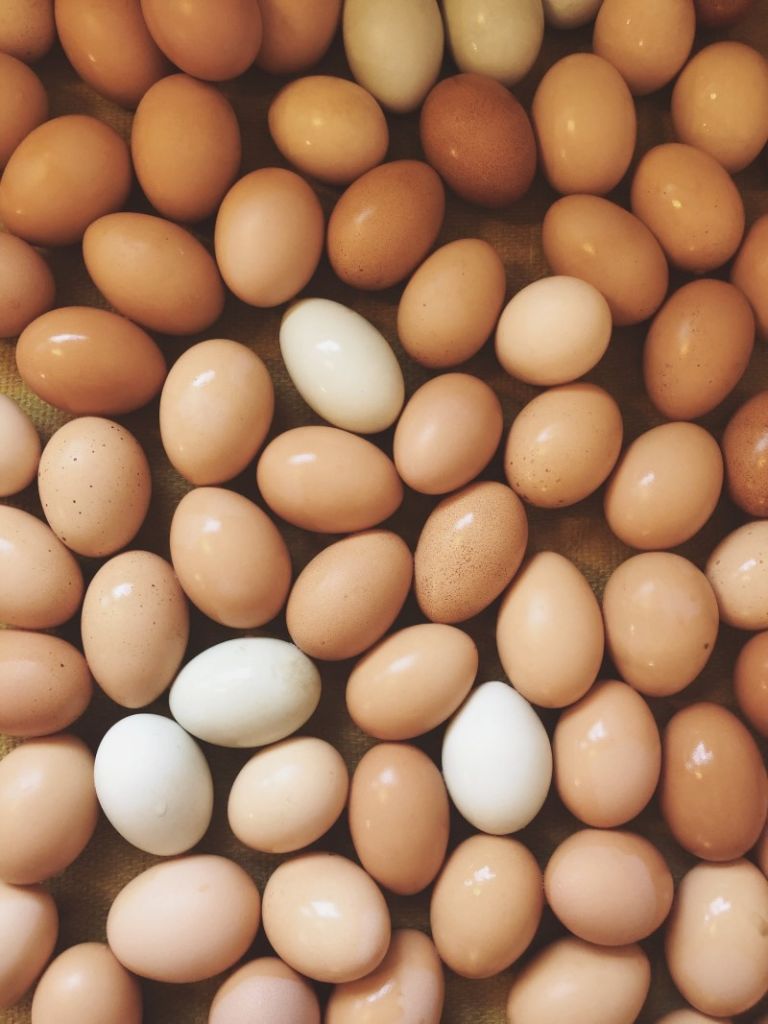 6:53 – Steven emerges from the bedroom and lays his head on my shoulder and sighs. This isn't like him—he's usually so full of energy and optimism. He says he needs some food, something light. I'm still listening to the podcast while washing eggs. I offer to make him a smoothie as soon as I'm done.

7:00 – Finish washing the eggs and notice that there's a bourbon glass in the bottom of my sink with chicken feathers inside it, an image that perfectly sums up our foodie/farmer life. I dry and package the eggs and take them to the walk-in cooler in the barn.

7:20 – I deliver the smoothie to Steven in our bedroom, where I find him "co-sleeping with our laundry"—a phrase I'll never forget from Jen Hatmaker's hilarious book, Of Mess and Moxie. Oops, I definitely intended to put that laundry away this morning after I dumped it on the bed. I gently wake him up and hand him the smoothie, which he drinks down like it's pure gold. Meanwhile, I put away the laundry while finishing the podcast. Ever since I KonMari'd my bedroom dresser drawers, it surprises me every single time I'm putting my underwear and socks away. I go to shove them in haphazardly, but then I see the ones in the drawer so nicely folded into little tents. I sigh and fold everything in a way that would make Marie Kondo proud.

7:40 – The girls are done with Mary Poppins and barrel down the hall into our bedroom, giggling. They jump onto the bed and start roughhousing with Steven. As they snuggle up next to him, I hear my 5-year-old say, "You're the toast, and I'm the butter." I see the delight in her eyes and feel so grateful for a husband who truly and intentionally loves our daughters well.

7:50 – Steven reads a library book with Norah in our bed while Luci Belle decides to go make herself a "bedtime smoothie." If she can make it herself and clean it up, I say, more power to her.

8:00 – I bid my husband goodnight early so he can get good rest and feel better. I head upstairs with the girls and get them going on their "nighttime five"—five things they have to do every night before bed: 1) Put on pjs, 2) Put dirty clothes in the basket, 3) Brush teeth, 4) Go potty, 5) Pick out a book. I still have to remind them, but we're all on this journey together trying to develop some better habits in our family.

8:15 – This is one of my favorite times of the day—reading to my girls before bed. I think of the literal thousands of stories we've shared together, and I hope these moments are imprinted in their memories for the rest of their lives. Norah cuddles up with Baby Boo and her giant pink stuffed unicorn, Wish. Luci Belle cuddles with her favorite doll, Molly, that she's had since she was 2 years old. We say prayers.

9:00 – I awake in Norah's bed—apparently I fell asleep on Wish's leg. I crawl out and go downstairs. As I make a cup of Trader Joe's Turmeric Ginger tea, I realize I never did my Pilates, which I've been practicing at home for five years now. Instead of trying to cram it in before bed, I choose "grace over guilt" and know that Robin Long and The Balanced Life will be waiting for me tomorrow.

9:30 – Bedtime! I put two drops of Frankincense essential oil under my tongue which helps me sleep deeply. I light a candle and read a few pages of The War I Finally Won by Kimberly Brubaker Bradley, the sequel to her juvenile fiction novel, The War That Saved My Life. I've absolutely loved her writing. My eyes are closing as I'm reading, so I finally give in and collapse onto my pillow thinking of this quote I heard recently: "The bad news is time flies. The good news is you're the pilot." (Michael Altshuler). I don't always pilot it well, but I hope I squeezed the most I could out of this day. This life may be often busy and sometimes unpredictable, but it's full of beauty, good, hard work, and people I love. And I couldn't be more grateful.
• Listen to the podcast episode about this post