Ah, fall! Cooler temperatures, sharpened number two pencils, and a brand new outfit for the first day snapshots. But who says the kiddos get to have all the back-to-school fun?
Even though I didn't always love school, I loved being a student (especially once I was free to choose my own classes!). There's something exhilarating about opening your mind and heart to a new subject matter. You gain an ever deeper appreciation for everything you don't know. This can be humbling, but freeing. And, I suspect, the seed of true wisdom. Consider Julia Child, consummate master of consommé and other French delicacies. She mused, "You'll never know everything about anything, especially something you love."
Even the experts have more to discover.
I graduated from my last degree program nearly fifteen years ago, but have intentionally continued my education ever since. I've been to conferences and workshops, signed up for online classes, and returned to a classroom of sorts last year to study for my yoga teacher certification. But the most dependable practice for lifelong learning is, of course, reading.
Here are some of the things on my fall reading list. (I may even buy myself a new pencil to kick off the "semester.")
American History:
The 1619 Project by the New York Times
A team of editors and writers have put together a remarkably comprehensive study of slavery, on the occasion of the 400th anniversary of the first slave ship reaching the shores of Virginia. In addition to the historical essays, they commissioned a series of literary responses to major events in African American history. I've read two of the essays so far, and I keep finding myself literally agape. There is so much that I just did not know. The entire project is available online.
Environmental Science:
Braiding Sweetgrass by Robin Wall Kimmerer
Earlier this year I was in a room full of poets and artists, and someone mentioned the book Braiding Sweetgrass. A full third of the room swooned. Like, it was straight out of a Victorian novel, only the object of their adoration was not a dashing gentleman, but a beautifully crafted epic of ecology, indigenous wisdom, and personal storytelling. I've been listening to the audiobook version. It is narrated by the immensely likable Kimmerer, a Potawatomi botany professor who often sounds like she's smiling as she speaks. My husband has been mighty confused to find me listening in rapt attention to a chapter about lichen. Again: there is so much that I just did not know.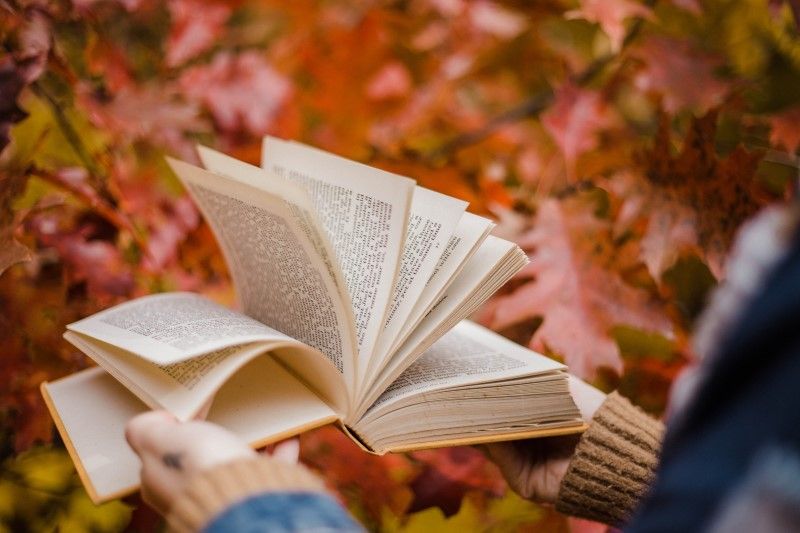 Contemporary Poetry:
Good Bones by Maggie Smith and Sorry for your Troubles by Pádraig Ó Tuama.
A couple of years ago Smith's poem Good Bones went viral. The book of poetry collected under that same name explores many of the same themes: the fear and vulnerability of mothering in a beautiful yet tragic world. I'm working my way through all of Ó Tuama's work, and this one centered on conflict and hope is full of deeply moving narrative poems informed by the "Troubles" in Northern Ireland.
It strikes me that none of my reading list is particularly practical. I love a good how-to book, but it turns out my lifelong education tends more toward the liberal arts.
What will be on your reading list this fall?
• Listen to the podcast episode for this post