As November days flipped by, soon to be December's, I found myself planning, as so many are in these pre-holidays, for a gathering of friends. There's something about the shorter days, the colder nights that draw us inside toward warmth and conversation…and dessert. Yes, that, all of that. But if this evening of dessert was going to happen, it had to happen almost without effort (these are November days, soon to be December's, after all). As a host, I wanted simple and beautiful; I needed fellowship, not fuss.  Here's a peek at how I planned the evening:
It could be something as delectable…
…as cherry pie, I reasoned (which is not as daunting as it sounds), or, it could be something as simple (and simply as good) as pumpkin bars (I'm imagining them served with mounds of freshly whipped cream, speckled with grated nutmeg).
I'll host it on a Friday night, since Friday follows Thursday, the day the house gets clean. That way, there won't be much to mind about the house – just a bathroom check and a quick pillow fluff before my friends arrive.
When they arrive, the porch light should be on and candles should be glowing in the windows. Some bluesy tunes should tumble out the door when I open it upon their knocks. This may sound storybook, I realize, but it's just a light flipped on, they're just wicks put to a flame, and every house has windows. Storybook, indeed, right this way.
Hmm. Should I make mulled wine? Nah. When I send the invitations, I'll write, "Could you bring wine?" in the postscript of two. Coffee and tea I'll have ready; which is to say, I'll have filled the tea kettle with water and put it over a high blue flame; steaming hot water for the French press or tea bags, whichever. The simple white mugs we use every morning will work just fine in the evening, too. And of course there'll be cream in the stoneware pitcher, sugar in the sugar bowl, and honey in the honey pot, because, hello, coffee and tea.
About those invitations, since there'll only be four going out for this evening with drinks and dessert, I should put effort where effort is due (I send enough email and texts the rest of the year). They'll be made of the plain white cards I keep upstairs in that plain wooden drawer. Stamped one way, then another, and written with sure black ink, they just might be impossible to deny.
The table should be draped in the long white cloth (creases and fold lines remaining) and set with stacks of white dessert plates (really, they're salad plates, but not tonight) and natural linen napkins, unironed and simply folded. I'll put a handful of spoons and forks in the tarnished silver julep cup (that's sitting on the potting bench right now) and set it near the napkins and plates. I'll be sure to hot-wash the wine glasses, because spotless wine glasses are a must. In the middle of all this, a centerpiece, made of just two things: a red-flamed branch in an old green bottle.
Friends will come. Through the dark, toward the light, they'll come. Welcome. Smiles and hugs and hellos; shaking off the cold and coats, leaving both by the door. Over hand-wrapped mugs, warmth will rise, and conversion, too. Words will come, full and sweet, with time enough for all of them. And we'll eat in the living room, sitting deep in the cushioned places; shoes kicked off and legs curled under. Respite, reunion, and belonging.
What are your ways of holiday hosting with ease?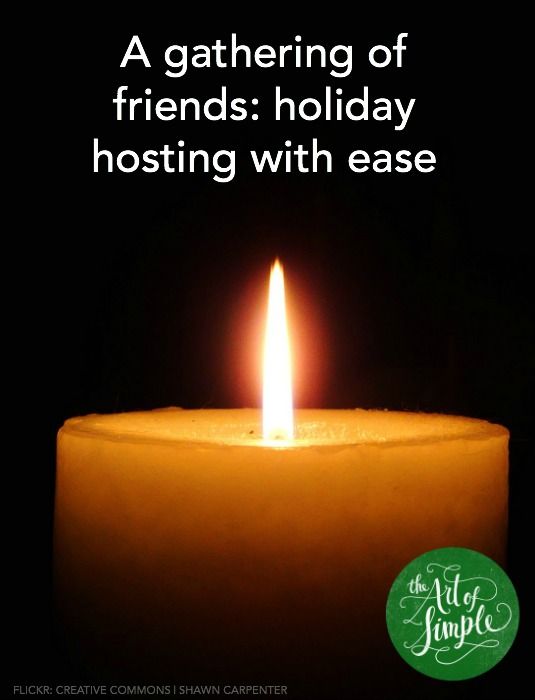 Photo by Shawn Carpenter