I recently updated you on my hair care (not the most important topic in the world, but hey, you've been asking). While the baking soda, vinegar routine work well for my family because it's frugal and non-toxic, I realize it may not be ideal for everyone. That's okay.
I figured it's a good time to update you on my other beauty and health care routines.
More than anything, I think it's important to make an informed choice about what goes on our bodies. Just like what goes in (food), what we slather on our largest organ also affects our health. Plus, quality health and beauty products can really empty the wallet.
So our family sticks with the simple, which also happen to be pretty natural and (usually) frugal.
Several years ago, I listed what we were using for health and beauty. For the most part, this hasn't changed.
Soap
We still use Dr. Bronner's pure castile soap. It lasts forever, so it's much more cost-effective than what it seems at first glance. We've also used Whole Foods' store brand castile soap, which is even cheaper on sale (though stay away from the almond scent, which smells like Play-doh, in my opinion).
Castile soap is made exclusively from vegetable oils (usually olive) instead of animal fats. I love that it leaves absolutely no reside—I never noticed how filmy traditional body washes and soap left my skin until we switched to castile.
Lotion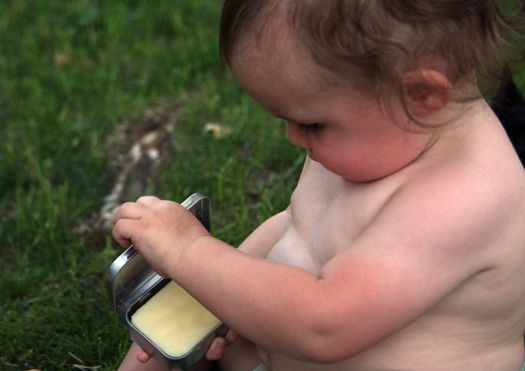 Natural lotion is simply a mixture of water, oil, emulsifier (which blends the water and oil together so that it doesn't separate), a thickener (the most common is stearic acid, found in cocoa butter), and a natural preservative. There are tons of natural liquid lotions available, both in the health section of grocery stores and online (lots of great Etsy shops make lotion).
Currently, my favorite is hard lotion from Made On. It looks like a bar of soap, but when you rub it on your skin, it gently melts and glides across your skin. I also use straight up coconut oil, though be mindful that it takes a few minutes to seep into your skin (it feels oily at first).
Facial moisturizer
I'm still going strong with only coconut oil (Vitacost is my favorite place for large quantities of coconut oil—their prices are great, and they have free shipping over $49). A little goes a long way, and combined with my oil cleansing method (explained below), keeps my skin supple soft.
Face cleanser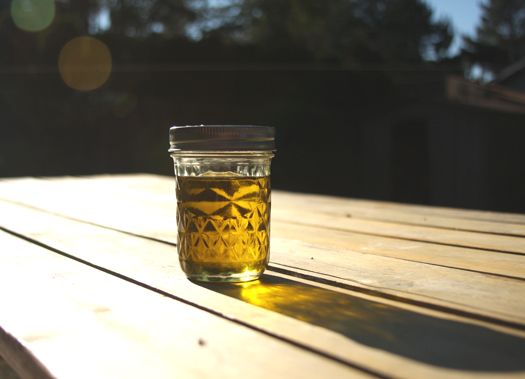 Two years later, and I'm still so glad I discovered the oil cleansing method (OCM) from from my friend Megan at Sorta Crunchy. Who would've ever thought you'd use oil to make your skin cleaner? This method has been a godsend.
Lip balm
I still use 100 percent lanolin, the stuff you use when nursing. It lasts forever; I'm actually still using the same tube from when I nursed my second-born back in 2008.
It doesn't dry out my lips, so I apply it about twice per day. It also makes my lips look fuller and with its subtle sheen, I almost never use lipstick. If I ever want a little color, I use some Burt's Bees lip shimmer.
Toothpaste
For awhile, I made our own toothpaste. This was when we lived overseas and had no access to toothpaste with decent ingredients. Kyle honestly never loved the flavor, so when we returned to the U.S., we switched to Tom's of Maine. I know the brand isn't perfect, but it's good enough for us.
Deodorant
Katie Kimball makes her own deodorant, and I applaud her. Sounds like a very doable recipe. I just don't haven't devoted the time to make it, so I use Arm & Hammer's Essentials natural deodorant. Again, it's not perfect, but I'm very impressed with this stuff.
Makeup
I'm blown away with the Mineral Fusion brand. I have their concealer, bronzer, blush, mascara, and a few more items, and I hope to replace other items with their stuff as I use them up (I have my eye on their eye pencils and eye shadow. As with most mineral makeup, it's not super cheap, but the quality ingredients make the expense worth it, in my opinion.They're at Whole Foods, and you can find a $3 coupon when you like them on Facebook.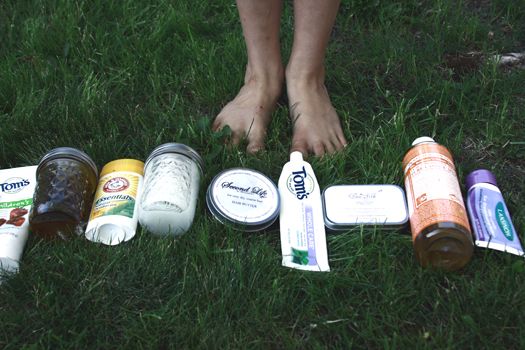 Combined with my hair care, this is about all I use in my health and beauty routine. It's not perfect, but I'm happy with it—most everything lasts forever, going frugal with most of it means I feel okay about splurging on other things, and nothing is toxic.
What's your favorite natural beauty tip, product, or brand?