When Tsh asked if I wanted to be a part of her final year of The Art of Simple, I said, "Yes!" My first post years ago was about hospitality, so naturally today, I'm sharing more insights with you, plus a simple recipe that anyone can make: Cheesy Stuffed Mini Peppers.
I can only imagine how nostalgic Tsh must feel, ending this chapter of AoS. We both started blogging around the same time, and she kindly asked me years ago to share my hospitality tips. I'm forever grateful for her friendship and the opportunity to be a part of the AoS family!
Fast forward to 2020, a year that has created so many emotions. I told my husband the other day, one of the few things that feels steady (and normal), is eating together. Our kids are all launched and out of the house now (in their 20s), and we are now—finally—empty nesters. Even though our gatherings have changed, with fewer people, and our kids gone, hospitality still matters.
Hospitality just looks different now. We're asking friends to tailgate at a field for snacks (we bring our Sprinter van), and everyone brings their own drinks and camp chairs. Or, we're bundling up and taking take-out down to the river. We're hosting smaller groups for dinner at home, keeping the menu light and easy. Or sitting outside on the warm fall days, enjoying appetizers.
Here's a very easy recipe (you can jot down or cut & paste the ingredients), that anyone can make. It's that easy.
Perfect for small hosting.
Simple ingredients.
Only takes about fifteen minutes to make.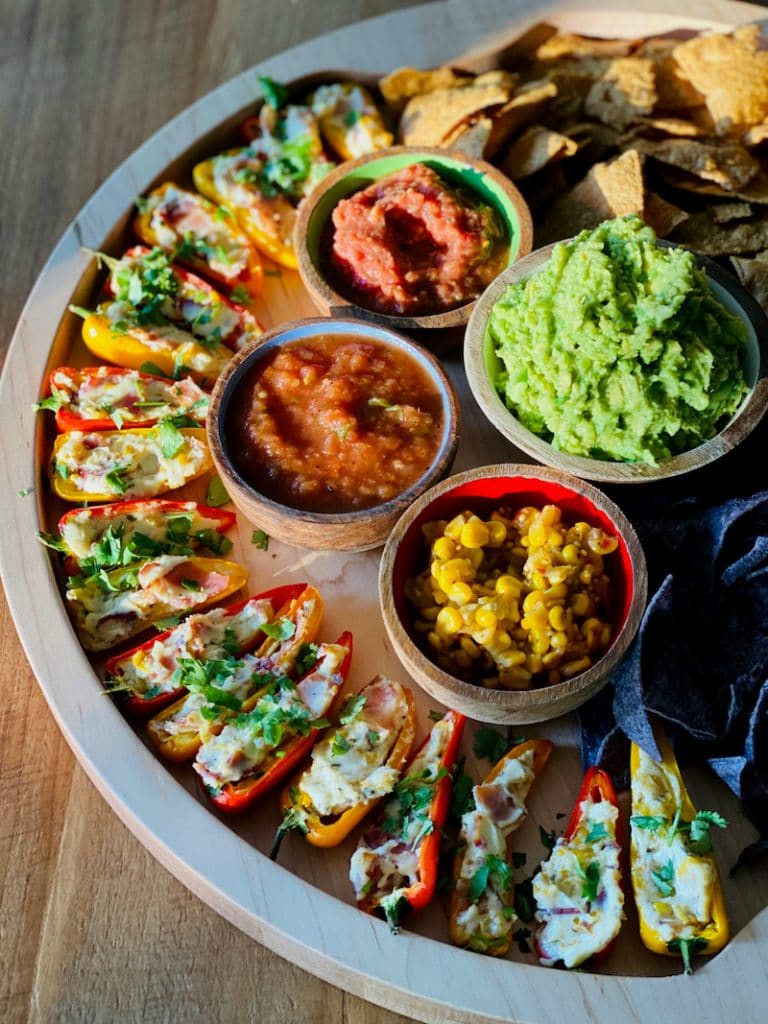 Cheesy Stuffed Mini Peppers
Serves 6
8–10 mini peppers
1 package Boursin cheese
6 slices bacon, cooked and crumbled
3 Tbsp. corn chili (Trader Joe's)
Cilantro, chopped (optional)
1. Preheat oven to 350 degrees.
2. Cut each pepper in half; use a spoon to scrape out the seeds and membranes. Discard the seeds and membranes and place peppers on a baking sheet, cut side up.
3. In a medium bowl, place the cheese. Cook the bacon, and when warm, chop and add to the bowl, along with the corn chili. Stir until combined.
4. Spoon the mixture evenly into the peppers.
5. Bake for 10–12 minutes.
6. Sprinkle with cilantro before serving.
Thank you, Tsh, for the love you've shown me throughout the years. I love following your writing, brilliant mind, and all that you've shared throughout the years here at The Art of Simple.
p.s. - Here's the BIG BOARD info at ReluctantEntertainer.com if you're looking for a food-safe charcuterie board. It comes in 2 sizes (20-inch and 26-inch), with a raised lip (so the food doesn't fall off)—made in the USA!
---
Sandy Coughlin is a recipe developer at ReluctantEntertainer.com. She enjoys hosting, traveling, sharing secrets about hospitality, and bringing people together in their mountain home in Bend, Oregon. She's also a lover of a good charcuterie board!  She's been married to the love of her life for 30 years and has 3 adult children.