To celebrate the love of so many places around the world, we're introducing a new regular, monthly-ish series around here: I Love This Place. We're asking ourselves: Which places cause a longing in our heart to be there, and why? Or, if it's home: Why do we love where we live?
There's a German word I wish we had in English: fernweh, which means "being homesick for a place you've never been." I know that feeling well. I bet you do, too.
May this series stir a little fernweh in all of us. I see that as a good thing—because, as Mark Twain once wrote, "Broad, wholesome, charitable views of men and things cannot be acquired by vegetating in one little corner of the earth all of one's lifetime."
I'm kicking off the series today with one of my favorite places, and soon, other writers here will chime in. I'm psyched to give some love to our favorite pins on the map, big and small.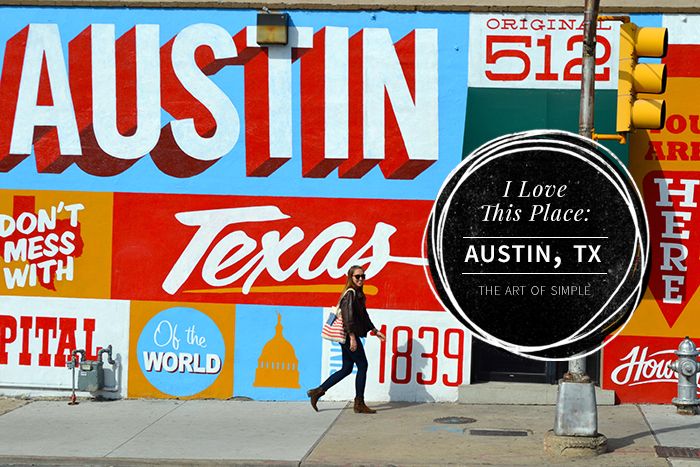 I have a funny relationship with Austin. It's my hometown, so for that reason alone, I love it. It's where most of my family still lives, it's the backdrop for my happy childhood, and on the whole, it does well for its residents. The economy is strong, the food is outstanding, and the people are oh-so friendly.
But I lived there for almost 30 years, and I've seen it change soooooo much. What was once a best-kept secret of Texas is now known internationally, and the traffic proves it. It is crowded—so, so crowded. If I have to run an errand across town, my entire day is gone.
This is one of the reasons we recently moved to Georgetown, a small town right outside Austin. We learned from our years living in Bend, Oregon how much we love smaller towns with a bit of culture, and I've loved Georgetown since I was a kid.
But, Austin. It's still a lovely place. It's hot, and it's crowded, but it's lovely.
On Austin's unofficial landmarks for tourists:
Lots of tourists head to the bats on Congress Avenue—the best time of year to see them is late July or early August, when there's a ton (of course, that's during some of the worst weather). The Stevie Ray Vaughn statue off Town Lake is pretty iconic, as is the "I love you so much" graffitied wall, where people go out of their way for selfies.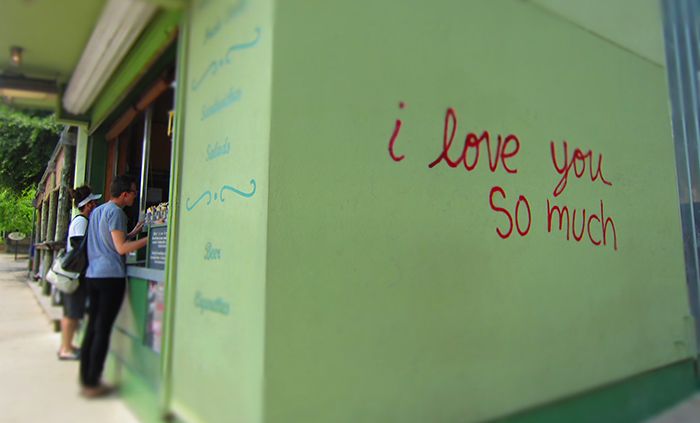 source
Our family's personal favorite is this goofy alien frog graffiti that's been on The Drag, a street hugging the University of Texas campus, since my dad was a student there in the early 70s.
On eating out with family and friends:
Austin has no shortage of fantastic restaurants (when Kyle used to work in fine construction on high-end homes in town, he heard of several hours that didn't even bother with kitchens!). The two classic Texas choices are barbecue and Tex-Mex, and I'm pretty sure you could eat out every night for a year at these two types of establishments and never repeat restaurants.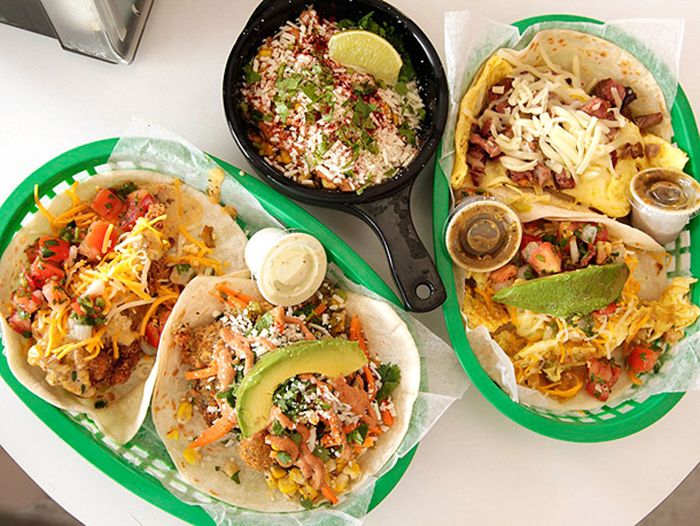 source
Torchy's Tacos is a beloved local chain with lots of locations (try the brushfire or crossroads). Naming the best Tex-Mex can turn in to a heated debate in Austin, and I really can't narrow it down to my favorite—but at the top of the list are Maudie's, Chuy's (try the Mexican martini), and a total hole-in-the-wall called Ramos. Z-Tejas and Hula Hut are also fantastic, though not Tex-Mex.
The other official food is barbecue, and everyone also has an opinion on the best. I really love Pok-e-Jo's, a local chain with locations all over, but Salt Lick has unbelievable food. It's a drive outside Austin, to Driftwood, and there's always a crazy-long wait. It's a place where locals take their out-of-towners friends.
Austin has great burgers, too. Hopdoddy is our family favorite, but there's almost always a line out the door. Phil's Ice House has a fun playground with great food (and an Amy's Ice Cream next door at both locations). Hat Creek, a local chain, also has playgrounds, with fantastic gluten-free options. And Top Notch has been off Burnet Road forever; my parents used to go there all the time when they were dating.
I could name 50 other favorite eateries, easily.
On a great Austin date:
We'd start off with drinks at one of many downtown happy hours, then head to 24 Diner for dinner. After that, we'd walk around downtown, window shopping and listening in on all the live music before heading to a concert (like the Andrew Bird show we caught recently!).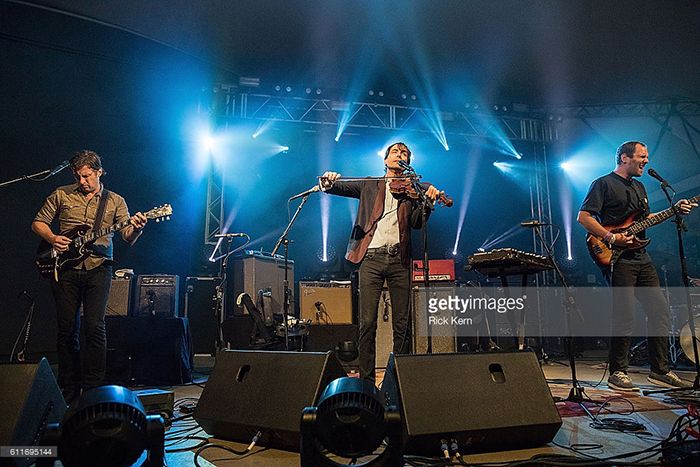 source
Before heading home up north, if we're not too exhausted we'd swing over to Cenote for some decaf coffee. Then, if my parents were being super-generous, the kids would spend the night at their place, and we'd go to Kerbey Lane for brunch before picking them up (I waitressed there during my UT years).
On Austin's attitude, demographic, and style of its residents:
Austin is very laid-back; there's almost no place where you need to dress up. Having grown up here, it now throws me for a loop as an adult when I travel and need to remember some fancier clothes! This fits me like a glove—I'm a t-shirt and sandals girl, through and through.
The average resident is getting younger, which, as a native, can sometimes feel off-putting when some people who've only lived here for a year or two because of the cool factor act like experts (I can't even imagine how my own parents feel!). There's a bit of hipster snobbery that's leaked into the pipes, which disheartens me.
But the friendliness still outweighs any negative attitudes, and in all our travels, I've hardly found another city with locals as nice. Someone will walk by, smile, and say, "Hello! How are you?" and it takes me a second to realize they don't know me—they're just being friendly.
On spending a day in Austin entirely outdoors:
Austin is fairly green for a city, though having lived in the Pacific Northwest and married to an Oregonian, it's not nearly as outdoorsy as we once had. Still, for Texas it's pretty great. I'd bring a hammock and book to Emma Long Park and watch my kids swim nearly all day (one benefit to the warm weather: nearly year-round swimming).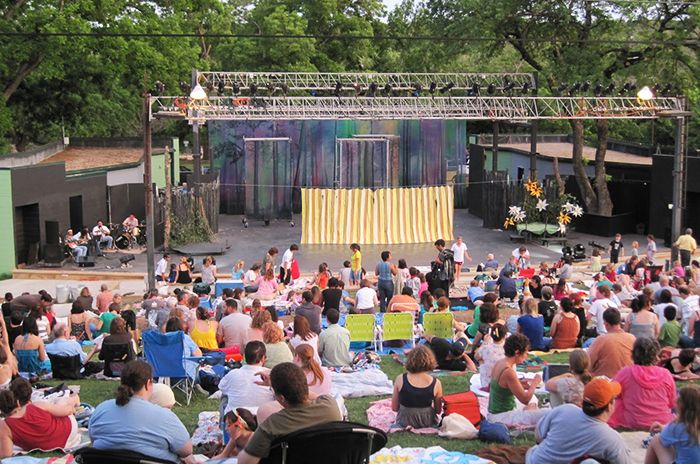 source
We'd head over to Central Market to get stuff for a picnic dinner, then watch the current Zilker Summer Musical (so, I suppose it's summer in this scenario) at Zilker Park. It's always free, and always fun. We could swim at Barton Springs right next door, but the water is 68 degrees Fahrenheit year-round, and the kids don't love that.
On how to best spend $20 here: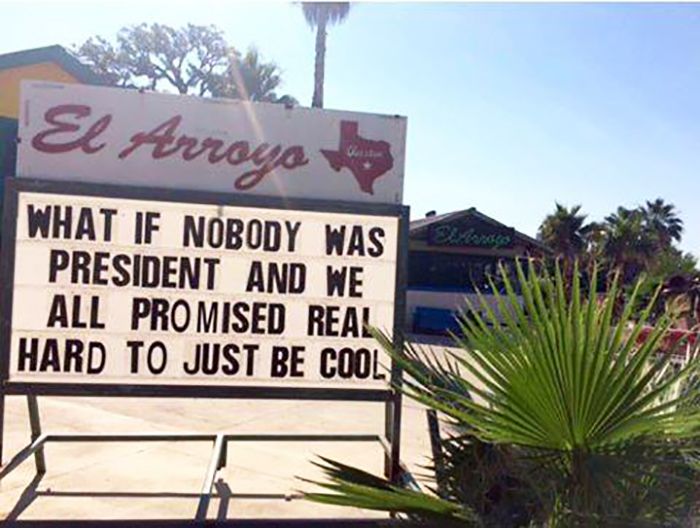 source
Austin is getting more and more expensive, but having traveled a lot, I can attest that it's really not too bad for a city. I'd grab some cheap breakfast tacos, possibly at El Arroyo just to read their daily sign, then head to Book People, the largest independent bookstore in Texas, and spend hours browsing before picking a paperback. Then I'd head over to Mozart's and read with a coffee by my side and a view of the lake (if I'm feeling indulgent, their coffee milkshakes are divine).
On personal favorite memories and Austin nostalgia:
Just about every corner I turn within the original Austin boundaries, there's a childhood memory waiting for me. I remember my dad taking me to Dirty's for the first time when I was about 12, and hoping I'd one day be a Longhorn (my wish came true). As a ballet student, I remember going to see Ballet Austin's The Nutcracker every Christmas before it got too expensive. I remember driving slowly down 37th 1/2 Street to look at the insane Christmas light concoctions, which they don't really do anymore.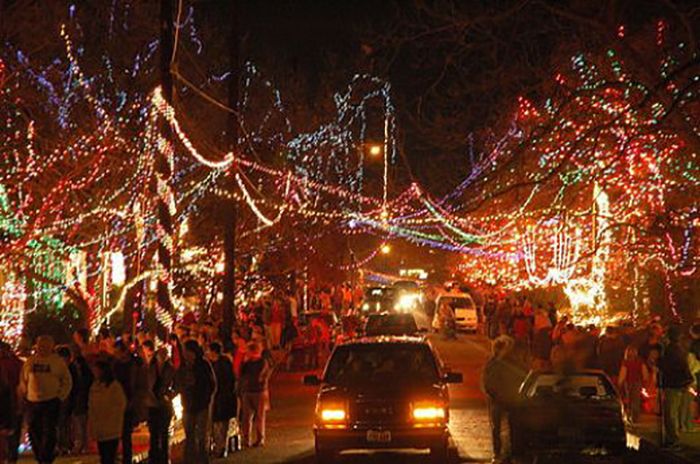 source
I remember spending all day long at our neighborhood pool during the summer, because that's just what you do as a kid in Austin. I remember the first time driving down Old Spicewood Springs Road as a teenager and wondering if I'd fall off the side and in to the creek (there's still hardly any guardrails). It's a short road that makes you feel like you're in the country, right in the heart of the city.
I remember not really understanding why Austinites are so die-hard about their beloved city until the first time I left it for awhile—and then I understood. There's an Austinness that can't be replicated elsewhere.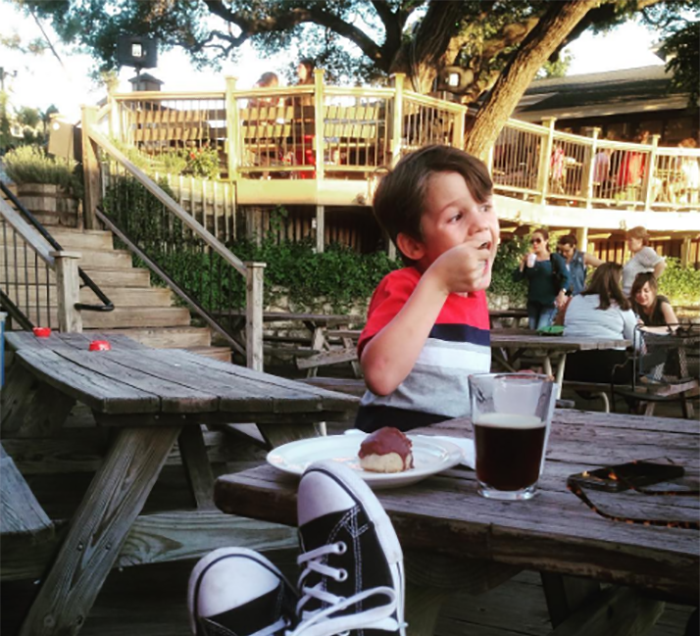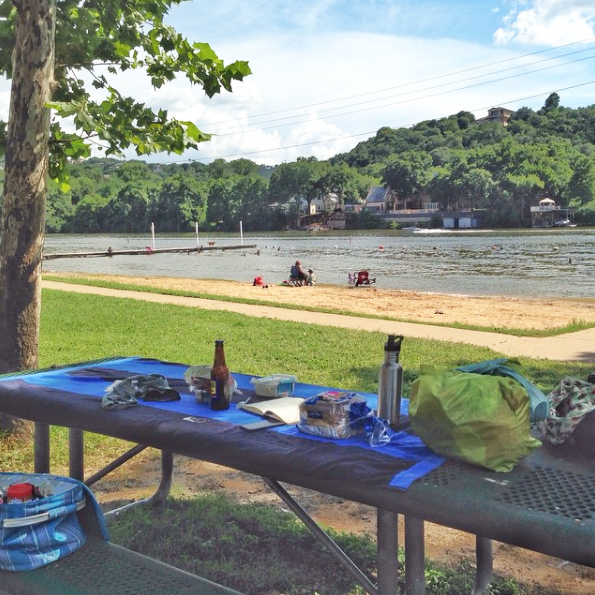 It's easy to live in the past, wishing a place was what it once was, and Austin's changes tempt me to do this. But the new Austin is here now, and there are good things about it, too. In the meantime, our family will be happily living our day-to-day life in a nearby small town, and will take the train downtown whenever we get a hankering for the Austin vibe.
It's still there.