The world is looking for something real, something tangible, and to be loved. So this year I've been thinking about a way to show the people in my life true love and authenticity, by sharing the common life around our Easter Sunday dinner table.
My goal this year is to not only keep it simple, but to get back to the basics of true hospitality, and not let a large dinner be ruled by my pocketbook.
Entertaining can be so overdone these days. Really, all we need is to invite our guests, create a warm place to gather (whether that be a sit-down-dinner or an easy buffet) and have a willing heart to reach out to others and include them in the day.
Delegating the food will definitely help with your budget, and will create a more "community-type" entertaining style. I've found that people expect to help. Most of our friends know how expensive entertaining can be, especially for a holiday meal.
This year, back to the basics Easter entertaining also means to use what I have (dishes, flowers, and greenery from the yard, even go through my stash of paper napkins), and work from the heart rather than the debit card or VISA!

How can this be done? Let's start with the table…
• Nothing's more basic than pulling out my Dollar Tree water goblets and dishes that I've been using for years…
• Looking through my ironed tablecloths, or better yet, borrowing from a friend…
• Planning a meal where everyone contributes, down to asking for help if you get behind…
• Even grabbing a few kids to help bus dishes after the main meal…
• And working together in the kitchen afterwards doing the dishes and overall kitchen clean up.
One tip that I always recommend before any large gathering in your home: Set your table the night before Easter Sunday, so it's all ready when you wake up Easter morn. It's one less thing to have to think about, and it actually brings a calmness to your spirit, and inspiration for the day ahead!
Remembering that hospitality comes from the heart, here's my plan for this beautiful Easter Sunday, that fills my heart with love and thanks for "new life."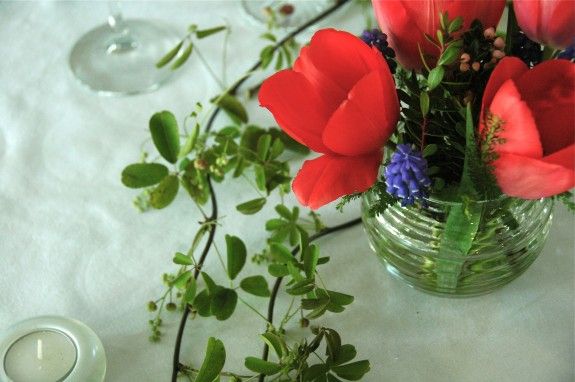 10 Steps to a Beautiful Easter Tabletop
1. Count the people who will be attending Easter brunch or dinner.
2. Decide if you plan to serve buffet style, family-style, or if you plan to serve your guests individually.
3. If you're serving buffet-style or individually, you can squeeze more guests in around the table.
4. If you plan to serve family-style, then your guests will need more elbow-room because you need to make room on the table for the food.
5. Make sure your table cloths are pressed and ready for use. You may need to push 2 or 3 tables together.
6. Have your kids help you count the stemware, dishes, and silverware.
7. Make sure you have "springy" napkins for use. And remember, using paper is okay!
8. Have your children help you set the table, if they are old enough.
9. Look at the table and count out how many low-level mini centerpieces you'll need and gather your vases. If you need to borrow, don't be afraid to ask family, friends, or even your neighbors for what entertaining pieces you may be missing.
10. Cut fresh greenery and any blooming flowers from your yard and make mini-arrangements. If you don't have flowers, ask a neighbor or a friend if you could snip a flower or two from their property. That is all you need if you have greenery.
Back to the basics entertaining, in a frugal way, really helps lessen the stress level. It restores sanity to what could be very expensive, without sacrificing or taking away from the joy of the season.
You can still have style, and focus on the reason for the day, and quite honestly, it just "feels right" deep down inside when your heart connects with simplicity.
How do you keep your style in balance with your pocketbook during holiday entertaining?