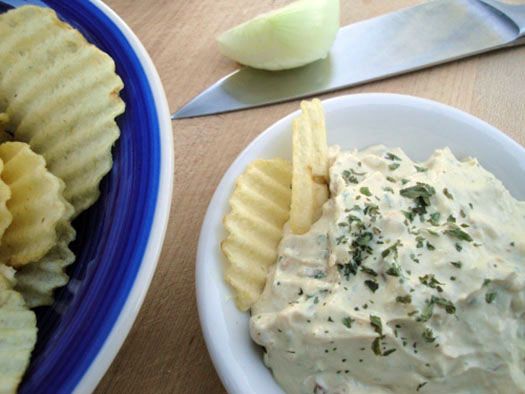 You know that super simple, two-ingredient party dip that you make with a tub of sour cream and a box of French Onion soup mix? What would you say if I told you there are over a dozen ingredients in that dip?
I hope your reply would be, "What are they?" with some mixture of surprise and curiosity.
I think it's important to know what's in our food, and that's why I'm not making that dip anytime soon.

Most sour creams have over EIGHT ingredients, when they should only contain three: cream, salt, enzymes. The extras are usually various forms of corn tossed in there as stabilizers, sweeteners, preservatives or flavor enhancers.
Onion soup mix has a similarly long list: onions, salt, cornstarch, sugar, caramel (color), corn syrup solids, yeast extract, natural flavor.
That's two different names for sugar, plus likely four made of corn, and one that behaves like MSG, a known excitotoxin (yeast extract). MSG is linked in the short term to headaches, nausea and more, and in the long term to psychological decline such as Alzheimer's and certain digestive ailments. (More on the names behind MSG.)
MSG enhances the flavors of anything it dances with because it activates the fifth basic sense of taste, umami. Umami in its natural state, found in seaweed, is no more harmful than something sweet, salty, bitter or sour. However, activating umami with chemicals acting as free glutamic acid can wreak havoc on many body systems by overstimulating our glutamate receptors.
MSG is an unfortunate enemy in the battle for real food, because it's really, really difficult to replicate the old familiar flavor of dishes relying on this chemical. You're playing one card short in the deck.
In the case of that box of Onion Soup mix, I fought to find a suitable substitute for over two years. I finally discovered the secret weapon: onions.
No, my strategy wasn't to cut onions and make my eaters cry while they ate and force them to claim they loved the food.
What's the key to bringing out amazing, slightly sweet, beyond-the-four-taste-sensations flavor in an onion?
Caramelize it.
Cooking sliced or diced onions in some fat or oil for 20-30 minutes, or as long as it takes to get brown and sticky, is a skill worth learning if you want to cook from scratch. (And you should! Did you see all those weird ingredients up there?)
It also makes you feel like a super chef, because just saying "caramelize the onions" sounds way too hard for your average home cook.
I'm excited to share a recipe with only NINE ingredients for a homemade French Onion Chip Dip from my new eBook, Better Than a Box. Just in time for Super Bowl parties, you can make a healthy, homemade dip without any mystery ingredients.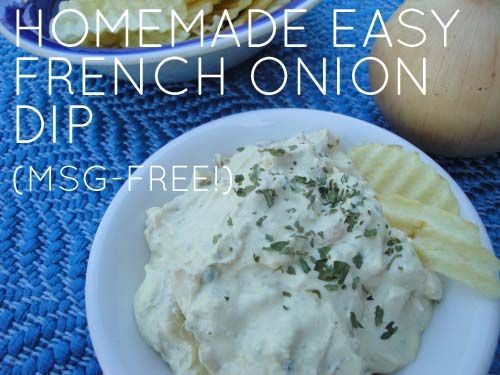 Recipe: Homemade French Onion Dip
Ingredients:
1 C. diced onion
4 TBS. butter
1 C. sour cream
½ tsp. salt
¼ tsp. black pepper
1 tsp. dried parsley
¼ tsp. turmeric
¼ tsp. celery seed (or celery salt)
optional: dash to ¼ tsp. cayenne
Method:
Melt the butter in a heavy pan, then sauté the onions over medium to medium-high for a few minutes, stirring constantly. Turn the heat to medium-low for about 20-30 minutes. Stir occasionally and cook until browned and smelling amazing. The onions will have reduced to about 1/3 cup.
Allow to cool, but not in the refrigerator (the butter will harden too much).
Mix with the sour cream and all the spices. Yes, scrape the butter out of the pan. Yummy. Allow at least an hour for the flavors to blend, and serve at room temperature if possible with chips or vegetables.
Store in the refrigerator.
I recommend Daisy or Aldi brand sour cream, because I know they contain only three ingredients: cream, salt, enzymes. If you want something even less processed, you can make homemade yogurt and strain it to be extra thick like Greek yogurt, or a bit longer to become yogurt cheese. Use either in place of the sour cream.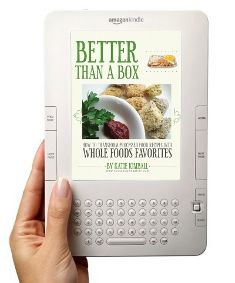 This recipe is one of twenty that I reverse engineered in Better Than a Box: How to Transform Processed Food Recipes into Whole Foods Favorites. I don't only share the recipe, but I walk you through the whole process of how I got from sour cream + soup mix to the real food ingredients above. Although there are 60 recipes total, it's much more than just a cookbook; it's a teaching tutorial on cooking from scratch, storing food for later, and keeping your sanity in the kitchen while being efficient so you can get out of the kitchen.
Through February 5, 2012, Simple Mom readers can take 25% off the price of the PDF download, which is bundled with the Kindle and Nook files, as well as free printable recipe cards, a freezer supply list, how to cook dry beans printable and other handy dandy charts and tips. Use the code SIMPLE_NO_BOX25 right HERE. Better Than a Box is also available for Kindle on Amazon.