Anyone in need of a little distraction? I'm raising my hand.
A deep dive into a story has turned into a necessity for me the past few months. Normally, it's a good historical fiction book, but this summer, I needed a visual story.
Maybe it's because our in-person visual entertainment has been canceled? Movie theaters are closed. Sports arenas are closed, for fans. And when we do go out, we are wearing masks and cannot see faces.
There's a need to see faces. Even if it's through a television screen.
I'll probably need counseling for this one day, but for now, I'm thankful for streaming services! I'm pretty sure I never thought those words would be something that I would type out, much less be thankful for.
I thought it would be fun to share with you what I've been watching this summer. Mostly a collection of shows based on books and stories from another time, distractions with a thread of hope.
It's the hope that I'm drawn to, especially now (and the faces, and possibly the British accents).
1. Sanditon
"Jane Austen was chronically ill with a mysterious disease in early 1817, when she turned her thoughts to a happier subject. She started work on a witty and delightful novel set in a seaside town. She never finished it. Now, noted screenwriter Andrew Davies (Pride and Prejudice, Les Misérables, Primetime Emmy® winner for Little Dorrit) picks up Austen's plot and takes it in a glorious and satisfying direction, on Sanditon." Will it get renewed for another season??
"Six years after the wedding of Elizabeth Bennet and Mr. Darcy, a coach arrives at Pemberley with Lydia shrieking, 'Murder!' So continues Jane Austen's Pride and Prejudice, in this adaptation of P.D. James' bestselling whodunit." Three reasons to watch: Matthew Rhys, Matthew Goode, and Jenna Coleman. One reason to skip: I would have cast a different actress for the part of Elizabeth.
3. Granchester
"A Cambridgeshire clergyman finds himself investigating a series of mysterious wrongdoings in his small village of Grantchester," based on The Grantchester Mysteries by James Runcie. I just started Season 4.
This miniseries is adapted from the novel of the same name by Anthony Trollope with commentary at the beginning and end of each episode by Julian Fellowes (yes, the Downton Abbey Julian). He is a huge fan of Trollope, whom I had never heard of until I started watching this show.
"The story of the invention of football and how it quickly rose to become the world's most popular game by crossing class divides." My husband enjoyed watching this one with me. Another one from the creator of Downton Abbey, Julian Fellowes. Also, Suter! Suter! Suter!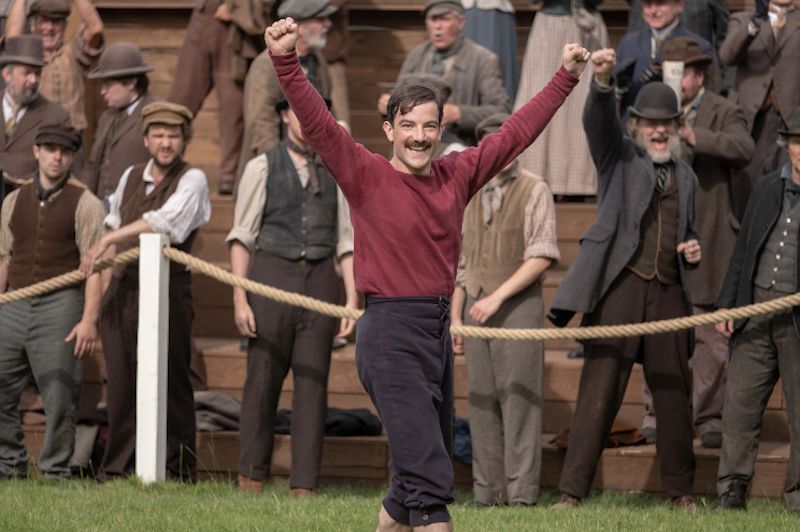 6. Home Fires
An incredible story "…of a remarkable group of women living in a small rural village during World War II. Separated from husbands, fathers, sons and brothers for years at a time, they find themselves under extraordinary pressures in a rapidly fragmenting world." Tsh has a great podcast episode about this show!
"A look at the lives of residents living in a Delhi mansion during the cusp of 19th century." Mrs. Patmore! Well, you'll see.
"World on Fire is an adrenalized, emotionally gripping and resonant World War II drama that follows the intertwining fates of ordinary people in five countries as they grapple with the effects of the war on their everyday lives." This is on my list to watch next.