I was a bystander this time, an observer, learning a lesson again I am so quick to forget:
Words are powerful and persuasive and have the capacity to change lives.
I know this, I even live it, but watching and witnessing a relative stranger speak wisdom into my teen son's life, I saw it fresh, new.  The conversation's effect was palpable–you could almost see wheels turning in my boy's head.
We were at the periodontist's office, a consultation for upcoming dental surgery.  Because Dr. M had treated my daughter a few years ago, we were already acquainted.  I remembered how much I appreciated his chair-side manner, but I had forgotten how likeable and engaging he was.
Dr. M, cordial but professional to me, directed his attention toward my son.  Thomas was wearing clothes for soccer, since he'd leave his appointment and go straight to practice.

Dr. M noticed and asked him about his season; and not just his season, but details – his position, their record, what the competition looked like.  He shared brief stories about his high school experiences and what his three daughters preferred.
He asked about his college plans, where he'd room, if he planned on pledging a fraternity, about his extracurricular interests.  "I studied like crazy those first three years," he began, "and I did ev-ry-thing." School.  Student government.  Intramurals.  Fraternity.  School.  The way I heard it, Dr. M maximized his college experience with a proper respect for prioritizing the important things, activities that would serve him well.
His enthusiasm and sincerity sold a convincing message:
Play hard but work harder; make wise choices; have an end goal in mind.
He made it sound downright cool to study.  Remarkable.
Under fluffy clouds of optimism, enthusiasm, and genuine interest, his questions fell like rain, one after another after another.  Somehow he managed to shotgun questions without it feeling like an assault.
I recall two years ago when my daughter was a high school senior, how defeating it would feel when someone…everyone…would ask, "Have you decided where you're going to college?", always accompanied by, "What do you want to major in?"
Both are dreaded questions if you don't have ready answers.  Those choosing work, military service, or a gap year have variations of similar questions to answer.  Seniors must hear these questions a thousand times a thousand.
How in the world at 18 can you be sure what you want to do for the next 50 years?!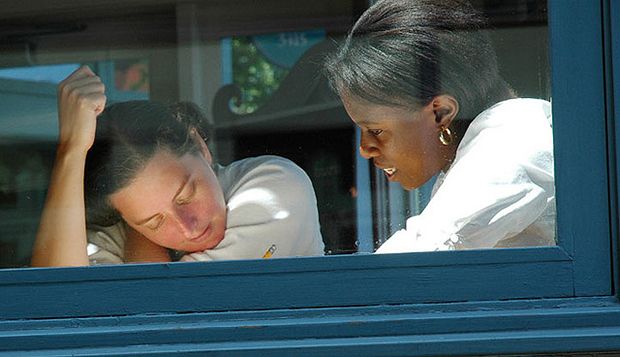 Photo by Wonderlane
Dr. M casually asked Thomas if he had considered the dental field.  He shared the upside to his specialty ("…you aren't on call that often…") and his philosophy of service ("Work together with your patients, tell 'em the truth, give them a reasonable price…"). In our town, others charge more for the same services Dr. M provides; but I'm convinced we're receiving premium care and quality for a lesser amount!
Thomas left there considering a field of study he had never before considered, and more than that, he believed he had what it would take to accomplish success.
Now, I don't know whether or not he'll become a periodontist, but that's beside my point.  Actually, there are two, and I'll share them by way of a challenge for all of us:
Be an active part of the Village
Be an "everyday mentor" to the teens in your life.   Realize the power of your words – not just how they can hurt or heal, but how they have the capacity to call a young person to action.  There are a lot of negative voices in their lives (overworked teachers, critical coaches, frustrated parents, fickle friends, cruel classmates…and their own inner demons), so with careful intention (be careful not to preach!), sow light and hope and dreams into their thinking.
Surround your child with Village People
The example I've shared with you happened on its own, but it served as strong reminder to seek out other trusted adults to support our parenting goals.  In 9th grade, my son's school required an unrelated mentor to meet regularly with students.  We remained in contact and expressed any issues we wanted reinforced by an "outside" voice.  It's amazing how well teenagers will accept something as gospel spoken by anyone but their own parent.
My baby boy will graduate in just a few weeks.  Though I'm sure he hopes he'll be showered with lots of gifts, I'm certain that the kind of investment his mentor has made in a big way, and Dr. M recently made in a small way, will be gifts he'll carry for the rest of his life.
Those are the best gifts we can give, yes?
Can you think of a person who had this kind of effect in your life?  What did they say or do that changed your future?  Will you accept my challenge to find ways, large or small, to impact the teenagers in your sphere?  Whether your children or children of friends, you have the capacity to change the entire world through an investment and encouragement to a few.
(If you're looking for graduation gift ideas, here's an awesome list I compiled based on my kids' and their friends' suggestions a while back, affiliate links included for some.)