Right now, I'm writing this post in the passenger seat of our car, en route to Texas from Oregon. I think we're in New Mexico. Pretty sure it's the Middle of Nowhere at the moment.
When I Instagrammed a few pics from California a few days ago, more than a few people made the general comment of, "Wow—you guys sure like to travel!" That's true, of course; we do. But that's not really why we're traveling. We've got a family wedding down in Austin and well, over half our family is there, so it makes for a good excuse to make extra time to see those fine folks while we're still living flexibly. We haven't yet bought a house, our bags are still packed from #WorldwideOx, and well, we can still do our work and school from anywhere. So we figured—let's go sooner than later, while we're still in travel mode.
I'm realizing what fabulous travelers our kids have become. They weren't too shabby before, but life out of backpacks for the previous school year has made them downright malleable in all the right ways, so I'm grateful they think nothing of sitting in a car for over 2,000 miles.
This isn't the first time we've made a long-haul road trip—we went up both east and west coasts for our Blue Bike Tour, from Austin to New York City, then from Seattle to San Diego, and several years prior, we drove to Oregon from Texas to move, making a stop over in Montana.
So I guess it's true—we love to travel. Here are a few ways we make roadtripping sane and cheap(er).
1. Picnic foods.
Aside from the occasional In-N-Out on the west coast, we almost never eat out while we road trip. We'd rather save that money for quality restaurants at our destinations; plus, it's no fun to have a queasy tummy full of fast food in the car.
So we stop at the grocery store every few days and fill our insulated picnic basket with basic picnicking foods—cheese, fruit, raw veggies, deli meats, and the like. If we're camping that evening, we'll get something simple to heat up on our camping stove (see number 3). Everybody likes the food, it's lightyears healthier, and there's almost no prep work.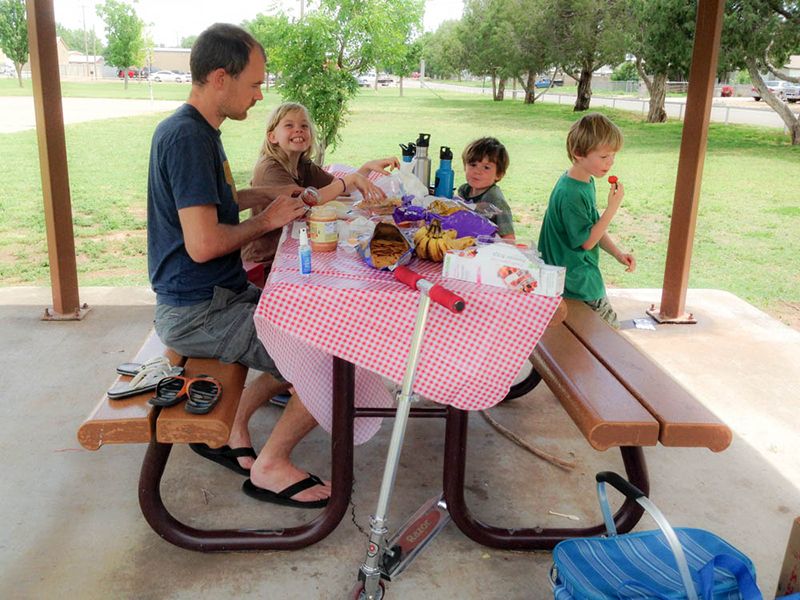 2. Stop at playgrounds.
At lunchtime, we try to find a city park with a playground on Yelp or Google Maps. This way, the kids get a chance to get out some wiggles, we can easily eat our picnic fare at a table, and the grownups get to stretch their legs, too. Ideally, we do this later in the afternoon as well.
3. Camp.
When it's not too cold, we far prefer camping over staying at cheap roadside motels. Yes, it takes a bit more packing, but not too much more (we use a car top canvas bag for all our camping gear), and this way, we can sleep in our familiar tent with our familiar pillows and sleeping bags for far less money. Plus, nature.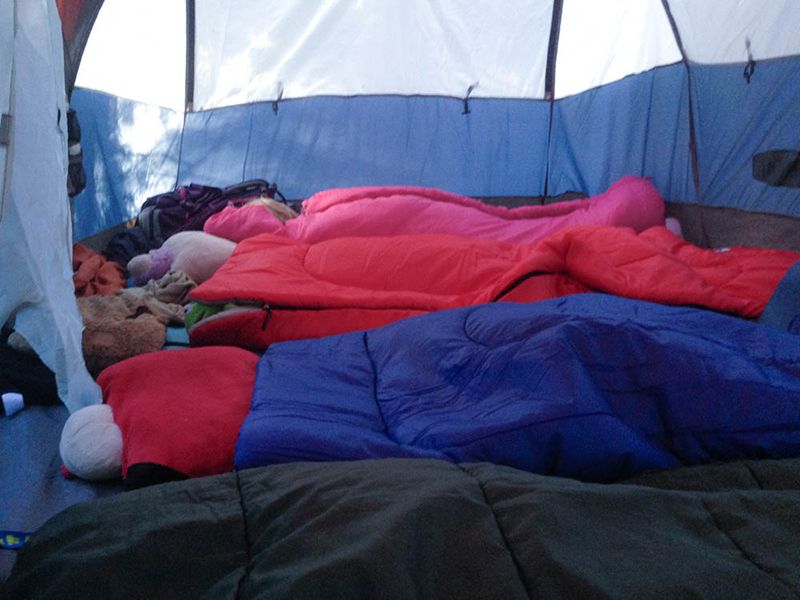 And when I say "camping," I don't mean roughing-it style—I mean, making a reservation at a KOA or similar campsite, taking full advantage of clean showers and well-lit sites. They're just as plentiful as the ubiquitous nameless small-town motel.
4. Airbnb, HomeAway, or with friends.
We've become massive fans of services like Airbnb and HomeAway; this is what we mostly used on our round-the-world trip. They're not always a bargain, and they're definitely easier to find in bigger cities, but they're still cheaper than a hotel—plus, you can cook. This is our go-to service when it's too cold to camp or when we're staying somewhere more than one night.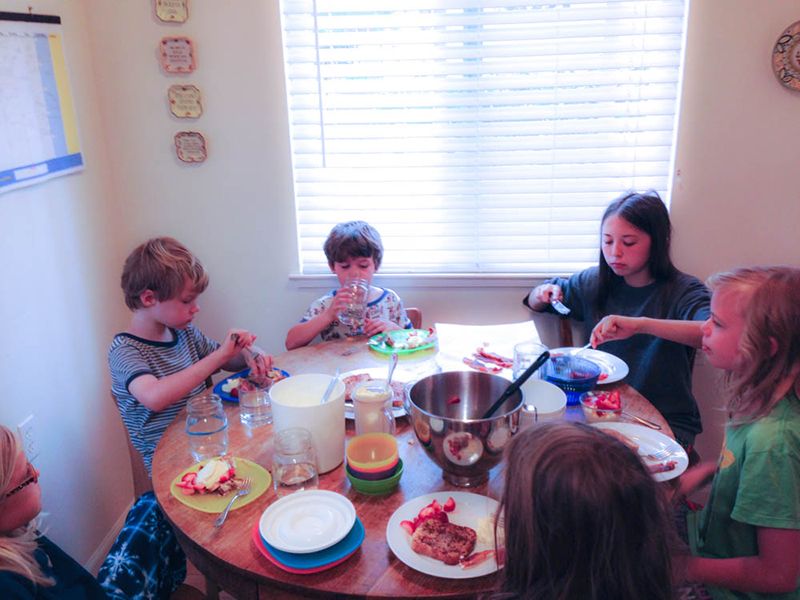 Even better, we love staying with generous friends along the way. Our various jobs throughout the years have bestowed us with friends scattered all over—a bummer sometimes when you wish people were closer, but a gift when you're traveling and they open their doors wide. My favorite memories of the Blue Bike Tour were staying overnight with friends and watching our kids play together. The best.
5. Audiobooks.
We're just now at the stage where all three kids can fairly quietly listen to an entire audiobook. Our new (to us) car helps enormously, because each seat has an audio jack that allows the kids to listen via headphones, straight from the CD playing in the car—easier for them to listen; easier for Kyle and me to grab a conversation. Even better, when we rent a car with Bluetooth, we can play a digital audiobook straight from our phones and pipe it through the speakers. Our local library has a great children's audiobook collection, and I think more and more are making it a priority.
6. Sunset movies.
We all get the stir-crazy feeling by the time evening rolls around, which is when we (at long last) break out the movies. No in-house DVD player here; we simply pull up a movie downloaded onto our iPad or laptop and let a kid in the middle hold it for all three of them. This headphone splitter makes traveling a godsend—one of our favorite purchases for our round-the-world trip.
7. Go slow.
Like most everything else, road-tripping is more enjoyable when you go slow. If we're hauling a long distance with kids, we don't even try to "make good time." We might have one or two days of eight-hour driving; otherwise, we aim for four to six.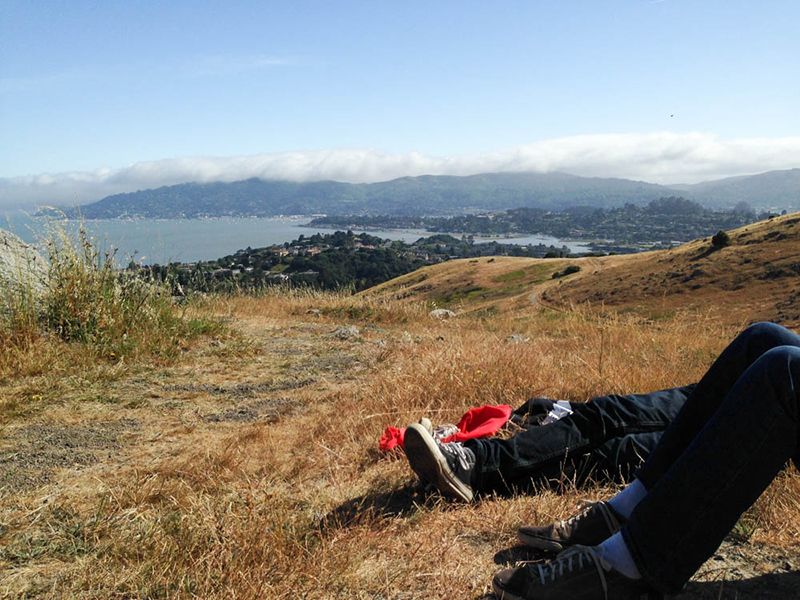 The leisurely pace means enjoying the scenery, and it also buffers time for pit stops, playground breaks, scenic detours, and seeing friends. Enjoy the ride, in other words.
It's the start of summer here in the northern hemisphere, so I'm sure more than one of you has roadtripping on the brain. What are some of your go-to tricks to making it fun?